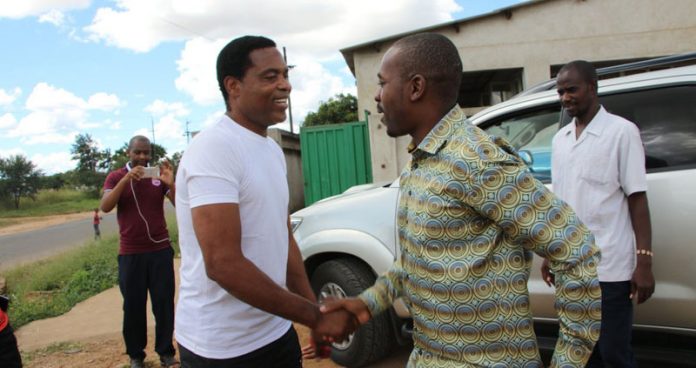 WITH a month left before the harmonised elections, Nelson Chamisa's MDC-Alliance is only launching its policy document now.
Surprisingly, the opposition party is yet to tie up discussions over the formation of the grand coalition of opposition parties being held under the aegis of the MDC-Alliance.
Clashes were reported in Bulawayo over the allocation of seats, with Chamisa's MDC-T being accused of grabbing more seats allocated to the Tendai Biti-led People's Democratic Party (PDP).
Unlike ZANU PF which launched its manifesto on May 4 2018, Chamisa's MDC-Alliance has held more than 50 rallies, mainly in the rural areas, without this requisite document which speaks to its ideology, principles, policies and political intentions.
In a departure from the norm, the MDC-T is not going to have a manifesto but will sail through with the MDC-Alliance manifesto.
On the other hand, the MDC-T does not have a full complement of Members for the National Assembly and Senate candidates to battle it out at the July 30 elections.
MDC-T primary elections that began three weeks ago are yet to be finalised, with the processes of considering appeals from disgruntled candidates still on-going.
More than 80 candidates have appealed against the chaotic primary elections which were described by many MDC-T bigwigs as a 'sham'.
Does it matter?
The ZANU PF manifesto, themed 'Unite, Fight Corruption, Develop and Re-engage', speaks to the aspirations of the Zimbabwean masses — a panacea to their seemingly chronic economic meltdown and a promise to a future of hope and more.
The Concise Oxford Dictionary defines a manifesto as '…a public declaration of policy and aims issued before an election by a political party, candidate or Government.'
Manifestos serve a very important function because they guide voters on why they should give their vote to a particular political party.
A manifesto is therefore very useful and serves as an important future benchmark for measuring the performance of a Government and ensuring it becomes accountable to the electorate, based on the promises outlined in it.
Thus, a manifesto is vital in any election.
The 2018 ZANU PF Manifesto unveils the immense opportunities awaiting Zimbabweans under the new dispensation by demonstrating the Party's commitment to fulfilling the aspirations of the people as noted below:
"Attaining an economic growth rate of at least six percent per annum over the period 2018-2023; targeting US$5 billion annual foreign direct inflows and US$10 billion in domestic investments; promoting equity, equality, gender balance and empowering the youths, women, people with disabilities and other vulnerable groups.
The manifesto speaks to creation of corruption-free environment in the private and public sectors; intensify the fight against corruption in all its forms; non-interference by the executive in the operations of constitutional institutions that combat corruption and initiation of a broad-based campaign on the importance of upholding sound ethical standards across all sectors."
ZANU PF, under the new dispensation, promises to restore the country's dignity and transform people's lives.
Chamisa, on the other hand, has brewed something he thinks is 'SMART' enough.
Themed a 'Sustainable and Modern Agenda for Real Transformation', the MDC-T manifesto has been hash-tagged #BeholdTheNewChangeThatDelivers.
Soon after ZANU PF's manifesto launch, the main opposition MDC-Alliance said it would reply in kind pretty soon.
MDC-Alliance once claimed they were waiting for ZANU PF to launch their manifesto first as they feared their 'ideas would be stolen' by the latter.
It's been over a month now since the launch of the ZANU PF manifesto.
At one point, Biti claimed he was the one crafting the 2018 alliance's manifesto, which was launched yesterday (Thursday).
Biti has once again produced something high-sounding on paper but full of hot air.
He has previously produced something curiously called 'ARREST'.
The late opposition leader, Morgan Tsvangirai, who succumbed to colon cancer on February 14 this year, once said he had hired academics — Philani Zamchiya, Solomon Mungure, Gideon Chitanga, Pedzisayi Ruhanya and Mfundo Mlilo — to craft the party's manifesto for the 2018 harmonised elections.
ZANU PF and 'sexy' manifestos
ZANU PF has been known, since 1980, to produce simple, home-grown, inclusive and original manifestos which resonate with the electorate.
Therefore, the latest manifesto is no exception.
The 2013's Bhora Mugedhi saw ZANU PF resoundingly winning the election with the opposition envious of ZANU PF's 'sexy' electoral message.
Opposition leaders could be seen during their rallies glued to their seats, marvelling at the ZANU PF manifesto.
In one press statement, Tendai Biti conceded that the MDC-T lost the July 31 2013 harmonised elections because: "JUICE was so complicated such that the electorate struggled to understand it."
In March 2014, he told a policy dialogue held at the SAPES Trust in Harare that ZANU PF's Bhora Mugedhi message resonated with the electorate.
Said Biti: "ZANU (PF), in the last election, had a very simple message, 'Bhora Mugedhi'.
Even a little woman in Chendambuya or Dotito knew one thing, Bhora Mugedhi.
Perhaps we were too sophisticated, but what was our message because the message of change of 2000 is not the message for now.
We were selling hopes and dreams when ZANU PF was selling practical realities.
We (ZANU PF) are going to give you a farm, it's there."
Biti said MDC-T leaders failed to fully articulate the party's JUICE manifesto.
They appeared confounded by the complex concept and this confusion cascaded down to their supporters, effectively rendering them manifesto-less come election time.
MDC-T lacks ideology
The MDC-Alliance's campaign disarray is mainly due to its failure to balance competing interests.
It is also about leadership and policy problems.
The MDC-Alliance's obvious lack of ideological cohesion is another major flaw.
At a rally in Chipinge, PDP leader Biti spoke of rural development while MDC-T leader Chamisa spoke of the rural folk migrating from rural areas to look for jobs in the urban areas, a clear testimony the Alliance never had any coherent policies.
Modern politics are about a fight of ideas.
A party's ideology is vital in shaping and defining it.
A hasty look at the MDC-T's history reveals that it emerged from the trade union and civic movements in 1999.
It was a varied mix of trade unions, civic organisations, business associations, pressure groups, professionals, farmers and students who had either little or nothing in common.
This explains its intellectual deficit, policy inadequacies and leadership limitations.
The opposition party failed to evolve into a coherent unit.
It has therefore remained an ideologically bankrupt protest movement.
And this has been worsened by the so-called grand coalition of oppositional parties, with the latest being Joice Mujuru's National People's Party joining the derailing train.
Chamisa's blunders
Chamisa has made many outlandish claims over the last few months.
Notwithstanding debatable issues on spaghetti roads, bullet trains, rural airports, and cell phones for the animal kingdom, Chamisa has ruffled Washington, the revered Nkomo family, ex-Zimbabwe National Liberation War Veterans' Association (ZNLWVA) former leader Cde Jabulani Sibanda, gender activists and, quite recently, Rwanda, among others.
Most notably, the US Embassy in Harare was forced to issue a statement after the MDC-Alliance leader claimed at a rally at Sakubva Stadium in Mutare on January 28 that Washington had promised the opposition party a US$15 billion rescue package if it manages to upstage ZANU PF in this year's elections.
"When we met with President Trump in America alongside (Tendai) Biti, he asked us how much we needed to move the country forward and we told him that we needed US$15 billion," he told starry-eyed supporters.
Six days later, he embarrassingly sought to blame the media for his utterances, which can also be viewed as a 'diplomatic gaffe'.
The pattern is set; Chamisa spins some implausible web of deceit before moving on, faster than a bullet train to Bulawayo, to some other fictitious fantasy, ad infinitum.
The same script was repeated recently when he was exposed for lying and was called out by Rwanda President Paul Kagame who disputed his claims that he assisted the country in crafting its ICT policy.
While addressing a rally in Beitbridge, Chamisa claimed he assisted President Kagame to craft his nation's ICT policy when they met in Geneva, Switzerland.
Chamisa also claimed President Kagame was impressed by his ideas when he was the then Minister of Information and Communication Technology during the inclusive Government era.
President Kagame, however, disputed Chamisa's claims on his Twitter handle.
His documented utterances have gone into overdrive with a #ChamisaChallenge emerging.
Chamisa seems to have developed a penchant for economising on the truth whenever he addresses his party supporters at rallies.
In student style politics, at a rally in Bulawayo, Chamisa ambushed Jabulani Sibanda at his home and alleged the Nkomo family had offered to give him the late Father Zimbabwe Dr Joshua Nkomo's sceptre (intonga).
Unsurprisingly, the gaffe, which crossed a cultural red-line and was considered taboo, invited an avalanche of censure from both the Nkomo family and historians to the blissfully naïve politician.
At the same time, Sibanda was equally furious after realising the MDC-T leadership used photographs taken with Chamisa to insinuate his endorsement.
It quickly became apparent this was another Chamisa fairy tale from fantasyland.
He was again slammed for objectifying and denigrating women after he said he would offer his 18-year-old sister to President Emmerson Mnangagwa if he (Chamisa) loses the forthcoming elections.
The gaffe-prone opposition leader was not yet done as a few days later, he repeated his mysogynistic views and disrespected women when he said 'a woman's place is at home', dangerously perpetuating sexism.
Some opine he is suffering from a touch of youthful exuberance while others say the opposition leader is excitable, reckless and megalomaniac.
Professor of African History at the University of Liverpool Dr Diana Jeater described Chamisa as out of depth and over-excited about the idea of winning an election.
Some have asked: Is Chamisa his own man?
At every rally, he makes reference to "…tinavaBiti ava" (with Mr Biti) which has led many to question: Is Biti the power behind Chamisa's rise to power?
The electorate, by now, has no doubt come up with indicators as to who is better fitted for national leadership and statecraft.
But that is not ours to say.
May the best man win!