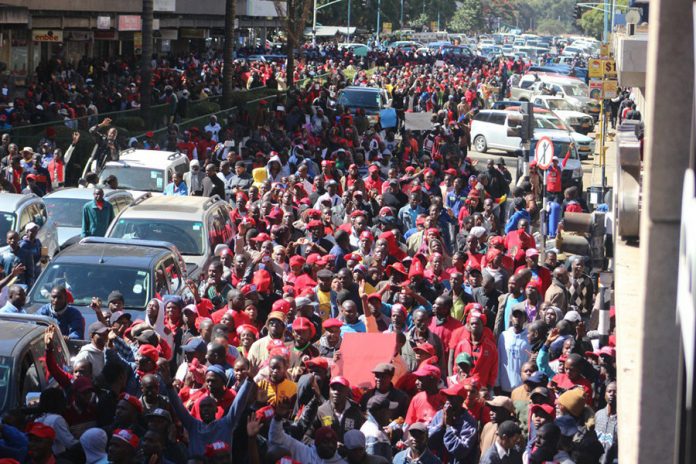 EDITOR — THE world was supposed to be shaken, it was supposed to feel the effects of the MDC Alliance's 'earthquake' but in the end, all that emerged from that futile march was the revelation by Nelson Chamisa that he would breach the Electoral Act by announcing the July 30 2018 election results himself.
Wednesday's demonstration was, in all fairness, a damp squib, a march about nothing and one that, even in the wake of his threats to stop elections, will do little to enhance his chances of claiming victory if at all he has any.
And this is one area where the young man is getting it all wrong.
Where other political parties are busy on the ground campaigning, the MDC Alliance leader is desperately trying to stoke flames whose fire will fade the same way his demands against ZEC will.
Elections are coming and nothing will stop them.
And as those elections beckon, Chamisa stands still, frustrated by his waning fortunes but at the same time scared to let go of the fear that is gripping him.
The country is supposed to shake because of the Alliance.
The country is supposed to come to a standstill because of a man who is headed towards the dustbins of political history at such a tender age.
History is the best teacher in this regard.
In 2006, Tsvangirai was thrown out of Zambia after attending a meeting arranged by former US Ambassador to Zimbabwe, Christopher Dell.
Tsvangirai was being coached by representatives of Freedom House to destabilise the country.
That failed dismally.
There are many things that Chamisa is telling his supporters that will not happen.
Results of this election will be announced by ZEC and they will show a ZANU PF victory.
Anyone who tries to violate the Constitution will face the full wrath of the law.
Chamisa and his allies stand warned on this one.
Gabriel Siwela,
Harare.