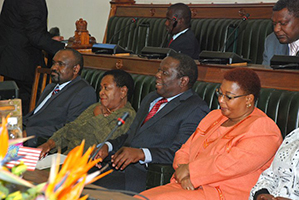 SO Elton Mangoma wants Tsvangirai to go?
So Biti is furious that his house has been bombed and some uncouth youths thrashed him and his deputy treasurer general?
So Harvest House is on fire with yet another split on the cards?
The theatre of politicking is yet again in motion with yet another MDC on the cards, so it seems.
All this drama which keeps replaying itself over and over comes when the MDC cannot handle a crisis it seems.
Those who are familiar with the politics within that party will understand that the fractious movement is a classic case of how it cannot stand in the face of failure.
The Morgan Tsvangirai-led movement fails in the most trying times; when it is supposed to stand strong.
Biblically, somebody has uttered the saying that, "if you falter in times of trouble, how small is your strength," a statement which sums up a lot of occurrences within that party.
At a time when the MDC is bruised and all looks gloomy as it wipes off a battering suffered in the 2013 harmonised elections, enter Mangoma and friends.
They are demanding Morgan's departure and are citing many reasons for that. In that Matrix, there is a Biti who has never hidden his intentions to occupy the highest office.
He breathes fire also as it looks more likely the two are a pair seeking the ouster of Morgan Tsvangirai.
Put all that aside and you want to probe exactly that so many years after its formation, what the MDC has done for Zimbabwe.
Besides seeking to remove a people's government through conniving with forces unfriendly to Zimbabwean people, what exactly has been the party's legacy to millions of the citizens in this nation?
First it was leading stay-aways and gradually destroying the people's very livelihood which is the economy.
Next it was calling for sanctions in connivance with foreign elements.
And then came the stage of tightening those sanctions to a point of threatening to render the economy completely useless and leaving not a single soul alive. The ultimate aim of all these strategies was to find a way to power.
If ever there was a time when Zimbabweans supped with the devil, it was after 2008 when the inclusive government came into existence.
The people of this country have never been more vulnerable than during that era.
The party's Waterloo on July 31 has, however, provided an important case study for this movement which at one time many wanted to qualify as a genuine opposition party.
In any case, there was nothing wrong with Zimbabwe having a strong opposition party.
The liberation movements of ZANU PF and PF ZAPU fought to give all Zimbabweans that right which could never have been possible prior to 1980.
And so the MDC now enjoying that dividend of a bloody war comes onto the scene to say, the legacy of that war must be erased from the history books.
The party even goes further to join forces with those Zimbabweans who fought to dislodge from the helm of this nation's political and economic levers.
What more politics of stagnation would we want to see than this?
Taking a deep introspection then to say, what exactly has been the MDC's contribution to the political landscape in Zimbabwe, one should open up their mind.
As the events have been unfolding over the years, what has become apparent is that the MDC offers no progressive agenda except that of the politics of stagnation.
It is politics that demands that you sell your own brothers and sisters to gain mileage.
It is ideas that are promoted by suggesting that you can use thugs within the movement to silence dissenting voices.
It is an ideology that says you can destroy your own economy and promise to rebuild when you bring back the people's former oppressors.
This interesting case study of the politics of stagnation is, however, fading like a flower as the people regroup to reality.
Many now understand that the dimension of thinking from Morgan and friends is one that views Zimbabwe as a commodity which can be placed on the market for exchange as long as it brings them power.
This kind of politics is not only scary, but certainly strikes a shiver down the hearts of many who owe their loyalty to no other nation except Zimbabwe.
As the politics of stagnation plays out again and again, Tsvangirai has fallen short of qualifying himself into the 'Fools Hall of Fame' as he sent out an SOS to Welshman Ncube, Lovemore Madhuku and Job Sikhala through a rally.
He says his former lieutenants must come back to the party.
What kind of leadership is that which does not realise that the era of such associations will never yield results.
This reveals the other danger of a leader who has always thrived on the politics of stagnation.
Now he wants to take back those few people who still believe in him to the fight which tore his movement apart and weakened him to the analysis of every right thinking person.
He wants to replay that song that was never a hit on the dance-floors.
Who exactly does the MDC consult its strategies, one wonders?
That which people say no to is exactly what Morgan wants to do.
Those things rejected by his constituency are what he wants to bring up and offer as a solution to the nightmares of defeat and poor judgement.
The people who are still caught up in his euphoria of poor planning need to wake up now.
After so many years, in his camp they are no better in anyway.
They have been frozen in a stagnant state and will remain so for eternity.
If the MDC is failing to chart its own clear work agenda, how do they expect it to chart that of their own lives and of the entire Zimbabwean populace?
That is a pie in the sky which will stay so till Morgan himself fades into total political oblivion.
The truth of the matter is that he sees things as normal in his party even in the state it is in.
That is what happens in the dominion of the politics of stagnation.