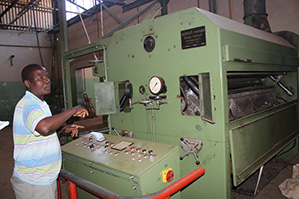 By Charles T.M.J. Dube
THE customer is king, we urged in our last instalment.
The market is your reason for being in business and so you must know and nurture it.
This knowledge would lead us into producing a marketing plan.
Today we move to writing about a production plan which will be part of our project document.
Remember we said, write the vision down.
We need to decide on the plant size deriving from the demand projections we would have made.
The plant size will also be determined by the number of shifts we will be planning on.
We must remember factories have minimum plant sizes.
We might also decide on a smaller plant to give us time for a learning curve or on a big plant for economies of scale.
You can check through the internet for manufacturers of the kind of machinery you are interested in.
You must make choices, not only on plant, but on necessary machinery and equipment.
All these things will need to be fitted in some building and hence the decision on whether you will rent an existing building or construct one.
Building professionals can help in costing.
Remember your objective is to reduce your project to dollars and cents.
Land, buildings, plant, machinery and equipment constitute the fixed costs of the project.
Your aim is to arrive at your production costs.
Implementation scheduling is an attempt to come up with the steps you will have to take to arrive at taking the product to the shelf.
This step-by-step project management process will have its own cost implications which must be noted down.
The stakeholders must engage in the process accountability; who will be responsible for what process, what communication will be required by whom and what must it contain?
You record the final plan information.
This part of the document must be summarised in the document in dollars and cents.
Here are some ideas you could find useful for this part of production planning.
You could use what is called Broadbrush Planning.
You try and define the project scope in measurable terms and decompose the scope into 4-7 high level achievements (Remember there are lots of possibilities in attainable production levels).
Put up a project charter with assumptions, constraints, risks and who is responsible for the monitoring.
Remember this is a plan and there are no guarantees, which is why you try and budget for all possibilities.
This must then be internally presented, for you need to critically question and convince yourselves more than the third parties.
Come up with a project work breakdown structure (WBS).
This entails project-requirements gathering.
This should be reduced/decomposed to the level of 'right-sized' assignments.
A complete assignment package is eventually done and now we know who will have to do what for accomplishment.
The next stage is to estimate resource requirements, task durations and completion of; resource pre-commitment agreements; clear assignments to each team member; secure availability and estimate work in the assignment; team members and functional managers approving the work plan.
In terms of the implementation scheduling, you try and apply what are called 'schedule compression techniques'.
You build a dynamic schedule showing which events have to happen before certain events can take place (predecessors).
From this, you can do work arrangements to produce what is called a critical path; that is a work arrangement which could result in your achieving the minimum possible time to achieve your objectives.
You want to optimise this critical path by implementing those tasks which can be done at the same time without having to wait for certain tasks to be completed first.
As part of your routine in project implementation, you will have to continuously gather status data.
That data would have to be analysed against the actual outcomes.
The difference is called a variance and there must always be a written explanation for it, whether it is favourable or unfavourable.
Having accomplished the project tasks and requirements, you will need to come up with a manpower plan for your project.
That should be clear from all you have been doing above.
You should identify which people would be required to man what part of the project.
You will also go beyond the production planning detailed above as you will have to consider all the company requirements such as human resources, marketing and accounting, among other tasks.
That could be looking too complicated and you could be raising questions about how difficult it is to start a professionally run business.
Remember, you do not want to aim too low.
The difference between success and failure is all imprinted in your mind.
It is important and economical to invest more time in planning than in correcting mistakes and meeting unexpected risks.
The template used here is one for a manufacturing project.
The principles remain the same, independent of the kind of business you get into.
The idea is to think of all you will need to do up to the time you will get the dollar from you customer.
All that has cost implications.
You need to be able to tell what money will get out of your business and for what and what money will come in and for what.
You also want to know the risks to anticipate and what possible solutions to apply before these happen.
Because this has been a mouthful already, to avoid choking you, I will defer financial planning and cash flow projections to the next instalment.