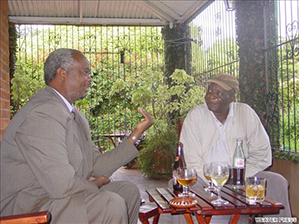 By Farayi Mungoshi
AS I walked along Fourth Street on my way to The Patriot offices I was busy running through ideas in my head.
If you'd seen me you would have thought I was a mad man, but this is what I do before embarking on a mission or writing.
This time I was thinking of the drought, how it has affected certain areas in Zimbabwe and how I could help or channel help to those stricken areas.
Like in every story there is a beginning, I had to find where to begin since this was a field divorced from my expertise.
I quickly crossed the busy Samora Machel Avenue, and in no time I was at The Patriot.
My aim was to see Cde Alexander Kanengoni after first visiting a couple of departments.
This had become a habit, with or without a story to tell or discuss, I always found myself knocking at his office.
Maybe it was that accommodative voice of his and that infectious laugh that recurred every few minutes during a conversation that drew me to him or his aura that allowed me to be myself around him.
I had resolved he was the man to see concerning my pending research on drought-stricken areas in Zimbabwe and as usual I made sure that I was in no rush to go elsewhere afterwards, just in case he had a story to tell then I wouldn't be so hard-pressed to leave before hearing him out.
And being a young story-teller in the presence of an older story-teller, it is always best to sit down and listen intently.
I was going to sit and listen as I have always done, aware that by the time I was supposed to leave his office, I would have my story.
As I approached the building I saw Dr Tony Monda.
I smiled at him as usual, but he did not smile back, instead he started shaking his head.
Without greeting each other, he said: "VaKanengoni is no more."
At first I thought I had heard wrong, then when he repeated it, it sank.
I stood there dumb-struck.
Cde Alexander 'Zanda' Kanengoni, as he was affectionately known by my father and their writer-friends from the older generation, was no more.
My mind quickly wondered into the future, to the things I was supposed to do that needed his help.
I do not remember saying anything to Dr Monda, but when I'd caught my breath, I said to him: "So what do I do now?" as if I was expecting him to give me a solution to the death of this man I had come to call my own 'information centre'.
Dr Monda shook his head and said something about an unfinished project he was being assisted with by VaKanengoni.
Later on we met up with Dr Michelina Andreucci and the case was the same, unfinished business.
I wondered how many other people had been affected by this untimely death, those with an unfinished story they were telling together with Cde Kanengoni.
I realised then that it was not only the people he spoke to on a personal basis who had been robbed of a great mind, but the whole of Zimbabwe.
I say this because through his writings and discussions, it was clear he was still fighting a battle most people have either given up on or are unaware of, and that is the battle and fight for total liberation of the blackman's mind.
Most of us are subject to this prejudice and oppression because we do not know who we are and through the period I came to know him, Cde Kanengoni spoke more about liberating the self from lies painted by the West that most of us have come to know as 'truth'.
I recall him narrating the US-Vietnam war to me and it was nothing like I had envisioned happened or was portrayed on television.
More Cde Kanengonis in the coming generations are needed if we are to maintain our stature as black people, knowing the hidden truths and making sure that undocumented information pertaining our beloved Zimbabwe's history is documented lest we lose it and with it our humanity/hunhu/ubuntu.
Being Zimbabwean is more than being born in Zimbabwe.
It is about speaking out for what you believe in and acting.
This was one of the many lessons I learnt from VaKanengoni after I had told him about my unpublished book, Behind the Wall Everywhere and that I was thinking of having it printed in South Africa.
"Isn't that what we are preaching against?" he said.
I laughed, but he'd already driven the point home, that if we are to expect change in Zimbabwe, we need to learn to work together instead of giving other countries jobs that we can do ourselves.
I laughed because I felt guilty and he reminded me of what it means to be me, to be Zimbabwean and a proud son of this soil.
Sadly, it is only now, as I have been reflecting, that I realise that indeed I have lost a mentor.
What is left is to join the pieces of the unfinished story most of us started with him, with an aim to build the next generation and inform them of who they are so they do not get lost.