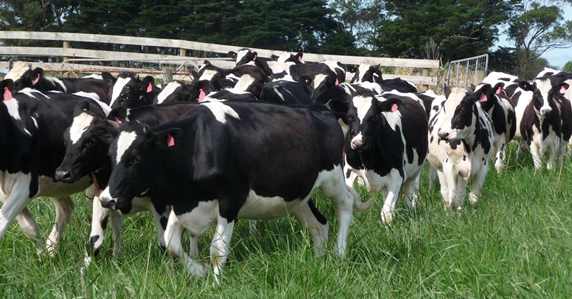 DAIRY milk production is on an upward trend with output at 59 million litres as at 2013 compared to 35 million litres in 2009.
This year milk output is expected to reach 70 million litres although the figure still falls far short of the national demand of 120 million litres per annum.
Speaking at the recently held Agri-business conference, Deputy Minister of Industry and Commerce, Chiratidzo Mabuwa, said the country is witnessing an increase in milk production in recent years due to importation of heifers, adoption of new technologies and good rains.
"The increase in milk production can be attributed to heifers imported from South Africa in the past months," said Minister Mabuwa.
"Though the numbers of heifers are not enough to reach the desired milk production level we have seen significant improvements in national milk output.
"Some of the heifers are yet to mature to milk production stage, thus output is expected to further improve when they do."
Minister Mabuwa attributed the increase to good rains which were received in the last farming season which ensured enough pastures and availability of stockfeeds for dairy cows in most parts of the country.
"Most dairy processors have acquired new technology which has gone a long way in boosting milk production," she said.
Currently, there are 223 registered dairy operators, an estimated dairy herd of about 28 000 animals and 15 dairy processors with seven major players. 
At its peak, Zimbabwe produced over 150 million litres of milk annually, exporting into the region and beyond.
Latest figures released by the National Dairy Farmers Association (NDFA) show that total milk production from January to August has remained fairly static at an average of 4,6 million litres a month.
"However, as an association our projections indicate that month-on-month production will increase as the year progresses," read the report.
In the past few years, the country's annual production of raw milk was curtailed by high production costs and depletion of the national herd.
The country has the highest producer price for raw milk in the world at between US55 cents to US59 cents a litre against US35 cents to US39 cents a litre in South Africa, US18 cents to US20 cents a litre in Uganda, US28 cents in Kenya, US22 cents in the United States of America and US14 cents to US21 cents in New Zealand.
The national herd has been depleted, with only 28 000 cattle now on the market, from 197 000 in the 1990s.
However, major dairy players have moved in with a number of restoration programmes that include importation of heifers and acquiring latest technology.
According to the Dairy Service Department, the country's dairy cows increased to 28 000 last year from 26 502 in 2012 due to the various importation schemes.
Dairibord Zimbabwe
Dairibord Zimbabwe Holdings Limited (DZHL) has since 2012 imported more than 750 heifers to boost milk production in the country, with the latest acquisition being 250 heifers.
Once the new acquisition comes into production, the heifers are expected to improve milk supply and help consumers substitute expensive milk powders, mostly imported from South Africa.
In October last year, DZHL imported 250 heifers, which were distributed to 10 farmers per province.
The cows are already in production.
The company aims to import 70 000 heifers at US$2,5 billion
As a result DZHL is producing an additional one million litres of milk per annum due to the increased herd.
Alpha Omega
Alpha Omega Dairy (Pvt) Limited, is set to double its production capacity from 22 000 litres of milk per day to 55 000 litres after the acquisition of a state-of-the-art milking plant and packing equipment for the Mazowe farm.
The equipment will milk 2 500 cows in less than an hour.
Currently, the dairy processor is milking 64 cows in less than 10 minutes.
This will see production increase to 2 million litres per month.
Alpha Omega has also stepped up efforts to expand its market share through doubling its storeroom capacity at the Mazowe diary plant to about 240 000 tonnes from 120 000 tonnes.
Nestle Zimbabwe
Nestle Zimbabwe, a Swiss-controlled multinational invested US$14 million into the importation of 2 000 heifers distributed to raw milk producers' association members in some parts of the country.
Dendairy
Dendiary, a Kwekwe-based dairy processor will double production to five million litres a month after investing US$6 million in the purchase of a new plant.
The purchase of the Tetrapak plant saw the processor introduce long shelf-life milk on the local market.
Before, retailers in the country were importing long shelf-life milk from neighbouring South Africa.