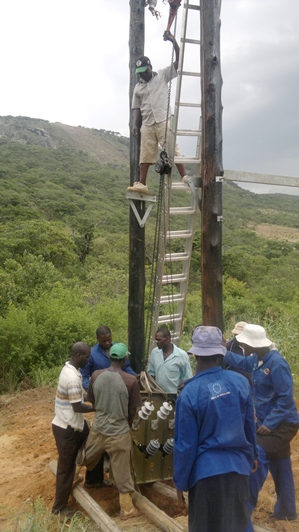 ACCESS to clean energy has largely remained a challenge for many in Zimbabwe and the developing world.
Many in remote areas remain without electricity and have resorted to alternative sources of energy such as liquid fuels and firewood.
Zimbabwe is currently producing 1 200 megawatts of electricity against a demand of 2 000 megawatts and only 37 percent of households have access to electricity.
According to the 2009 National Balance wood-fuel provides 61 percent (the bulk) of the total energy supply followed by liquid fuels (18 percent), electricity (13 percent) and coal at 8 percent.
The Chipendeke mini-hydro electricity project which is situated along Chitora River in Manicaland Province is one example of the Sustainable Energy for All (SE4ALL) initiative carried out by Practical Action and other non-governmental organisations in an effort to increase access of energy to rural communities.
The mini-hydro electricity project provides 25 kilowatts of electricity which serves almost 30 households.
The SE4ALL initiative tries to make energy access a reality by getting countries and stakeholders to make initiatives at the community level to generate power.
The initiative which is being supported by the Ministry of Energy and Power Development is being funded by Hivos, an international development agency group, with technical support coming from Practical Action.
Speaking during a recent media tour of Chipendeke mini-hydro-project, Chiedza Mazaiwana the Advocacy officer for Practical Action hailed the community for assisting in the development of the project.
"The community provided free labour in this project. It was not easy building the canal from the mountain for three years without payment. Now the Chipendeke mini-hydro project is providing electricity and this has enabled them to widen their livelihoods options," Mazaiwana said.
ZERO- Regional Environment Organisation's Shepard Zvigadza said it was critical for the nation to utilise its natural resources such as water and terrain to improve power supply in the country.
"We have a lot of natural resources in the country. All we need to do is to invest in these energy programmes and we will be able to supply and export electricity. The Government and the private sector must support these programmes for the benefit of our nation," Zvigadza said.
Noah Sengasenga a beneficiary of the mini-hydro project said it had transformed the community's livelihoods.
"We are now involved in commercial farming specialising mainly in horticulture because of the mini-hydro project. We are using the water pumped here to grow potatoes, green maize, and tomatoes, peas and green beans and this has improved the financial standing of many," said Sengasenga.
Fungai Mawoyo said the education of children in Chipendeke had greatly improved while health delivery was better.
"Student enrolment and staff levels have increased greatly. Students now find studying easier while teachers no longer shun the community. The micro hydro system has also made it possible for the health care centre to use refrigerators to store vaccines and this has reduced the travelling distance to electrified health centres," said Mawoyo.
Reginald Mapfumo the Energy Advocacy Officer for Hivos said mini hydro systems will help reduce electrical shortages in the country.
"There are more than 100 potential mini-hydro project sites that have a capacity of providing electricity to the whole of Manicaland Province and beyond," Mapfumo said.
"With an electricity demand of 5MW for Mutare, Pungwe River alone according to a feasibility study can provide electricity for Mutare with surplus since it has a capacity of producing 10MW. The only major obstacle is finance, the private sector and government must cooperate to ensure access for all by 2030."
With 1, 3 billion people in the world having no access to energy and two million deaths a year occurring due to lack of energy, United Nations Secretary General Ban Ki Moon in 2011 launched the Sustainable Energy For All (SE4ALL) Initiative.
Current statistics show that in the next 20 years 40 to 50 percent of energy will come from developing countries Zimbabwe included.
Stakeholders are calling for the removal of technical and institutional barriers that limit the development and use of renewable energy sources to meet the energy needs of off grid communities.
Mini-hydro electricity schemes operate for a minimum of 25 years running from river systems which do not require a dam or storage facility.