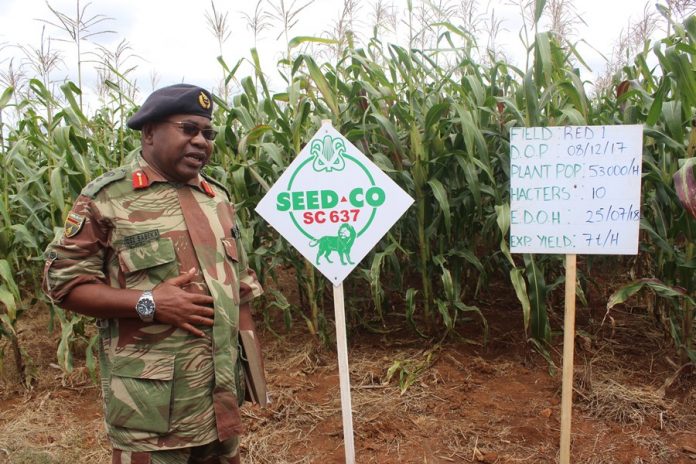 IT has been two years since the implementation of Command Agriculture, a programme initiated by Government with the aim of boosting food security.
Initially, under the programme, Government was targeting to produce two million tonnes of maize under 400 000 hectares but it has since been extended to other crops such as tobacco, soya bean and wheat.
The programme targets mainly large scale farmers with access to irrigation facilities.
Various Government institutions with farms such as Zimbabwe Republic Police (ZRP), Zimbabwe National Army (ZNA) and Zimbabwe Prisons and Correctional Services (ZPCS) have taken part in the programme.
Recently, agriculture stakeholders converged at Gabriel Farm in Marondera District for a field day hosted by 2 Infantry Brigade.
The farm, owned by ZNA, has 34 hectares of maize under command agriculture.
Apart from the maize crop, the farm is also into horticulture, cattle production, goats and sheep
In a speech read on his behalf, Mashonaland East Minister of State David Musabayana commended ZNA for taking advantage of the Command Agriculture Programme to ensure their land is used productively.
"President Emmerson Mnangagwa, during his inauguration, said beneficiaries of the Land Reform Programme must show their deservedness by demonstrating commitment to using the land available to them for national food security," he said.
"You (ZNA) have answered to that call and the performance at this institution is quite commendable.
"It is evident enough that institutions are capable of excelling in the farming business."
The current cropping season was punctuated by a dry and wet spell.
The dry spell that was experienced in most parts of the country late last year disrupted the planting of grains.
Most parts of the country received first rains in late November before a dry spell ensued in December.
When the rains were received, some farmers planted maize.
However, other farmers planted when the rains resumed in late January.
"The 2017-2018 agricultural season was characterised by long dry spells and long wet spells as well," said Musabayana, adding: "However, the quality of the maize on this farm is quite good despite the poor rainfall distribution.
"Most notably, the maize crop at Gabriel Farm was not irrigated."
Musabayana urged other institutions and farmers to use sustainable methods of farming in order to increase production.
"I want to encourage other farmers to use sustainable methods of agricultural practices in order to increase maize yields; one way is proper soil fertility management and also proper use of herbicides because it is important for crops to grow without competition for nutrients and water," he said.
"It is evidence enough that institutions are capable of excelling in the farming business.
"I would like to encourage other Government institutions to improve their performance and ensure they are in business."
In a speech read on his behalf, Commander 2 Brigade Brigadier-General Fidelis Mhonda thanked Government for its continued support to the institution's farm activities.
"In September 2016, my brigade was selected to register with Command Agriculture to complement the Zim-Asset cluster on food and security, which was launched in 2016," Brig-Gen Mhonda said.
"The Command Agriculture allocated this formation with all the inputs and consistently monitored the crops at all stages."
Like all farmers, Brig-Gen Mhonda noted that they too were faced with challenges during the season.
"However, development of the crops was strained due to the erratic rainfalls experienced during the early stages of the cropping season," he said.
"This greatly affected the growth of the crops, but was later alleviated by the increase of the rainfall as the rain season progressed."
Brig-Gen appealed to Government and other stakeholders to assist the institution source irrigation equipment for the farm.
"The irrigation system within the farm needs to be completely re-evaluated so that the farm can produce more and more for food security throughout the year and if funds permit, there is need for a centre pivot," he said.
The Brig-Gen Mhonda said currently the farm is sourcing implements such as tractors, a disk harrow and planter from neighbouring farmers.
He paid tribute to the local AGRITEX and Command Agriculture Programme for having supported their activities.
"The support we received from our local AGRITEX and the command agriculture team was tremendous and we value it," he said.