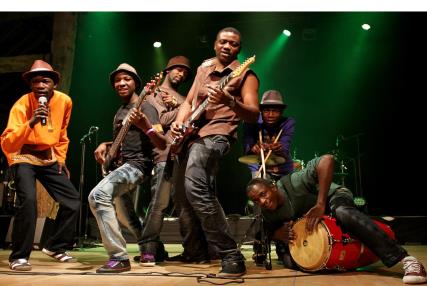 INTERNATIONALLY acclaimed afro-fusion band, Mokoomba has once again left the country for a month long US, Canada tour.
With over 16 gigs lined up, the group is expected to wow fans with sold out shows following the success of their UK tour in April.
In an interview with Patriot Arts, the group's lead guitarist and vocalist, Trustworth Samende said the tour was part of their annual world tours in which the group gives international fans a taste of African music.
"We are excited about this tour, because it is another opportunity for us as a group to tell the true African story to our international fans," said Samende.
The tour is expected to end on August 7 in Toronto, Canada.
The Victoria Falls-based ensemble has managed to 'touch' the world with their heart-wrenching Afro-fusion and as some would want to say, afro-jazz sound.
Musically distinct, Mokoomba combines traditional and modern instruments with a rich blend of rhythms, creating a vibrant sound consisting of not only traditional Tonga music but embracing the diverse cultures of Southern Africa.
It is under such unique genre of music that the group has managed to win the hearts of many with successful international tours.
With its members in their mid-20s, Mokoomba are being feted as one of Africa's most internationally successful young bands of their time after a rise that is as deserved as it has been remarkable.
The name Mokoomba stems from a deep respect that the Tonga people have for the Zambezi River and for the vibrant life that it brings to their music and culture. 
The ensemble's second album, Rising Tide won them an award last year at the Songlines Music Awards in London for 'Best Newcomer'.
The album showcases their dynamically youthful style, perfect for igniting any dance floor together with more serene R 'n' B tracks that draw out the beauty of Mathias Muzaza's voice coupled with a stronger instrumental focus.
The group's songs relate to social ills, the HIV pandemic, love and Zimbabwean life reflecting a nation determined never to give up hope.