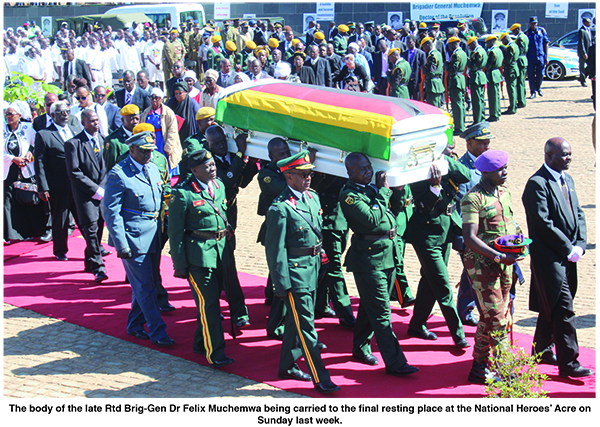 WHEN reports filtered that Retired Brigadier-General Dr Felix Muchemwa had passed on, the natural reaction of shock and sadness engulfed the nation, but revelations of the cause of his demise immediately evoked memories of the callousness of Rhodesians and their apartheid South African counterparts.
They killed this towering giant of the liberation struggle.
On June 14 2016 the nation woke up to the disturbing news that the 'guerilla doctor' had died.
Zimbabwe Defence Forces (ZDF) Commander, General Constantine Chiwenga revealed that arsenic poisoning administered by apartheid South African intelligence agents while he was on active military service in Mozambique in the 1980s caused Dr Muchemwa's death.
He was also exposed to various chemical poisons used by the murderous and desperate Rhodesians who were losing the war during the liberation struggle.
The Rhodesian and apartheid South African regimes were instrumental in keeping Ian Smith's widely discredited government in power during the days of the liberation struggle.
The South Africans were the most important sanctions-breakers for the Smith regime after Rhodesia had broken away from Britain to avoid majority black rule.
With the onset of the guerilla war, Rhodesia became completely dependent on the South African regime which was even more determined to deny blacks freedom.
Above all, the South African government dreaded the possibility of a victorious Marxist army marching through the streets of Salisbury, a precedent which it feared would be repeated in Pretoria.
South Africa made a huge profit on sanctions-breaking by providing just enough military support to allow Smith time to reach the so-called internal settlement with black moderates.
The South Africans first intervened in 1967, when they sent approximately
2 000 members of the South African Police (SAP) to help guard the northern border with Zambia.
The South Africans rapidly learnt, however, for they were in Rhodesia to improve their own counter-insurgency skills as much as 'to pull their neighbour's chestnuts out of the fire', as their Prime Minister, John Vorster, put it.
Vorster used this force as a political lever.
After the failed Geneva talks in 1976 more pilots and equipment were loaned, particularly aircraft such as Alouettes and Canberras which, because they were in both Rhodesian and South African arsenals, could be passed off as Rhodesian weapons.
One of the most vital forms of assistance was the loan of army signallers, who formed 'V Troop'.
This unit eavesdropped on nearly all the guerilla and host states' intelligence and military communications.
When Botha became prime minister in September 1978, South African equipment and troops (often in Rhodesian uniform) poured in.
Pretoria also recruited widely to establish an extensive spy network for the time when Zimbabwe became independent.
This is where the connection between the Rhodesians and apartheid South Africa that killed Dr Muchemwa came from.
At Dr Muchemwa's funeral parade at One Commando Barracks in Harare on Saturday, General Chiwengwa said:
"In April 1987, while on active service in Mozambique, the general was repatriated back home after it was discovered that he had ingested poisoned wine, which was later discovered to have been sent from Songo Cabora Bassa by the then apartheid South African intelligence who backed the MNR (Mozambique National Resistance) bandits with the aim of poisoning our forces.
"What we came to know of later was that yes, while Felix escaped death many times from enemy fire, he could not escape the enemy's dangerous chemicals, which manifested themselves later as it became apparent that he had been a victim of asernic poison.
"Thus, contrary to the public account of the cause of his death, health experts actually attribute it to what in medical parlance is called 'peripheral neurolopathy', secondary to asernic poisoning, and not cancer as others want to suggest.
"What exacerbated his condition was the late diagnosis which was only done in 1996 in the United Kingdom, and he was transferred to Egypt where there were chemical specialists. Yes, indeed, in the course of his life, the general was successfully treated for lung and prostate cancer."
During his burial at the National Heroes Acre on Sunday, President Robert Mugabe said Dr Muchemwa was one of a rare breed of dedicated cadres who left the cosy life in Britain to join the liberation struggle.
President Mugabe said loyal people like Dr Muchemwa did not put money first as the lives of people mattered to him most.
"There is that aspect of giveness, of sacrifice," he said.
"We are working for the welfare of the people and putting the lives of people first and your own interests being subjected to the interests of the people.
"Not many are like Felix Muchemwa.
"No, Dr Muchemwa would have asked for no less than we are asking from his peers that lets be understanding.
"He never put money first.
"He indeed served his people right up to the end."
Dr Muchemwa was born on April 22 1945 in the Mhondoro-Ngezi area.
In the early 1970s he abandoned his medical studies at the then University College of Rhodesia.
He left for the United Kingdom where he completed his studies before joining the liberation struggle where he, together with Dr Sydney Sekeramayi and the late Dr Herbert Ushewokunze, established medical centers for liberation war fighters and refugees in Mozambique.
Dr Muchemwa was one of the first responders to the Chimoio bombing which claimed more than 3 000 lives on November 23 1977.
Unlike other war veterans who die with their stories, the beauty about Cde Muchemwa is that he left Zimbabweans with something to read and reflect on after penning his book, 'The Struggle for Land in Zimbabwe 1980 – 2010.'
Edited by Dr Rino Zhuwarara and the late Cde Alexander Kanengoni the book was published by Heritage Publishing House in 2015.
According to renowned author, Mashingaidze Gomo, the book "is the guerilla medical practitioner's forensic dissection of the history of land tenure in Zimbabwe that exposes and corrects the racist distortions that have been used to sanitise and sustain a gross crime against African humanity by the Western-sponsored Rhodesian settler community".
It is a must-read.
Go well great man!
Let those with ears listen.