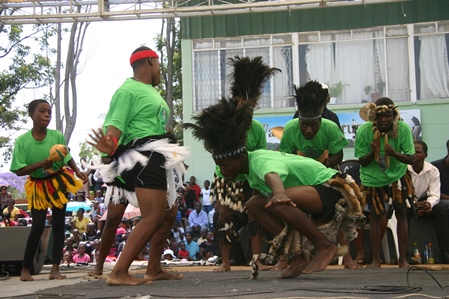 THE annual Mbende Jerusarema Dance Festival which has kept the beautiful traditional dance in the limelight roars into life today (Friday) in Murehwa.
The dance fiesta to be held at Murehwa Culture Centre defines and celebrates not only the practices of the Shona people, but has been a vehicle of preserving and passing on history.
Organised by the National Arts Council of Zimbabwe (NACZ) in conjunction with the Mbende Safeguarding Committee, a workshop will be held on the sidelines of this year's festival.
In a statement, NACZ communication and marketing officer Catherine Mthombeni, said the workshop was meant to increase the understanding and importance of components that made up our culture.
"The workshop's focus will be on the role of traditional dance in communities today, understanding Intangible Cultural Heritage (ICH) and the nexus between traditional dance and ICH inventorying in communities, among other issues," said Mthombeni.
This year's festival, said Mthombeni, will run for two days with an array of activities pertaining to Mbende Jerusarema lined up.
The festival will also have a schools' Mbende Jerusarema competition that will see 20 schools competing to be in the top 10 groups who will battle it out for top honours on the last day of the bonanza.
Other traditional dance groups from around the country include Musapingura, Ngomadzepasi and Reshon Mbende Arts Laboratory and Angola Dance Troupe will also get an opportunity to perform in Murehwa.
The festival will also have exhibitions of traditional food as well as Mbende Jerusarema dance costumes and instruments such as drums, mbira and rattles.
The Mbende Jerusarema dance was proclaimed a Masterpiece of the Oral and Intangible Heritage of Humanity by UNESCO.
With the rise of technology and globalisation, dances such as Mbende Jerusarema are at risk of disappearing, but such festivals have kept them alive and ensured that they will not be lost to future generations.
Mthombeni said the festival sought to provide a sustainable platform for the transmission of skills to the younger generations and to promote awareness of the value of the dance as well as the importance to safeguarding intangible cultural heritage.
The president of the Zimbabwe Traditional Dancers Association, Kennedy Kachuruka, said the dance was an important cultural practice.
"Mbende is a celebration dance and sometimes performed as a ceremonial dance," he said.
"It was proclaimed a masterpiece of the Zimbabwean dances and an intangible cultural heritage."
Mbende is a mouse, said Kachuruka, with a stripe on its back and the dance routines depict its movements.
"Jerusarema was a colonial makeover since African dances were believed to be evil and they failed to pronounce Mbende and confused it as Dembwe," he said.
"Thereafter the whites forced the custodians of this dance to give it a Christian name which they called 'Jerusalem'."
This dance is a courtship and love dance performed originally by married elderly couples, but as generations went by, it was performed on a full moon Jenaguru where single and searching young people danced and were matched for courtship and marriage.
"A popular song during the Jenaguru is 'Sarura wako kadeya-deya anendoro chena'," said Kachuruka.
Mbende Jerusarema is most popular in the communities of Murehwa and Uzumba Maramba Pfungwe (UMP) in Mashonaland East.
It is also referred to as the ancient fertility dance which was called 'Dembe' or 'Mbende', a Shona word for 'mole' which signified fertility hence the dance became popular with the locals.
Its popularity in Zimbabwe has also resulted in it being celebrated even by renowned musicians such as Mukudzei 'Jah Prayzah' Mukombe who sings about it in his latest album Jerusarema.
For the past two years, the dance has dominated the popular Chibuku Neshamwari Traditional Dance competitions with Mbira Dzepasi and Makarekare both from Mashonaland East scooping the first prize in 2014 and 2015 respectively.