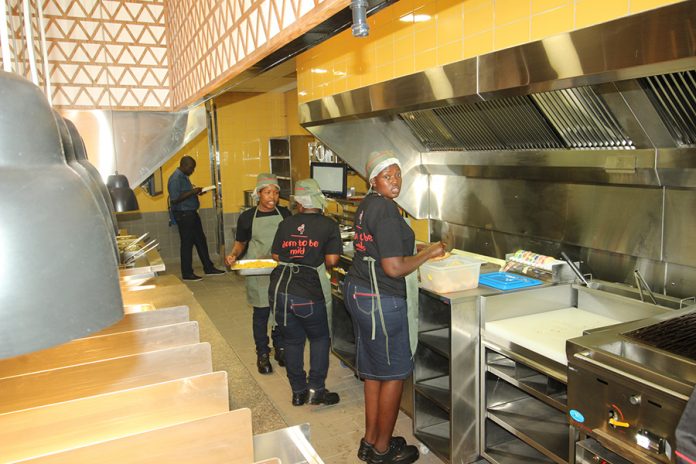 SIMBISA BRANDS, a Zimbabwe Stock Exchange listed (ZSE) fast foods operator, is on a drive to expand the footprint of the Nando's brand as it forges ahead to consolidate its local market.
This is part of the US$10 million Simbisa plans to invest in setting-up 22 Innscor outlets across the country this year.
The fast food operates leading brands, namely Chicken Inn, Pizza Inn, Creamy Inn, Baker's Inn, Fish Inn, Galito's Africa, Nando's, Steers and Vida E Caffe and delivery service, Dial-a-Delivery.
Last week, the fast food operator opened its 19th Nando's branch in the country with plans to open four new branches within the next 12 months as well as refurbish some of the existing restaurants.
The four Nando's new branches includes two in Harare; Sam Levy Village, Fife Avenue, Gweru and Victoria Falls.
Plans are also underway to open a food court in Chisipite, Kadoma in the next two-and-a-half months as well as Gweru in the next eight weeks.
Speaking at the official opening of the newly refurbished Msasa Food Court — rebranded to Casa, Msasa, — Simbisa Brands managing director Warren Meares said it took them nearly nine weeks to fully refurbish the Msasa branch which cost US$700 000.
"As we launch in Msasa, we now take our staff compliment up to 320 employees, with future Casa's plans for Sam Levy's Village, Fife Avenue, Gweru and Victoria Falls by the end of the year, our staff compliment is set to rise to 435 people, who in turn support their families and communities.
"We are looking up to a budget of US$700 000 to US$750 000 per project and we have already started work on the Gweru branch which is a priority for now.
"It should be done by November. It's is not an easy road since we have to import much of the material from outside the country and that requires US dollars and the South African rand.
"There are going to be quite a few changes there — all for the better," Meares said.
He said the refurbishment at Casa, Msasa, involved the extensions, significant internal and external alterations, revision to the kitchen extract plant and outside areas.
"This is an especially exciting time for us as we are happy to announce the opening of our brand new Casa in Msasa which took us nine weeks."
The word 'Casa' is Portuguese for home.
Nando's is an international casual dining restaurant chain originating in South Africa.
Founded in 1987, Nando's operates about 1 000 outlets in 30 countries.
The logo is based on the Rooster of Barcelos. 
Nando's specialises in Portuguese style chicken dishes with various peri-peri marinations.
Simbisa also pledged their support to local farmers to improve their produce.
"Every chicken that you buy and every potato that you buy (from our outlets) is home grown in Zimbabwe. We are working with potato farmers because we require about 40 000 tonnes a day," said Meares.
"We are working with their associations to help them grow more seed as well as improve their produce.
"What's coming is our opportunity to grow as a nation and, as we grow with it as a company and partner, we will keep sharing the fun, laughter and deliciously flamed-grilled chicken with you.
"We also support local farmers who grow the famous African Birds-Eye chilli, the fundamental ingredient of the renowned Nando's peri-peri flavour and fire."
The quick service operator's revenue grew by 30 percent from US$76,5 million to US$99,3 million in the half year ended December 31 2017.
The improved performance was attributed to positive growth in Zimbabwe and Kenya operations.
Currently Simbisa Brands has 203 branches in the country and employs more than 3 000 people.
It also has operations across sub-Saharan Africa with a total of 145 branches in Kenya, Zambia, Ghana, Mauritius, Namibia, Swaziland, Malawi and the DRC.
He said the company was also looking at growing its market in the sub-Saharan Africa region by putting up an additional 40 branches in the countries it operates in.
"We have a major plan for growth in Kenya. We are looking at Kenya as a major market where we want to expedite our growth. Zambia is also another good market, but we feel we need to do a lot to grow that market," said Meares.
He said the company would continuously introduce new products into the market as part of its efforts to stay in touch with the changing needs of consumers.
"We are continuously innovating and looking at new products. We are looking at not just deep fried but healthy rotisserie chicken and salads, a product that is more friendly to children, that's healthier for the children," said Meares.