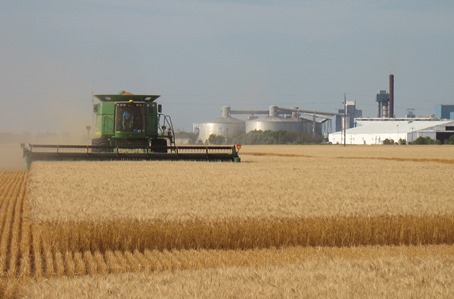 ZIMBABWE Stock Exchange listed cereals and grain miller, National Foods Holdings Limited (NatFoods) plans to invest about US$8, 3 million towards upgrading its plants.
The move is meant to increase production and provide better efficiency.
This investment is part of the company's US$30 million expansion project launched last year and is set for completion in 2016.
The expansion initiative saw new state of the art flour mills come in from Swiss-based Buhler Group to replace the old ones in January this year.
Acting chief executive officer, Mike Lashbrook said of the US$8,3 million about US$4 million will go towards fixing the flour milling plant.
"We will continue to roll out our aggressive capital expenditure programme, upgrading our operating platform," said Lashbrook.
"We plan to spend US$8, 3 million in the coming year, the bulk of which will go towards fixing the flour platform."
Lashbrook said NatFoods is expecting to supply around 60 percent of the country's flour needs following the completion of the upgrading exercise.
He said US$1 million will go towards the maize business.
To date the company has bought about 20 000 tonnes of maize at the new price.
"We have bought quite a sizeable amount of maize to date and together with Grain Millers Association we will continue to work with authorities to find a sustainable solution to the assured maize pricing."
In a move to cut down the company's wheat import bill, National foods channelled US$1,4 million to support wheat farming for the 2014 wheat growing season following up on the US$2,5 million ploughed into A2 farmers growing maize and soya beans in the last agricultural season.
"I would like to reassure our stakeholders that there is plenty of wheat and the past farming season we supported local wheat farmers to the tune of 5 000 hectares," Lashbrook said.
"We are targeting 25 000 tonnes of local wheat farming scheme."
NatFoods has been importing wheat from Beira, Mozambique and maize from Zambia, Mozambique and South Africa.
Lashbrook said the company closed the last quarter on a strong financial position with no borrowings.
Profit surged by 20 percent to US$16, 7 million from US$13, 9 million recorded last year on the back of increased sales volumes.
Lashbrook said while the deficit in locally grown maize, wheat and soya beans remains, the company was compelled to maintain long future priced pipelines of imported raw materials which can affect National Foods' margins in periods of commodity pricing volatility.
NatFoods, like many other Zimbabwe millers, has been grappling with acute shortage of wheat and maize grain as a result of a decline in the agricultural sector.
Millers are struggling to produce enough for the local market due to a number of challenges such as power shortages, high operational constraints characterised by under stocking and high corporate borrowing, labour costs and inadequate financial resources.
Where loans have been secured, they have been attracting high interest rates due to the liquidity crunch in the economy.
Millers' operations continue to be plagued by insufficient local agricultural production from the local market and liquidity constraints.
Such challenges pose a threat to millers' viability.
The shortage of grain on the local market has forced millers to import both wheat and maize to augment local supplies in order to maintain sufficient volumes.
According to National Foods, lately the local market has only been able to supply the agro processor with crops that last a month.
The company's household brands include Gloria, Red Seal and Nat Foods stock feeds.
NatFoods' operations include flour milling, maize milling, stock feeds production and operations in the fast moving consumer goods market.