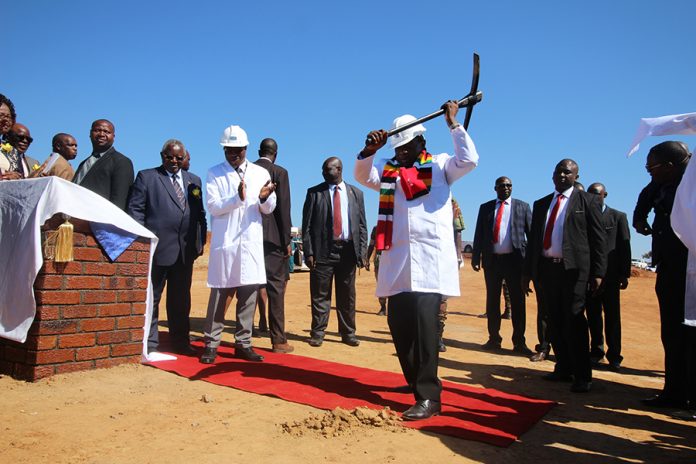 ABOUT three kilometres north of the sleepy town of Bindura is a road that takes you to Mt Darwin, the iconic place where the north-eastern offensive of the Second Chimurenga was launched in 1972.
In that land, the echoes of the vibrancy of the heroics of Zimbabwe's freedom fighters ring loud.
Memories of the liberation struggle are vivid in the community that saw it all.
Narratives of the Second Chimurenga have been passed from one generation to the other.
After all, this is the province that gave birth to Mbuya Nehanda, the iconic hero of the First Chimurenga.
She was revered then as she still is today, that is the influence she held way back, an influence she still possesses to this day.
Yet for all that this great province has endured and produced, something has been woefully lacking.
Development!
But then something historic happened in November 2017.
Something that has changed the history and course of our great country.
Development!
Just before you turn right to get into the Bindura University of Science Education (BUSE) campus is what used to be a gold milling plant.
No one knows what really happened to that mill but everyone now knows what happened to BUSE on Wednesday last week.
The first sight that greets one as he/she get onto the path that leads to the heart of the BUSE campus is a clean spread of red soil.
It perhaps invokes bitter memories of the evils of the struggle, the red soil which looks like it has been drenched in blood.
But that was not the case on Wednesday, June 20 2018.
The sweat and toil of the struggle were bringing fruits to Mashonaland Central.
Bindura will be home to the country's first National Sports Academy.
And President Emmerson Dambudzo Mnangagwa, the man who has steered the country's development agenda so far, was on hand to preside over the ground breaking ceremony of the project.
This was not time for politicking.
It was time to talk development, visible and tangible development.
The BUSE National Sports Academy has been rightfully touted as a game changer in Zimbabwe's sports.
It will incorporate such issues like sports development in all facets, rehabilitation and sports science, among other sport-related developments.
It will be built in two phases.
The first phase is expected to cost US$2 million and will involve a soccer pitch which can also be converted into a rugby facility.
It will also have an athletics tartan around and sports facilities for volleyball, rugby, tennis and netball.
Already, 98 percent of the civil works have been completed with the assistance of the Zimbabwe National Army.
It is expected to be completed by December 2019.
In his address, President Mnangagwa highlighted the importance of sports to economic development.
He said sports has become a multi-billion dollar industry and urged Zimbabweans to tap into the rich pickings in the sector.
"Sport is fast emerging as an important facet in human capital development and a route to financial independence and inclusion for our youths. In the past, sport was casual, relaxed and more recreational. Presently, sport is much more organised, mechanised, marketed and administered as a business," said President Mnangagwa.
"Sport encourages health and fitness, entertains and relieves stress, builds a spirit of national integration and instils a sense of pride in the event of winning.
"The construction and completion of this National Sports Academy requires collaborative effort by Government, sporting and academic institutions, partners, local authorities and well-wishers. The significance and impact of this sporting infrastructure will thus have a far reaching impact on the future of the sector and economic development in general.
"Bindura University of Science Education alone cannot accomplish the full construction of the planned sporting complex. I therefore appeal to both local and foreign investors to partner the university towards the realisation of this noble dream.
"On the economic front, global statistics indicate that between 2005 and 2017, the global sports market generated US$91 billion, with North America claiming a market share of US$14,2 billion within the sports merchandising market.
"Mindful of these huge monetary exchanges taking place within the industry, the time is now for Zimbabwe to tap into the business potential of the sporting sector.
"I therefore invite more investment into such sporting academies, sports clubs, recreational facilities, stadiums, golf courses, equipment and sportswear manufacturing, among others."
The President also donated 4 000 litres of fuel to be used during construction of the facility.
Speaking at the same occasion, Higher and Tertiary Education, Science and Technology Development Minister Professor Amon Murwira said education must incorporate sports development in order to reap benefits from the sector.
Minister Murwira said sports must be taken as an industry, not a past time activity.
"My Ministry views this launch and ground breaking ceremony as a landmark development in our strategy towards vision 2030," he said.
"We want to create a Zimbabwe desired by its people through an education system that is inclusive.
"Our education system should bring hope through its products. Sport is one of the fastest growing businesses globally.
"Sport as an industry is considered to be worth more than US$500 billion, with some estimates going to over US$1 trillion," said the Minister.