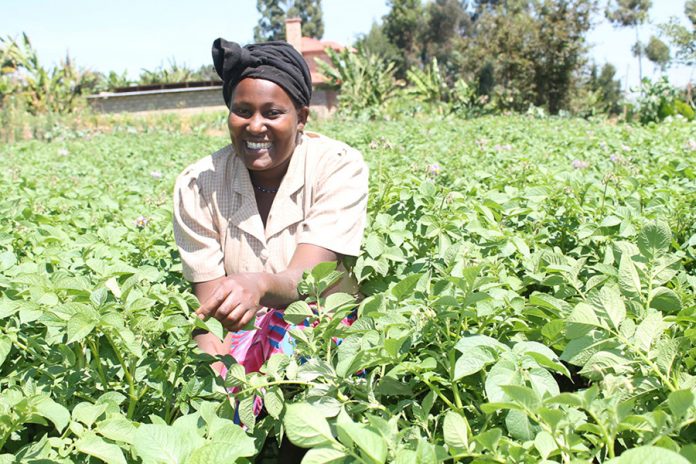 WORLDWIDE, land reform schemes, in the past, have rarely worked to women's benefit.
Often land reform schemes replaced a complex system of land use and tenure where women had certain rights at common law and local practice, but not in legislation.
The new land titles are always being assigned to male heads of households, regardless of women's economic contribution to the household, their customary rights or the increasing number of women heads of households.
Many patriarchal traditions survived while others were even enhanced by the period of settler-rule, such as in Zimbabwe. Women in general held less land than men; ranging from as low as three percent in Zimbabwe in the small-scale commercial sector to a high of 25 percent of the agricultural land in the Congo and Tanzania.
Women have also not appeared to profit from land reform in the past as they received only five-to-23 percent of the land-use permits in Zimbabwe, with only six percent in Morocco.
In Tanzania, when village land was allocated, all rights were given to men and no provision was made at law for widows, divorced or separated women.
In contrast to traditional practices, men were able to sell or lease out their land without their wives' permission.
In Burkina Faso also, the amount of land allocated to the household plot was smaller than women's traditional food fields, which allowed them to sell a small surplus.
In terms of land size, women's holdings usually tend to be smaller than men's; ranging from one-half in Morocco to approximately 72 percent of the size of male holdings in Tanzania.
In the Congo, nearly 60 percent of women cultivate less than one hectare of land while in Zimbabwe, according to previously surveyed data, 86 percent of the women-headed households had less than the sample mean arable land holding.
In Namibia and in Tanzania, women constitute five to 64 percent respectively of the total population active in agricultural production.
Yet, it is interesting to note that in Tanzania, the size of the average land holding decreased between 1983 and 1990 for both men and women.
This indicates that both genders are being similarly affected by land degradation and population pressure; although women's holdings remain smaller even though data collected by IFAD, in 1988, illustrated that the majority of women in rural areas were economically active in agriculture, ranging from 32 percent in Morocco to 89 perecnt in Tanzania.
Gaps in the data collated made comparisons among countries, and even within countries, difficult.
It has been suggested that the lack of reliable statistics on the nature and role of women's contribution to agriculture has been, on the whole, also responsible for their 'invisibility' and consequent neglect in agricultural policies and programmes in most parts of Africa and elsewhere.
In terms of land, five out of the nine African countries that had been surveyed at the time were not able to supply gender disaggregated data on land ownership and use, while four were unable to supply data on the average size of land holdings by gender.
More positively, however, is that since the mid-1980s, there has been increasing recognition of the importance of gender disaggregated agricultural statistics, and several countries in Africa, including Zimbabwe (that spearheaded land reform on the continent), have been involved in determined efforts to improve the rural women's situation, especially with regards to land ownership and use.
Regarding women's access to credit, none of the countries surveyed were able to supply figures at the national level, and the information provided by individual institutions varied considerably.
In terms of date on agricultural training and education, gender disaggregated data was available for only five countries; and in terms of title or gender composition of farmers reached by agricultural extension, several countries were unable to supply a national breakdown.
The dearth of statistics on women's access to land, credit and agricultural extension services limits the efficacy of rural development policies as well as programmes, both with respect to analysis and representation, identification and targeting of beneficiaries. It has been demonstrated worldwide that agriculture and rural development policies, programmes and projects have often not fully succeeded because rural women and merits in terms of social, economic, legal, technological and other short-term strategic needs and constraints were not being addressed adequately.
There has been a universal inequality in women's access to, and participation in, the definition of economic structures and the productive process itself.
The inter-relationships between women's productive, reproductive and community roles have often not been perceived due, in part, to the lack of adequate data, leading rural development experts and planners to underestimate the importance of these relationships.
Rural women's productive role in agriculture continues to be underestimated in many countries as unpaid family workers are frequently excluded from national statistics while farm women are considered housewives in agricultural and population censuses.
Such underestimation was addressed early by the Zimbabwean Government in order to clearly demonstrate the importance of rural women as well as Zimbabwean women's participation in the liberation struggle, in agricultural production, and thus the extent to which policies and programmes have been, and continue to be, redressed.
Zimbabwean women have always played an important role in society and an equally important role in the liberation struggle and the struggle for the reclamation of their land; just as Mbuya Nehanda, the woman spirit medium who played an inspiring part in the first struggle against the British colonisers did in the 1890s, before being hanged in 1898.
It was in the war of liberation of the 1970s that women also began to fight for emancipation on a large scale.
In fact, many contend that the gains of independence, as has been acknowledged by the Government, would not have been possible without the organisational role of women in the villages, the bravery of the women guerillas, the role of girls as message bearers, the provision of food by women and the work of women as nurses and teachers in the guerilla camps.
Dr Michelina Andreucci is a Zimbabwean-Italian researcher, industrial design consultant, lecturer and specialist hospitality interior decorator. She is a published author in her field. For views and comments, email: linamanucci@gmail.com