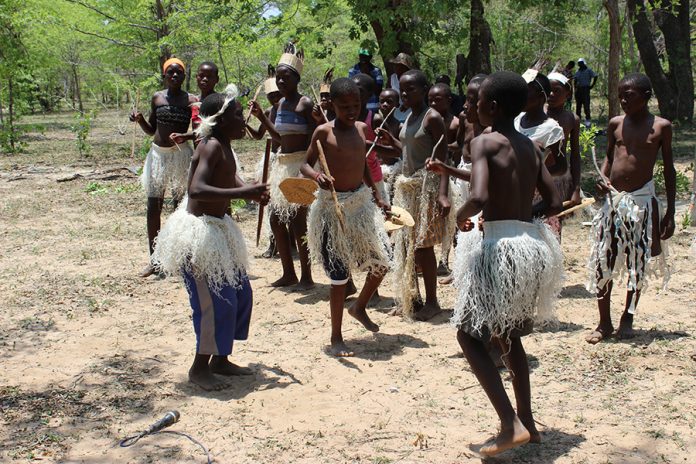 CHILDBEARING is a blessing among the BaTonga women while hurting or beating a child is taboo among these gentle people.
However, lack of resources to send their children to school and the cultural gap that was created by the previous educational curriculum created a discord between parents and children.
But with the introduction of the new curriculum, something magical is happening. Children and parents are now happy as they can now learn their own language, cultural values and are now able to use makeshift classrooms to full advantage.
Parents have come together to build their children play centres, makeshift schools and other recreational facilities, defying the glaring poverty in this part of the Zambezi Valley.
Despite coming to school with the barest of resources, the BaTonga children have done well, academically, for themselves and their families.
Clearly there is an intimate link between the physical environments that these children occupy and the quality of their lives.
Their housing, the water they drink, the quality of their schools and neighborhoods have impact on their health, happiness and long-term development.
However, with the introduction of the new curriculum, most of these children are now fitting well in the education system; they are learning about their culture and the importance of traditional indigenous knowledge systems which form the basis for a people's livelihood.
Their traditional songs and games, which are one aspect of indigenous knowledge systems, have been incorporated in their schools.
Through the songs and games, the children are learning about their environment, acquiring, in the process, important life skills.
Most indigenous communities in the country have traditional songs, folklore, methods and practices which are a part of the various modes of indigenous knowledge transmission.
Children's traditional games such as mahumbwe, chitsvambe, chihwandehwande, nhodo, pada, tsoro and hwishu formed part of indigenous learning and an education for living which was meant to train the youth for adulthood.
They learnt by observation, imitation, practice and listening to stories told by their elders.
Heritage studies and traditional knowledge systems have assisted in entrenching these games among a host of other subjects that enhance good child development.
Prior to colonisation, children were taught to hunt, fish, prepare food, build houses and to run a home through games and songs.
Today, many of these games are at risk of becoming extinct because of rapidly changing natural environments.
Urbanisation has taken its toll on children's play, games and songs.
Now with the new curriculum, education institutions are now more than just buildings, furniture and equipment.
In the past, schools often supported a formal approach to learning, separated from children's everyday culture, environment and pre-occupations.
This was reflected in buildings isolated from the community and in bare classrooms with little evidence of local life and concerns.
Prior to the new carriculum, many children in Binga attended schools in dark, overcrowded, poorly ventilated rooms which made paying attention difficult.
Often they sat on the floor or crowded on backless benches.
Children with disabilities, in particular, were seriously penalised by schools and other facilities that completely ignored their need for easy access.
This cut them off not only from education, but from a chance to become integrated into the larger community.
Most schools they attended were spatially organised to allow only for attention to a teacher and blackboard at the front of the room.
Little attention was given to the flexible and creative use of space and local materials or to the possibilities for working alone, or in groups, on a range of activities.
Most schoolyards, for those schools that had them, were barren undifferentiated spaces that failed to take advantage of the many inexpensive and simple ways in which the outdoors can be improved to serve as places for physical exercise and sports, for play and informal learning with peers, for environmental studies and as valuable resource centres for the community.
The new curriculum has shown that, even in the poorest neighborhoods, schools can be vital centres for community life as well as supporting children's full development.
Child-centred learning does not require expensive, elaborate buildings and supplies — it is promoted by easy access to resources and materials, flexible use of space and the opportunity to be involved in a range of activities.
Schoolyards suitable for games and sports, informal play and learning can be resourced not only for the school, but for the community as a whole — as is true of indoor space, which can be used for local meetings.
This is the thrust of the new curriculum whose emphasis is an all-encompassing education.