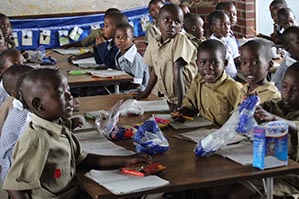 IT's almost a month since schools opened and as planned, the new curriculum is up and running.
In fact, the Ministry of Primary and Secondary Education is being overwhelmed by demands from schools and teachers in the implementation of the new curriculum.
Schools and departments have made significant headway in constructing plans and implementation that link the national curriculum to classroom programmes.
Teachers are slowly finding their way around the new syllabuses.
Many are fascinated by the 'new' stuff they are learning; things they are more familiar with and that have a direct bearing on their lives.
A survey conducted by The Patriot revealed that 98 percent of sampled schools in Harare were already implementing the new curriculum with a few saying it was still too early to assess the implementation process as they were still in the preliminary stages.
David Livingstone and Widdecombe Primary Schools said it was still too early to assess the implementation of the new curriculum as they are still linking the national syllabuses to classroom programmes.
"As you can see, we are still printing the national syllabuses, we are yet to design our own school syllabuses," said Widdecombe Primary School headmaster Winson Mudimu.
"By mid-February I am sure you will find something meaningful on the ground."
This was the same case with David Livingstone Primary School.
"We are still finding our way in this new curriculum so come back end of February," said the deputy headmistress Mrs Ndlela.
However, those who have started implementing the new curriculum (head teachers, teachers, standard officers and others) are faced with a number of challenges which might slow down the successful implementation of the curriculum.
The challenges appear to be be more pronounced in secondary schools.
The main hurdle in all the schools The Patriot visited was lack of teaching materials as most books to support the new curriculum, approved by the Ministry of Primary and Secondary Education, are yet to be be published.
Warren Park Six Primary School had a number of new textbooks for the new curriculum although they said they still need more as in some instances four classes were sharing one textbook.
"For now we are using sample text books," said a Grade One teacher at Warren Park Six Primary School.
Their Early Childhood Development (ECD) classes had everything in place from learning gadgets to visual arts displays such as building blocks, play dough, paints, balls drums, toy cars, dolls, skipping ropes, tambourines, beads and threads.
But for secondary schools, the new teaching material for almost all the new subjects is not yet available.
Most schools were citing financial constraints as one of the reasons they had not acquired textbooks, while some noted that the books had not yet been published.
"Although the Government introduced tuition fees in secondary schools, the move has had little impact as most learning institutions are still experiencing liquidity problems," said Warren Park High headmistress, Rudo Kanji.
"Most students are not paying their tuition fees.
"For instance, here we have 1 836 students, but only a percent of those have paid their fees."
However, The Patriot observed some teachers striving to locate and modify resources.
For example, Allan Wilson High School head of department Heritage Studies, one Halimani, said some teachers, including her, were using their university notes as teaching material.
"We do not have textbooks, hence we have to deal with what is available," said Halimani.
"For example, I am simplifying my university notes to teach these pupils."
Unavailability of school facilities and equipment like land, hoes, resource centres as well as computer and science laboratories are a challenge in the implementation of the new curriculum.
And this all came back to the issue of financial constraints.
A shortage of teaching staff to meet the expectations of pupils was another impediment.
Teachers are the most important human resource in curriculum implementation since they adopt and implement the ideas and aspirations of the designers.
"A sufficient supply of trained teachers is therefore needed if the implementation of the new curriculum is to be effective," said Warren Park High Heritage Studies head of department, Caroline Chipunza.
"When a school does not have enough teachers, the few who are there are overstretched or overloaded, hence they are overworked which in turn affects their capacity to teach effectively.
"A Heritage Studies teacher who used to have 80 pupils now has over 1 000 pupils now that the subject is compulsory in all forms."
Her head Kanji chipped in, noting that Warren Park High had had to make adjustments of shifting teachers from one subject to another to accommodate the new curriculum.
"For instance, the intended curriculum includes content for learners with special needs, but trained personnel to handle such learners is inadequate," said Kanji.
"The new curriculum is a very noble initiative, but we do not have the human resources and teaching materials to implement it."
She noted the new curriculum did not take into account schools that have inadequate classrooms, which gave rise to two sessions in order to give all children an opportunity to learn.
"We have dropped some subjects as we cannot take all of them since we have hot seating," said Kanji.
"Our timetable for morning school is from 7:15am to 12:15pm and afternoon session from 12:30pm to 5:30pm.
"We cannot stretch further as our classes will go beyond 9pm if we are to take all subjects on board."
In cases where some subjects such as Agriculture and Physical Education were not offered, the challenge has been unavailability of trained teachers in those areas.
Allan Wilson High School is not teaching Agriculture, which is now a compulsory subject, owing to lack of teachers.
"We have requested for Agriculture teachers from the Ministry of Primary and Secondary Education and we are yet to be allocated the teachers," said the school headmaster Blessing Njintimana.
Physical Education teachers argued the subject modules had to be more coherent to allow long-term, connected and content understanding.
There was also positive teacher-reaction to modules, with some teachers seeing them as setting out clearly what was expected of students.
However, many parents were of the opinion that despite the challenges, effective curriculum implementation depended on an individual teacher's enthusiasm and commitment.
These qualities, they said, were critical to effective curriculum implementation and overcoming organisational and other constraints.
"While a great deal of work has been done in schools to provide the facilities, resources and plans, it is still the prerogative of the teacher in front of the classroom to ultimately put it all together," said one parent Edgar Mhanza.
If challenges experienced by educators, such as inadequate resources, financial constraints and shortages of teachers are not addressed, this will have far-reaching consequences not only for our education system, but also for the type of skilled learners who will be produced and for the economic growth of the country.