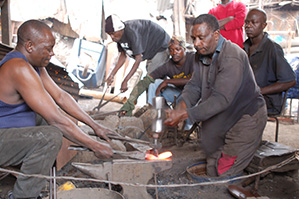 PRESENTING the 2014 National Budget in December last year, Finance Minister Patrick Chinamasa caused a stir when he announced that in order for a new economy to emerge, the old economy must first die.
A lot of hullabaloo erupted from the so-called private press who were quick to make the minister's assertions an admission that the economy was dead.
Five months down the line the prophets of doom have been forced to eat humble pie as it now becomes clearer that the Finance Minister was right after all, a new economy has emerged which is promising to reclaim Zimbabwe's position as an economic powerhouse in Sub-Saharan Africa.
The beauty about this economy is that it is now run by indigenous Zimbabweans who are now the torchbearers that will determine the future of this country.
One would wonder if this is just mere rhetoric or there are facts to back this assertion.
The Zimbabwe Investment Authority (ZIA) recently released statistics for the first quarter which showed an 87 percent increase in volume of Foreign Direct Investment (FDI), a drastic departure from last year's depressed volumes.
According to ZIA, a total of
US$721 740 957 was realised from 34 approved projects which cumulatively created 3 466 new jobs in the three months from January to March 2015, a major improvement from the same period last year when US$93 million was realised.
Of these 34 new projects, 30 projects are joint partnerships with locals, marking a new dispensation where indigenes play a pivotal role in steering the economy, much to the chagrin of pessimistic economic analysts.
However, this is not the end of the story, as most economic analysts worth their salt have hinted that FDI might hit the US$4 billion mark by year end, pointers are that the economy is not only on a recovery path, but economic growth will be sustainable.
As the new economy emerges from the doldrums, there is need to structure a new ideology which discards the tenets that marked the decline of the old economy.
This can be done by developing a new business paradigm, setting new definitions to the way we do business, and adopting business models that incorporate the informal sector.
The Reserve Bank of Zimbabwe (RBZ) recently concurred that the informal sector had contributed US$3,3 billion to the fiscus since dollarisation.
The RBZ exchange control director, Morris Mpofu recently said the central bank had realised more than US$3 billion financed from un-located domestic and foreign sources.
"This US$3,3 billion between receipts and payments mean that people have funds that they are keeping that is coming through informal channels that are not recorded by the Reserve Bank which they are using also to import and make payments," said Mpofu.
Continued resistance to formalise the informal and the SME sectors, which form the bedrock of the new economy, have stalled progress in Government steering growth from this economic powerhouse that has been harnessed by Scandinavian countries to leverage their growth.
The local business community has also called for a policy shift which acknowledges the emergence of the new economy, but took a swipe at continued reliance on Western business models that had led to the collapse of the old economy as the prescriptions did not match with the reality on the ground in Zimbabwe.
In an article published in The Herald (May 4 2015) with the headline 'Zim firms urged to think local', business consultant and founder of Stop to Start International Zwelibanzi Ndlovu, said local intellectual property lay latent in local personnel.
"We have a situation where indigenous people own natural resources, but when it comes to running companies, we look again to the West," he said.
"We still use Michael Porter's five Cs, use Steve Covey and his seven habits.
"We go back to the West and copy their balanced score cards.
"Basically when it comes to running these things we're using foreign model skills.
"My point is that when we indigenise ownership, those entities should be run using indigenous business models.
"It's as if we entrust our resources in such a way that we trust the hands, feet, the muscles and physical attributes, but we don't trust their brains to run entities."
As the new indigenous economy gets footing, Government recently stepped up efforts to improve the country's national competitiveness by approving the National Competitiveness Commission (NCC), a vehicle which is expected to facilitate the ease of doing business in the country.
By setting up the NCC, Government joins the bandwagon of 40 other National Competitiveness Councils or Commissions worldwide in countries including the United States, Egypt, Croatia, Saudi Arabia, Brazil, South Korea and Ireland.
Despite these staggering achievements, The Global Competitiveness Report 2014-2015 ranked Zimbabwe at number 124 out of 144 countries worldwide, seen as an improvement from 2012 when Zimbabwe was at 132.
But the credibility of these rankings have been questioned as they seem informed by a hostile attitude by the West bent on painting the country with a black brush.
Zimbabwe endured more than a decade of sustained illegal economic sanctions from Britain and her allies after embarking on the land reform exercise in 2000.
Many still wonder how a tiny landlocked country like Zimbabwe tucked away in Southern Africa can attract the attention of the world's most powerful economy, the United States, which passed the Zimbabwe Democracy Recovery Act (ZDERA) in 2001 ostensibly because Zimbabwe's policy on land is hostile to America's foreign policy.
Thereafter the economy experienced a nose-dive as critical institutions failed to access capital, there was massive brain drain, failure to retool industry, capacity utilisation challenges resulting in hyperinflation.
But a Look East Policy and dollarisation in February 2008 brought some relief to the economy.
And now from that turmoil, induced by the West, is emerging an indigenous economy buttressed by vast mineral resources, an economy that is expected in the not too distant future, to join leading economies of the continent.