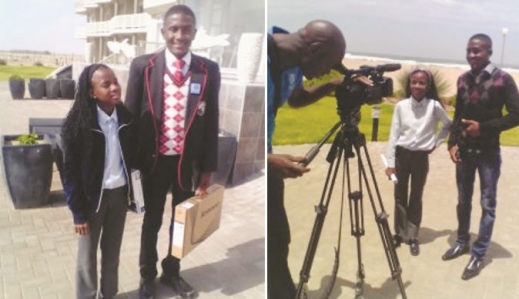 THE Regional Tourism Organisation of Southern Africa (RETOSA) this week announced the new Southern Africa Junior Tourism Ministers for 2014.
Taloshili Olavi Hangula (15) of Namibia was elected Southern Africa Junior Tourism Minister while Tsholofelo Tsheto (12) of Botswana is the Deputy Minister.
Their one-year roles were assumed after emerging the best in an essay competition.
RETOSA is a Southern African Development Community (SADC) body responsible for the promotion and marketing of tourism in 15 Southern African member- countries.
The body based in Midrand, Gauteng, South Africa, aims to turn tourism into a major economic driver for the region by marketing and promoting tourism in southern Africa in close cooperation with the region's national tourist organisations and the private sector.
Its strategic objectives include increasing the volumes of inbound tourism and creating investment awareness for tourism development in the region.
The United Nations World Tourism Organisation (UNWTO) officials represented during the meeting encouraged member countries to use regional organisations like RETOSA to influence opinion leaders who in turn instil the importance of tourism and its impact in their communities.
The new junior ministers have a chance to participate and input into the regional agenda on tourism development in Southern Africa, paying special attention on how the youth can play a meaningful role in the lucrative tourism sector.
Their duty is mainly to reach out and motivate school children in Southern Africa, aged between seven and 17 years.
The engagement will be done through existing social media platforms that have already been established by RETOSA, such as Facebook and Twitter.
In addition to this, the junior tourism ministers will be able to communicate directly with their peers through a blog that will be managed by RETOSA.
These networks will enable open interactions and debates on sustainable tourism.
The junior tourism ministers will also develop a forum as well as interact with students at secondary school level while the deputy concentrates on learners in primary school.
They will also participate in the UNWTO First Regional Meeting scheduled from May 7 to 9 2014 in Kwazulu Natal, Durban, Tourism Indaba which is held annually in Durban and the ministerial meeting which is slated for February in Zambia.
The junior tourism minister and his deputy will use the platforms to present on the involvement of youth in sustainable tourism and any other issues related to youths in tourism.
The youth in tourism project is an ongoing programme spearheaded by RETOSA after the realisation that they are a critical component in sustainable development of tourism in Southern Africa.
This is also in order to create a regional platform of mainstreaming scholars into tourism programmes.
With the realisation that youths have a critical role they play in advancing tourism, organisations such as the Zimbabwe Youth in Tourism (ZYT) have been formed.
These organisations have come up with various initiatives that enhance youth participation in the industry.
Meanwhile, RETOSA's director marketing and communications, Kwakye Danker has called on Southern Africa, which has become a tourism hub, to take advantage of the good infrastructure in the region.
"There is great diversity in the region because it is easy to move from the beach to the bush. There is abundance of resources which meet the needs of our markets. We must therefore promote multi-country packaging because from Cape to Cairo, the choice is unlimited as there are 39 world heritage sites in the 15 countries."
RETOSA member states are Angola, Botswana, Democratic Republic of Congo, Lesotho, Madagascar, Malawi, Mauritius, Mozambique, Namibia, South Africa, Swaziland, Tanzania, Zambia and Zimbabwe.