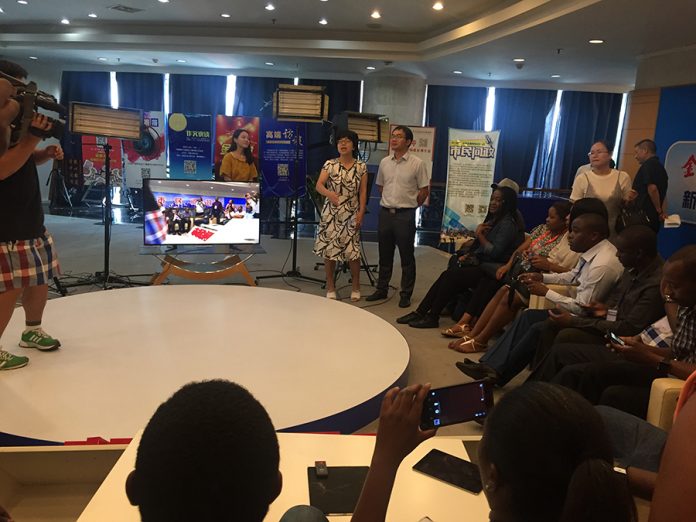 A NEW phenomenon has swept through the Chinese media where traditional media houses, namely broadcast and print, have abandoned the old ways and embraced new technologies.
Traditionally, media houses were either exclusively print media or broadcast.
However, with the breakneck pace at which technologies are evolving, media houses in China have embraced new media, seamlessly morphing into enterprises producing content that cuts across their traditional markets, at the same time tapping into new markets and reaching audiences who previously did not consume their products.
The concept of new media is using the internet as opposed to the big media concept of newspapers, television and radio.
As part of the new media concept, newspapers that previously used to package their products only in hard form, that is, the traditional newspaper, now engage in posting video clips on their websites and on their apps.
For weeklies, they can provide on-the-hour updates on online platforms, breaking the traditional time frame barriers.
Some of the advanced media institutions house a newspaper, TV station, radio station, website and social media platforms as well as outdoor digital media studio all under one roof.
This is despite these organisations were initially set up to compete in one main market under the big media concept.
The media houses can sometimes share the same staff and office space, with the news filtering in through one gateway before being filtered to suit its intended platform of distribution and dissemination.
A recently held Seminar for Journalists and Editors of Zimbabwe hosted by the Chinese Government and sponsored by the Chinese Ministry of Trade saw 20 journalists and editors travel to China where they toured media houses and universities training journalists.
Among the organisations invited were The Patriot, Zimpapers newspaper stables, New Ziana as well as the private press, and these all got the chance to see how the traditional media in China had dealt with media convergence.
During the tours, it emerged that media houses in China had acknowledged a transformation of consumptive patterns of media products from traditional media products — that is newspapers, radio and television products — to incorporate social and mobile media products.
A seasoned journalist with more than 20 years experience and numerous awards under his belt, He Chengming, the director of Jinhua Daily, one of the best-performing city level newspapers in China, decried the traditional media's waning influence.
"Radio and TV used to dominate, especially in the broadcast media category, with radio enjoying a larger audience during the day while television would take over pretty much the same audience at night," said He.
"The emergence of social and mobile media, on the other hand, has resulted in declining revenues for traditional media organisations, so this has spurred the traditional media houses to act and come up with surviving strategies to ensure their continued survival," said He.
According to recent statistics, China, which has the largest population in the world at 1,4 billion people, has 731 million internet users, giving an opportunity for traditional media to tap into new media which makes use of mobile devices and internet data to access information.
Tencent, a company that set up QQ, a trending social media application, enjoyed a staggering profit of 80 million RMB in its initial year.
The shift in policy for Chinese media was also highlighted by Zhejiang Normal University director Hu Falin during a lecture titled 'The innovation and development of traditional media against the background of media convergence'.
According to Hu, a 2013 survey carried out in Beijing showed a slump in TV usage of 30 percent, down from 70 percent three years prior, which was a cause for concern for traditional broadcasters.
The survey also revealed that the bulk of the 30 percent that had stuck to consuming TV products were people aged 40 and above, while teenagers and young adults now consumed mostly social media products which they mostly access through mobile devices.
A common sight as one drove around China was people glued to their mobile devices.
So consumed are people by gadgets that Hu joked: "Distance in China is no longer physical, but two people sitting next to each other can be as distant as the north pole from the south pole."
The Chinese media has thus realised the importance for TV and radio companies to partner mobile phone operators to share the profits.
The internet has often been viewed as a virtual space prone to abuse through cyber crime. The Chinese Government has come down hard on malcontents who spread malicious information which violates the country's laws by holding them accountable for their actions.
While the internet has been viewed as a platform with no limitations as compared to the mass media, the traditional media has snatched the opportunity to actively participate in the production of social and mobile media content by providing 'good hands' where credible news is reported from an objective perspective and disseminated through the trending social media platforms as well as new media.
One expert, reflecting on the US 9/11 attacks, noted that it was not a TV station or newspaper that aptly captured the graphics of the 9/11 attacks, but amateur footage shot by a man on the ground which was eventually adopted by the biggest media houses across the world.
This is a threat the traditional media, and the Chinese media in particular, has responded to by training its personnel to react swiftly to events, capture the news on the ground as it happens and reporting to the station, where the news is converged to suit the requisite platforms.
There is also a drive to employ what are termed 'universal journalists' who can write copy, take pictures, edit their own stories, upload their information and blog.
For instance, Taiwan Associated Press, a newspaper, has made it compulsory for their reporters to upload between 80 to 100 news clips a day, shot by their mobile devices, and this has accounted for between eight to 10 percent of their total number of clicks. The journalist with the article or videos that get the highest number of clicks is given a performance incentive.
However, Hu noted that the challenge they face as management is to identify the talent required, whether the existing staff should be trainedå to hone their capabilities or to employ new staff who come equipped with the capabilities required for the job.
This calls for re-engineering of the production model followed by the traditional media.
For instance, in the traditional media, when there is an assignment, you send a driver, photographer and reporter to the same function, but the new model is that one reporter is sent to an assignment, drives his/her own vehicle, takes own pictures, writes, edits and uploads content.
Traditional media houses also now consider reengineering the production platform, that is, what other platforms they can use to post content.
Apart from that, media houses have become fluid in terms of their content as they endeavour to harness revenue.
There is also need for media houses to re-engineer their institutional framework by re-organising and restructuring management, at times making amendments and cancellations where necessary.
What Hu was proposing is a re-engineering of the business models of traditional media organisations where the overriding objective is putting together a mix of products that enables the organisation to gain attention; which does not necessarily have to be the products they traditionally focussed on.
While this is how the Chinese media has dealt with the threat of new media, it is imperative local media houses take a leaf from the Chinese and turn the threats into opportunities that can see the media houses' profits and market share soar, if they so choose the right mix of products and platforms.