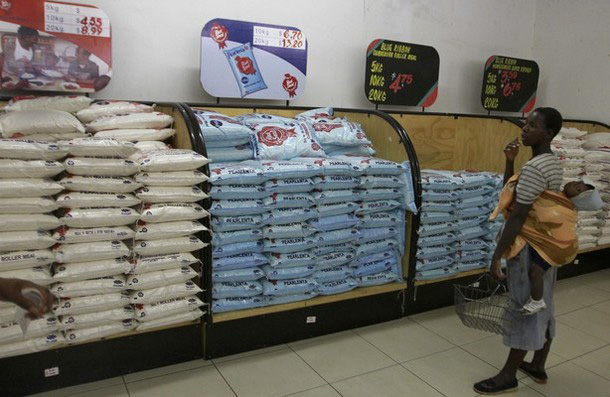 MANUFACTURERS in Zimbabwe have adopted global test practice of publishing prices for various goods and services on either the packages or in the media as a means of curbing excessive profiteering by retailers.
Publishing prices on packages is not a new phenomenon. Bread and soft drinks have been leading in that category.
In a statement, Confederation of Zimbabwe Industries (CZI) said the private sector is committed to price stabilisation.
"The private sector has agreed to adopt global test practice by publishing the recommended wholesale and retail price on either the product packages or in the media," said CZI.
"In particular, the cooking oil industry shall be working with its distribution partners to ensure that the wholesale and retail mark-ups are guided by the Manufacturers' Recommended Prices (MRP)."
The listed price, also known as the MRP, of a product is the price at which the manufacturer recommends the product be sold for in retail stores
The intention is to help standardise prices. Some stores always sell at or just below the MRP, while others do so only when the product is on sale or has been moved to clearance.
In November last year, the Government announced a price monitoring programme listing 15 selected commodities with a view to arrest instances of profiteering and speculation by unscrupulous businesses.
Some of these listed products include edible oil, flour, salt and mealie meal.
Grain Millers Association of Zimbabwe, which represents the milling industry, has put a cap on wholesale and retail prices of commodities manufactured by its members as part of its efforts to support the price monitoring programme.
In addition, United Refineries Limited released the maximum price schedule that retailers selling its Roil edible oil brand should charge, pegging 375ml and 750ml at US$1 and US$1,75 respectively while two litres is pegged at US$3,90 and US$10,60 for five litres.
A snap survey by this paper revealed that most major retailers have heeded the recommended maximum retail prices by the supplier. For example, two litres of Roil cooking oil was being sold at US$3,87 while brands such as Zimgold and Sunshine are selling at US$3,55 and US$3,65 respectively.
Industry said out of the 15 monitored basic commodities, the price of economy beef is expected to fall by an average 10 to 20 percent.
Economic analysts said the pricing strategy is very viable as some manufacturers had already been using it.
"We have the example of Delta, for many years, which, with its near monopoly obviously, had to tread carefully, advertising maximum prices, enforcing these in its distribution chain," said one economic analyst.
"Other manufacturers are applying a similar model."
Competition and Tariff Commission (CTC) said while players may use similar formulas to determine prices at which they sell their products, certainly two or more players cannot charge the same price for identical products given the different overheads base, capacity utilisation levels, economies of scale and other incidentals to operations.
"In this respect, in spite of the recommended maximum prices the commission expects all players in any sector with the recommended maximum prices to charge significantly different prices that facilitate the competition process," CTC said in a statemt.
CTC said excessive pricing was anti-competitive, as it rules out the setting of prices according to recognisable competition considerations.
"In this respect, the commission will not hesitate to embark on investigations in sectors identified as colluding or price fixing or excessively pricing with a view to remedy such anti-competitive practices within the confines of the Act.
"All producers, wholesalers and retailers are therefore expected to comply with the Competition Act with immediate effect or face the wrath of the law," said the watchdog.
CTC has also observed the rampant unsupported price increases on goods and services equated to excessive pricing in competition law and policy to the detriment of consumers.
"Excessive pricing is defined as a price for a good or service, which bears no reasonable relation to the economic value or reasonable relation between price and economic value of that good or service and higher than that value," CTC said
"Such conduct leaves consumers with no alternative, as all players, producers, wholesalers and retailers charging excessive prices eliminate the consequent competitive prices for basic goods and services and product associated with a competitive environment."
The ZANU PF Politburo last month set up a committee led by Vice-President Retired General Constantino Chiwenga to deal with price increases for basic commodities.
Prices of most basic commodities have almost doubled since September last year, mainly due to speculation and profiteering among producers and retailers.
Government last week slashed excise duty on all fuel products in a move meant to reduce overall production costs and stabilise the country's pricing system.
Excise duty on petrol went down from US$0,45/l to US$0,385/l, with diesel and paraffin duty now pegged at US$0,33/l down from US$0,40/l.
As a result, pump price was slashed from US$1,41 to US$1,34 for petrol, while diesel went down to US$1,23 from US$1,30.
"The reduction in excise duty will have the impact of reducing fuel prices. This will also have the effect of reducing the impact of fuel cost in the economy's overall production cost structures across all sectors," Permanent Secretary for Finance and Economic Development, Willard Manungo, said.
Zimbabweans expect an adjustment that will lead to a reduction in the cost of living which has risen sharply in the last few years.