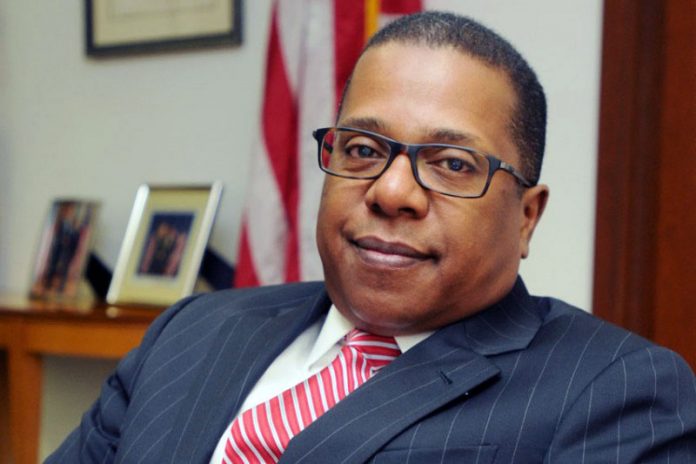 EARLY this week, US President Donald Trump indicated he wanted Brian Nichols to be the US Ambassador to Zimbabwe.
Nichols was born in 1965, to Charles Harold and Mildred (Thompson) Nichols.
Charles Harold Nichols was a Professor at the Free University in Berlin, Germany.
He and his family lived in Berlin from 1960 to 1969 while he directed the university's American Institute/Studies Department.
In 1969 the family returned to the US where Charles Nichols, who earned a PhD in 1948 at Brown University, was appointed the first Chairman of Brown's Afro-American Studies Programme.
In 1987 Brian Nichols graduated with a Bachelor of Science Degree from Tufts University in Medford, Massachusetts.
The following year, he joined the US Foreign Service and in 1989, his first overseas assignment was as a consular officer in Lima, Peru.
Interestingly, his first assignment as ambassador was to Peru in June 2014.
Ambassador Nichols served as the principal deputy assistant secretary of State for International Narcotics Law Enforcement Affairs (INL) from 2011 to 2013.
In that capacity, he oversaw the full range of rule of law programmes and counter-narcotics issues of the Department of State.
Ambassador Nichols directed INL programmes in Afghanistan, Pakistan, Europe and Asia and led US delegations to counter-narcotics and anti-crime fora.
Prior to becoming Principal Deputy Assistant Secretary, he served as a Deputy Assistant Secretary in INL.
From August 2007 to July 2010, Ambassador Nichols served as the deputy chief of mission at the US embassy in Bogotá, Colombia.
As deputy chief of mission, he managed day-to-day US diplomatic activities in Colombia, including overseeing over US$500 million in annual US development assistance, rule of law and security assistance.
Ambassador Nichols previously served as the director of the Office of Caribbean Affairs, co-ordinating US policy towards 14 Caribbean countries, including US efforts to re-establish democratic governance in Haiti.
He also served as counsellor for political affairs at the American Embassy in Jakarta, Indonesia, from 2001 to 2004. In Indonesia, he assisted the Indonesian Government respond to the Bali bombing terrorist attack, strengthen rule of law institutions and consolidate its democracy.
He served as deputy political counsellor in Mexico City and political officer in El Salvador.
Ambassador Nichols is the recipient of the 2011 Presidential Meritorious Service Award, six Superior Honour Awards and multiple other Department of State awards.
President Trump's choice of Ambassador to Zimbabwe seems to be picking up from his predecessor, President Barack Obama, of sending African-American diplomats to the country.
There is one deviation – Nichols has no previous connection to Zimbabwe.
The likes of Christopher Dell, David Wharton and Harry Thomas all previously served in Zimbabwe before they were appointed Ambassadors to the country.
Nichols has no previous link to Zimbabwe and Africa in general.
What one makes out of this is up for interpretation.
Is President Trump seeking to start a new chapter in new US-Zimbabwe relations or does he want someone who will not have a softer stance on Zimbabwe?
As the end of his tenure approached, the past Ambassador, Harry Thomas Jnr, took a more sensible approach to political issues in the country and this did not go down well with the new hawks at the White House.
His calling out of MDC leader Nelson Chamisa over meeting President Trump and US$15 billion lies signalled a new stance that no longer would the opposition get free passes.
At a farewell media round table in late March, Ambassador Thomas said: "I think you need to give Government some time because they have been in office a short while to make good on their promises.
But they are off to a good start in terms of BVR, new Zimbabwe Electoral Commission (ZEC) Chairperson, you have even invited international monitors and observers, for the first time since perhaps 1980."
So Zimbabwe has gone for roughly two months without a substantive US Ambassador and already one is on his way.
It all seems normal until one realises that South Africa last had a US substantive Ambassador in 2016.
Partick Gaspard, born to Haitian parents in the DRC, moved to the US at age three and served as US Ambassador from July 23 2013 to December 16 2016.
Since then, Jessye Lapenn assumed the role of Chargé d'Affaire.
South Africa, considered a powerhouse in southern Africa, has been without an ambassador for over a year and a half.
That the US has interests in Zimbabwe is an understatement. Anyone who understands the way the US operates can tell that the US has an agenda in Zimbabwe and it will not move from its position until such a time when that agenda has been met. A cursory glance at Nichols' work in Peru shows that he did not get up to much trouble there and, in fact, he was awarded the Order of the Sun of Peru.
This is the highest award bestowed by the nation of Peru to commend notable civil and military merit.
The award is the oldest civilian award in the Americas, first being established in 1821.