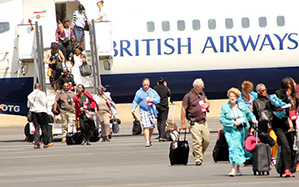 By Anesu Chakanetsa
THE Department of Immigration and the Zimbabwe Tourism Authority (ZTA) has announced a revised visa regime which seeks to facilitate and promote the growth of tourism in the country.
Tight visa regimes have been cited the world over as being among key factors curtailing growth of tourism in countries not enjoying the boom being experienced in the sector.
The Zimbabwe migration management system comprises a three-tier visa model classified into categories 'A', 'B' and 'C'.
Category 'A' refers to countries whose nationals are exempt from visa requirements while those in category 'B' obtain visas at the port of entry, that is on arrival.
Category 'C' nationals are required to apply for visas prior to travel.
Speaking at a press conference held in Harare recently, chief immigration officer Clemence Masango announced the new position which has seen all Southern African Development Community (SADC) countries falling into category 'A'.
"This new position completes the circle and process for us as Zimbabwe in removing all visa controls in respect of all SADC countries in line with the fulfilment of the spirit and objectives of the SADC Protocol on the facilitation of Movement of Persons," Masango said.
"All SADC nationals no longer need visas to enter Zimbabwe as they are now in category 'A' of our visa regime.
"It is expected that the new visa regime will enhance migration flows into Zimbabwe with the resultant socio-economic benefits into the country."
This announcement comes at a time when Zimbabwe's tourism is recovering from negative international publicity which led to a huge drop in tourist arrivals.
Many campaigns, among them, the rebranding of Zimbabwe's tourism from Africa's Paradise into 'Zimbabwe — A World of Wonders', have seen an upsurge in tourist arrivals.
Campaigns such as the Meetings Incentives, Conferences and Events (MICE) have also seen the country hosting many international conferences that have put the country on the world map.
Last year, Zimbabwe hosted the International Conference on AIDS and STIs in Africa (ICASA), in the process, attracting many tourists.
In 2014, the Zone 6 Youth Under20 games also attracted tourists from around the region, which also boosted the country's economy.
Masango challenged ZTA and rest of the tourism industry to take advantage of the new visa regime to fully market Zimbabwe.
"We expect ZTA together with the industry to now gear up, take advantage of this development and fully market our country," said Masango.
The ZTA chief executive officer Karikoga Kaseke said the tourism industry needs to be aggressive in making Zimbabwe known to the world.
"The tourism industry needs to be aggressive and take advantage of the new visa regime and not just sit back and relax," he said.
"As of 2015, Zimbabwe received 6 000 tourists from China compared to Botswana which received an estimated 43 000, Zambia 55 000 and South Africa 158 000.
"Tourism needs investment and we must be aggressive if we have to up the numbers.
"We must begin to see Zimbabwean bill-boards advertising Victoria Falls and Great Zimbabwe being erected in several countries like China and Malaysia."
According to the new visa regime, China moved from category 'C' to 'B', but based on the condition that Chinese tourists travel as a group cleared by tour operators and travel agencies in China.
Chinese business persons and other citizens of China, as approved by their government, will continue to apply for visas online.
Zimbabwe boasts majestic tourist attractions like Victoria Falls, Great Zimbabwe monument and the Eastern Highlands among others.
The country continues to publicise and market the splendid attractions to the world even at international carnivals and other tourism events hosted in different countries.