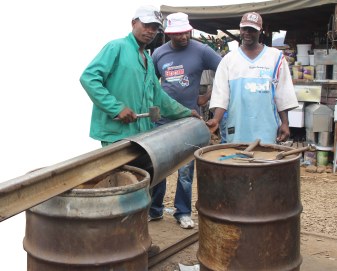 A NON-GOVERNMENTAL organisation, Institute for Sustainability Africa (INSAF) has pledged to assist local small-to-medium enterprises to achieve sustainable business growth.
INSAF a think tank and research institute based in Harare said it will provide technical support such as training in sustainability reporting and environmental accounting.
Technical training also includes information tools for strategic, financial, production planning, establishing of business targets, relevant performance monitoring and development of best continuous improvement practices.
The NGO said the move is meant to help SMEs attract international investors.
A sustainable business is an enterprise that participates in environmentally friendly activities to ensure that all processes, products and manufacturing activities adequately addresses environmental concerns while maintaining a profit.
For the past decade SMEs have become the 'nerve' centre for economic growth and empowerment.
SMEs, according to Government, constitute 70 percent of the economy thus they play a vital role in economic development by increasing competition, fostering innovation and sustainable development and generating employment.
Speaking at a policy dialogue forum for SMEs organised by INSAF in partnership with Voluntary Services Organisation (VSO) recently, INSAF chief executive officer Rodney Ndamba said most companies are failing to attract the much desired foreign investors due to undisclosed ecological risk and hidden environmental liabilities.
"As small businesses in Zimbabwe you need to move towards sustainable business practices as many investors are targeting that sector.
"Demonstrating sustainability, environmental, social and governance in your business has become a key factor for competing and attracting investors to small business enterprises," Ndamba said.
He said local SMEs have great opportunity for international supply chain provided they operate in a framework that takes into account sustainable business practices.
The forum highlighted the need for SMEs to be professional and to keep accounting record of their activities.
"For most SMEs keeping accounts is seen as a waste of time, money and effort, and is also avoided as a means of ensuring that there is no track record of what the proprietor would have done, in the event that any government agency comes to visit," said Ndamba.
Zimbabwe Association of Microfinance Institutions (ZAMFI) director Godfrey Chitambo said issues of collateral will not be prominent if SMEs are able to prove their past performance.
"With no banking history to talk of, and no accounting records to tell one's tale, entrepreneurs find that seeking funding is next to impossible to do," said Chitambo.
"This is the real reason why there is the current stand-off between SMEs and the microfinance institutions, with the former accusing the latter of refusing to cooperate, and making 'impossible' demands on the SMEs."
Senior consultant with supply chain management consultant Cliff Gondo said most SMEs suffer as a result of the quick-fix approach to business.
"Because of their tendency to jump from one thing to another, depending on what will be making money at any particular time, SMEs are also associated with the 'kiya-kiya' (patchy/quick-fix) approach to business," he said.
Gondo said business had to seek more than profit.