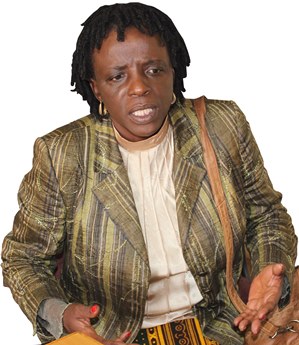 By Tapiwa Kazingizi
MY mother Karen Kazingizi was born in October 1961 and joined the liberation struggle in 1975.
She was in Form Four at Old Mutare Mission now Hatzell High School when she made up her mind to join the struggle.
At that time she was known by many as Maria, a brilliant and intelligent young girl.
Growing up in Mufakose, mother had little knowledge about vanamukoma (freedom fighters) and the liberation struggle.
Up to then, she recalls her participation in the liberation struggle as a 'calling'.
It was a spiritual affair, she says.
She says it was an inter-school drama competition that provided her with an experience that saw scales falling from her eyes and she immediately grasped the importance of the liberation struggle.
Through plays, poems and poetry about the oppression of blacks, mother began to understand stories that she had heard before.
Her teachers played an important role to help her understand more, particularly why blacks were fighting for their liberation.
She talks of how she would join a teacher by the name of Mapfumo to research about the struggle, especially the spiritual dimension of the war.
She became popular among the teachers for she had many questions that needed answers.
Lilian Muzambwa, a biology teacher and Stansilas Chigwedere an English teacher invited her for lunch to answer her questions.
It was at Muzambwa's residence that her life changed.
She became a different person because after the 'famous lunch', she sat alone at the dormitories meditating on what she had been told.
Hours passed as she sat under the sun thinking about all she had learnt from the teachers and stories about the liberation struggle.
One Joyce Chitima, a senior at the school came from her class and took mother for a walk in the fields.
They eventually reached the main road where a mathematics teacher, one Murwichena offered them a ride to the bus station.
And from there, without telling anyone at home or school, their journey to the liberation struggle began.
At the bus station, Joyce went to a certain bus and spoke to a conductor who mentioned a 'code' that saw them being granted permission to board the bus.
Night had come when they boarded the bus and for hours they travelled.
Mother says the journey made her understand how blacks operated and succeeded with meagre resources.
She says they were dropped at a point where there was a truck driven by a Reverend who took them to the border.
They walked the whole night and it was when they were close to the big mountains dividing Zimbabwe and Mozambique that the Reverend announced his return.
Mother and Joyce had to continue following instructions given them by the Reverend.
After crossing a river at midday, they met Mozambican soldiers who took them to Villa Mavhonde.
At Villa Mavhonde, they met many comrades who had come to join the liberation struggle including now Vice-President Joice Mujuru.
For three days they stayed there before being transferred to Zhunda.
It was at Zhunda that my mother had her first encounter with President Mugabe and the late Edgar Tekere.
Mother was among a group of 75 people who were selected by President Mugabe to go to Tembwe for training.
Before departing for Tembwe, they were instructed to choose their war names.
My mother called herself 'Nehanda Nyakasikana'.