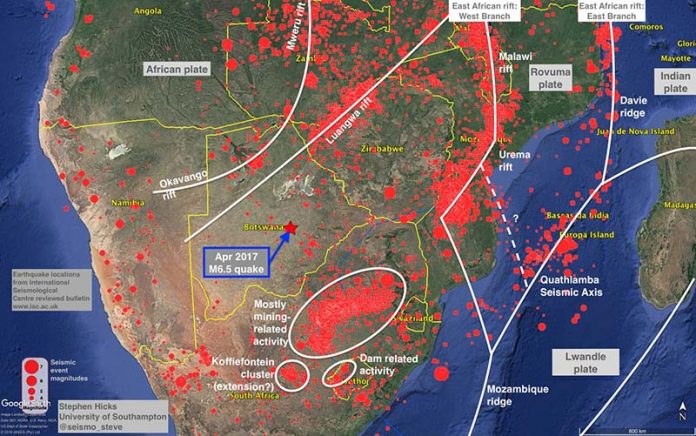 By Rudo Shoko
ZIMBABWE is now regarded as a highly vulnerable country with low preparedness to respond to natural disasters, a Cabinet Minister has said.
An earthquake of 6,5 magnitude which hit central Botswana last Monday, causing tremors that were felt in most parts of Zimbabwe including Harare and Bulawayo severely affected Bulilima, Tsholotsho, Inyati and other parts of Hwange.
Briefing journalists last week in Harare, Minister of Environment, Water and Climate Oppah Muchinguri-Kashiri said Government has set a task team comprising experts to assess the country's state of preparedness to earthquakes and the capacity of the Meteorological Services Department (MSD) to carry out its mandate.
"Each time a significant earthquake occurs, the ground and buildings shake, glass windows break and people panic," said Minister Muchinguri-Kashiri.
"Many people will be confused and not knowing what is going on to the extent of some calling it the end of the world.
"Because earthquakes are being experienced in all our provinces, we can safely plan with the assumption that every place and person in the country are potentially vulnerable and so need to be aware."
World Meteorological Organisation (WMO) defines an earthquake as the shaking of the earth surface resulting in the sudden release of energy in the earth's lithosphere that creates seismic waves.
Earthquakes range in size, from weak ones that cannot be felt to those violent enough to toss people around and destroy whole cities.
The seismic activity refers to the frequency, size and rate of earthquakes experienced in a period of time.
"In 2016 alone, over 50 earthquakes ranging from magnitude 1,5 to 4,6 were recorded in Zimbabwe and a team has to find why Zimbabwe has been frequently experiencing earthquakes.
"This task team has been set up to research on Seismicity and there has to be a detailed study to assess whether there is need for policies to be adopted on earthquakes or seismicity."
The team to conduct the research comprises Dr Dumisani Hlatywayo, Dr Teddy Zengeni, Tatenda Kwangwari, Dr Vunganai Midzi and Rebecca Manzou who are expected to propose policies which Zimbabwe can adopt on seismology.
"With the help of the task team set up by the Government, which has physicists, seismologists and academics, they can help us in answering some of the most frequently asked questions on seismology," said the Minister.
The team is to determine the capacity of the Met Department with respect to fulfilling its national mandate which should include the optimum number of seismological stations.
Last year, tremors shook Chipinge after an earthquake hit Mozambique at 5,6 magnitude and earlier Kariba was also affected when another earthquake of 4,6 magnitude hit some parts of Zambia.
The earthquake comes after the country has been hit by floods with cyclones Dineo and El Nino and droughts headlining the list of mishaps catching authorities off-guard.
Most times the MSD has been labelled incompetent as they have seemingly failed to avail critical information and analysis on time.
Met Department managing director, Dr Amos Makarau said there is a misconception that the role of the MSD is to provide means of implementing disaster preventive mechanisms.
"It is the job of the Civil Protection Unit (CPU) to ensure that when natural disasters strike, they step up," said Dr Makarau.
CPU's representative said, "The previous disaster experiences have made the country wiser in terms of lessening their impact."
Dr Gatsha Mazithulela, an infrastructure development technical scientist, is on record saying, "Most of the disasters experienced in Zimbabwe could have been averted by proper planning, adding that the present disaster management model leaves the country vulnerable to catastrophes."
It has been observed that the earthquakes in Zimbabwe are linked to those occurring in Mozambique, Malawi, South Africa, Tanzania and Kenya.
These lie in the western extension of the East African Rift System which is more prone to earthquakes.
The terms of reference for the task team include determining the vulnerability of Zimbabwe to seismic activity, researching into the potential impacts of earthquakes on infrastructure, life and property.
They are also meant to advise on human capacity and technology as well as the ability to carry out seismological impact assessments before some of the major infrastructural projects like the Tokwe Mukorsi dam and Hydro Batoka Dam which is still in construction, are affected.
The team will also establish whether there are any policies or guiding material in countries that are highly prone to earthquakes such as the US, Japan, Nepal, Turkey, Italy and those closer to home, Mozambique, South Africa and Zambia that can help Zimbabwe in the near future if necessary.
The findings of the research will help the country improve its knowledge on the sources and effects of earthquakes affecting it and the mitigation of seismic hazards.