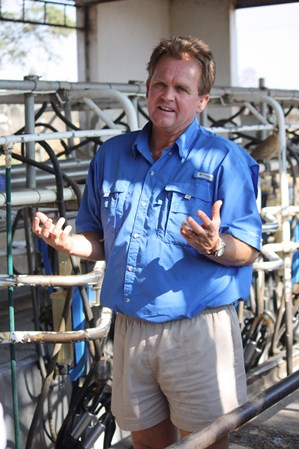 "IS it my fault that I was born white? I did not choose to be white, but one thing I can tell you is I am patriotic," said Stoff Hawgood (51) a farmer from Beatrice who is at loggerheads with the Zimbabwe Agro-Industries and General Agriculture Workers Union (ZHAGAWU).
Formed in 2007, ZHAGAWU is a labour union whose goal is 'protecting' the 'interests' of farm workers in the country.
The Patriot team visited Hawgood in Beatrice at Tavistock Estates situated about 58 kilometres from Harare.
Employing close to 400 employees, he is mainly into potato production and dairy farming.
What is unique about Hawgood is that he is the first farmer in the country to produce washed potatoes, similar to the ones from South Africa, except that his are not GMOs.
Such is the quality of Hawgood's produce.
In terms of dairy, he has 1 350 cattle with 600 dairy cows that produce 14 000 liters of milk a day, translating to 98 000 litres per week.
He supplies Kefalos and various milk products are produced for the Zim market and abroad.
However, ZHAGAWU's general secretary, Raymond Sixpence claims that Hawgood is abusing his workers and stopping them from joining his union, an accusation that Hawgood denies.
Affiliated to the Zimbabwe Federation of Trade Unions (ZFTU) and boasting of 30 000 members who pay US$2 monthly subscriptions, ZHAGAWU says Hawgood is underpaying workers, verbally abuses them and that he unlawfully evicts them.
"Hawgood is a racist and a known abuser," said Sixpence in an interview.
"Besides not paying enough wages, he insults his workers and there are numerous unlawful evictions at his farm.
"And because he is heavily connected with the police in Beatrice, it seems nothing can be done about it as he is always 'protected' by them."
The Patriot, however, is in possession of documents from ZHAGAWU addressed to ZRP Commissioner-General Augustine Chihuri complaining about police officers (names supplied) who in conjunction with Hawgood are allegedly harassing workers against joining ZHAGAWU.
"They are intimidating and harassing workers, threatening them with arrest," reads part of the document.
Speaking to The Patriot, Hawgood said he was being persecuted simply because he is white.
"Why would I stop my workers from joining a union of their choice, because after all, they choose how they want to spend their wages," he said.
"It's just that a ZHAGAWU representative came here and accused me and some of the farm workers of 'being MDC' yet I have never been part of the MDC.
"In fact I am ZANU PF and I am always involved in all party activities in my area.
"I feel I am just being targeted because I am white, but I did not choose to be white.
"I have no problem with ZHAGAWU and I never stopped any of my workers from joining that union.
"All I wanted from them was transparency."
"It's true that I dismissed some employees who were becoming a problem, but that issue is being sorted out by NEC," said Hawgood.
Sixpence confirmed that there were indeed 25 employees from Tavistock Estates whose issue was being handled at the National Employment Council (NEC) Agriculture.
He however, insisted that Hawgood was stopping other workers from joining ZHAGAWU.
Away from their employer, some farm workers at Tavistock Estates who spoke to The Patriot had this to say about Hawgood and ZHAGAWU;
Kalonja Bekenia: "I have been at this farm for two-and-a-half years and we are content with our residence, working conditions and salaries.
"We work eight hours a day and get paid for overtime.
"Yes ZHAGAWU came here, some joined, but I personally didn't.
"I don't have a problem working for Hawgood."
Anna Mako: "For four years I have been working at this farm and currently we get paid US$72 per month.
"We also get paid for overtime.
"There is no issue really about ZHAGAWU coming here because those workers who could afford to join did, but I didn't because I have three children to look after and can't afford to be subscribing every month.
"In terms of our living conditions, we only have water problems at our residences, otherwise we are ok."
Fatima Tuwe: "I am studying Animal Science at Bindura University of Science Education and I am one of the five students here on attachment.
"We get US$72 per month and overhead allowances if we meet our target.
"The experience we are getting from this farm is priceless, but the only challenge we have is accommodation."
Douglas Kwadoka: "For 18 years I have been here at Tavistock Estates and I have raised my family here.
"Our wages come on time and I even raised my family here.
"It has not been easy, but we have decent accommodation and there was a time when my entire family was actually employed here.
"I think the good thing about Stoff is that he prefers to employ families and it actually works in our favour because families are able to combine wages.
"I am now the farm manager, but I think it is unfair for ZHAGAWU to claim that Hawgood influenced workers not to join the union.
"Representatives from ZHAGAWU came here and addressed workers.
"Those who wanted to join went ahead and those who didn't simply refused."
It is not a secret that there are currently about 300 white farmers in the country and that there have been numerous cases of locals who are allegedly exploiting such farmers.
One hopes this is not the case with Hawgood in Beatrice.
Only time will tell.