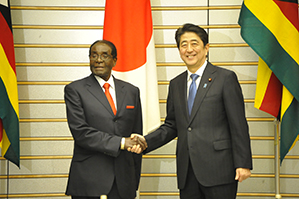 Recently in Tokyo, Japan
UNLIKE China, whose friendship with Zimbabwe dates back to the days of the liberation struggle, Japan's relationship with Zimbabwe began in 1980 when the latter gained independence from British colonial rule.
Known as 'The Land of the Rising Sun', Japan is an island nation of East-Asia in the Pacific Ocean and is home to about 127 million people.
However, one thing you can't help noticing as you move around the capital city, Tokyo, is the ageing population.
In fact, it is said Japan has over
50 000 people who are over 100 years and according to Japan Today, as of August 2015, the average life expectancy in Japan was estimated at 80 and 86 years for men and women respectively.
Although it is about the size of Zimbabwe, barely 20 percent of Japan is habitable, yet it boasts the third largest economy in the world after the US and China.
In Japan last week, while at Hotel New Otani, Tokyo, this reporter came across someone who said: "The best brains in Japan work for the Government."
Somehow it made sense because the famous high-speed bullet trains, massive infrastructure, including breathtaking skyscrapers and highways some of which ingeniously pass through buildings, tell a lot about this economic giant currently with an unemployment rate of four percent.
It (Japan) is the biggest automobile producer in the world and the Japanese firm Toyota, founded by Kiichiro Toyoda, is the third largest automaker in the world.
In terms of natural resources, other than timber, it is said Japan has negligible natural resources including titanium and sheet mica, but it is the world's largest importer of liquefied natural gas and coal, as well as the second largest importer of oil.
However, of late, Japan, a close US ally, is intensifying efforts to improve its relations with African countries.
Some are already insinuating that Japan is following China's footsteps in Africa.
For example, President Robert Mugabe, described by Japan Prime Minister Shinzo Abe as 'an icon of Africa', was last week in Tokyo on an official working visit at the invitation of the government of Japan.
Another example of Japan's growing interest in Africa is the upcoming Tokyo International Conference on African Development (TICAD VI) scheduled to be held for the first time in Africa (Kenya) later this year in August.
Launched by Japan in 1993, TICAD's objective is to promote high-level policy dialogue between African leaders and development partners.
Therefore, President Mugabe's recent visit to Japan was not 'just another Asian trip' as claimed by the so-called private media.
Instead, it was historic; historic in that not only did it fortify the bilateral relations between Zimbabwe and Japan, but major deals were also signed that will see the Asian giant assisting Zimbabwe in various ways.
For instance, besides the aid granted to Zimbabwe for economic and social development like last year's 1 791 billion Yen (US$15 million) for irrigation development for Nyakomba irrigation scheme in Manicaland, Japan is set to implement a preparatory study for Zimbabwe-Zambia road rehabilitation, which is important for Zimbabwe's north-south corridor.
In light of the El Nino-induced drought currently ravaging the southern African region, PM Abe said consideration on assistance to respond to the severe food shortages in Zimbabwe would start as soon as possible.
On the other hand, President Mugabe, after clarifying the country's indigenisation and economic empowerment policy, reiterated to PM Abe that Zimbabwe was open to Japanese investments.
"Zimbabwe's doors are open to Japanese investors and they should look forward to a mutually rewarding relationship with us," said President Mugabe.
Earlier, President Mugabe had met His Majesty the reigning Emperor of Japan, 82-year-old Akihito, before engaging representatives from telecom firm NEC and photography and imaging company Fuji Film.
Foreign Affairs Minister Simbarashe Mumbengegwi said follow-ups were to be made to concretise everything, although Japanese companies were convinced Zimbabwe created a favourable environment for business.
It's important to note that over a decade ago, some Japanese companies left Zimbabwe after the US and its Western allies imposed illegal economic sanctions against Zimbabwe.
Zimbabwe's 'crime'; addressing land imbalances by implementing the Land Reform Programme in 2000 that saw over 400 000 black households getting the country's prime land previously owned by a paltry 4 000 white farmers.
Briefing journalists in Tokyo last week, Mumbengegwi said: "The visit has facilitated the strengthening of our relations and every party is happy after 15 years of not really engaging although there hadn't been any sanctions (from Japan).
"The Japanese have earnestly decided to engage Zimbabwe effectively in terms of economic issues and they are encouraging more companies to invest in Zimbabwe."
As expected, the press in Japan was awash with PM Abe's friendly gesture towards President Mugabe.
The invitation of President Mugabe, they said, could possibly worry the West.
"PM Abe gave Zimbabwe President Robert Mugabe a 600 million Yen welcome to Japan in the form of an aid pledge intended to lure more Japanese companies back to the former agricultural powerhouse and counter an aggressive foray by China," reported The Japan Times.
"But the move could also raise eyebrows in the West."
The above sentiments in The Japan Times must be understood in the context that Japan's biggest trade partners are US and its Western allies such as Britain, France and Germany (countries that imposed illegal economic sanctions against Zimbabwe).
There are also close to 50 000 US troops stationed in Japan because of the US-Japan Security Treaty.
The US military presence in Japan, according to www.globalsecurity.org began at the end of the Second World War and although the US occupation in Japan ended in 1952, US administration continued in Okinawa until 1972.
However, despite these 'ties that bind' between Japan and the West, PM Abe was keen to fortify the relationship between Japan and Zimbabwe.
After paying respect to President Mugabe's recent active roles as Chairman of the Southern African Development Community (SADC) and African Union (AU), PM Abe personally invited him to the TICAD VI in Kenya in August.
The two leaders concurred on the need to reform the United Nations (UN) Security Council and to also enhance co-operation for addressing international challenges such as climate change, countering terrorism and implementation of the 2063 Agenda for sustainable development.
As President Mugabe rounded up his visit in the former capital city of Japan, Kyoto, about 513 km from Tokyo, where he was treated to some traditional Japanese tea, there was a feeling that as much as African countries have a lot to learn from Japan, the Asian giant has indeed set its eyes on Africa.
And that Japan wants to be free; not to be held to ransom by Western powers.