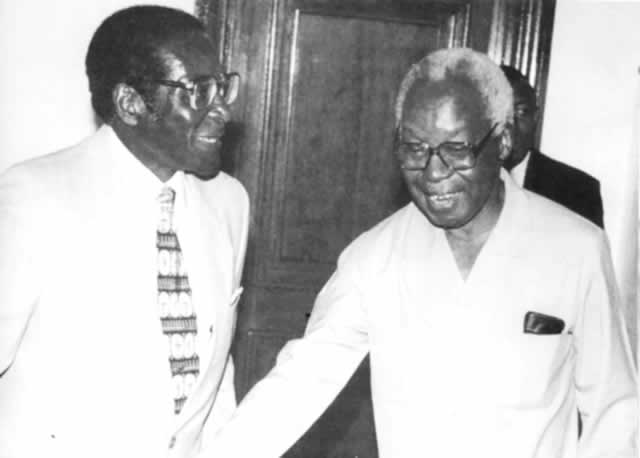 AT the launch of a book in honour of the late great Tanzanian founding father Dr Julius Kambarage Mwalimu Nyerere by President Robert Mugabe at State House last week, there was a feeling of something missing.For a man who has been a rallying point in calls to honour Africa's founding fathers it is tragic that few, including his own people, have taken heed.
As he walked the gathering through Dr Nyerere's life and history, Zimbabweans were once again entrenched in familiar territory where their leader talks about honouring Africa's founding fathers, their great works and deeds and leaves himself out, probably resigned to the fact that no one in the country will give him an honour of similar effect.
That is the danger confronting Zimbabwe, the tragedy of handing over its history to hostile foreigners who have never hidden their resentment of the economic empowerment of black people.
There are many things about Zimbabwe and Africa's history such as giving befitting honours to our heroes that have been thrown into the dustbin and simply forgotten.
But at the State House last week, there was a convergence of contradicting feelings and thoughts of joy and sadness.
It was a joy that a book titled Julius Nyerere: Asante Sana, Thank You Mwalimu was launched.
And it was sad that the man who was launching the book is an icon who should have had his own story told many years ago.
The Nyerere book is a compilation based on statements and speeches made over a 40-year period from 1959-1999.
It was co-published by the Southern African Research and Documentation Centre (SARDC), House of Books, National Gallery of Zimbabwe and African Publishing Group in Zimbabwe as well as Mkukina Nyota of Tanzania.
Surely in a country where some people are laden with wealth born out of President Mugabe's Land Reform and Resettlement and the ongoing Indigenisation and Economic Empowerment Programmes, a few dollars could be spared for a Robert Mugabe honour.
But this is Zimbabwe where beneficiaries of these policies go to rallies, chant the 'Pamberina VaMugabe' slogan yet alienated from their minds is the thought of honouring their great leader.
"He (Nyerere) showed us a way that our struggle can also have friends not just in Africa but also outside Africa," said President Mugabe.
"So his links with China became our links with China, his role in establishing China-Africa relations became also our China-Africa in due course. And I was later to develop that China is indeed our greatest friend.
"Mwalimu firmly believed that freedom and independence could only be achieved when people were united, working together with a sense of common purpose."
After a recital of vintage quality packed with passion and splendid political astuteness, the African Union Peace and Security Council Building currently under construction in Ethiopia would be named after Julius Nyerere.
But the only question one can ask is why it took so long for them to do this.
This was exactly what Africa has been waiting for.
During the official opening of the 35th Southern African Development Community (SADC) Summit of Heads of State and Government in Botswana last year President Mugabe urged Africans to honour their leaders.
"Let us remember those who endowed us with this legacy. This could be in the form of something. Can't we have a fund in their honour?" President Mugabe queried in Gaborone.
The problem starts with us.
We celebrate heroes of other nations because of the inferiority complex affecting us.
President Mugabe had an answer to that problem at the recently held 26th African Union Summit in Addis Ababa last week.
He said Africans were not real members of the UN, only those with white skins were members and if they decided one day to say 'down with the UN' they would walk out of it.
"If the UN is to survive, we (Africa) must be equal members of it," he said to loud applause.
"You're a good man, Mr Ban Ki-moon, but we can't make you a fighter. That's not what your mission was. But we shall fight for our own identity and personality as Africans."
He told Ban to tell the UN that Africans 'are also human, not ghosts. Tell them, that we also belong to the world'.
As if to galvanise our call for a President Mugabe, it was him again who presented the Hashim Mbita Research publication to the AU last week! 
The publication comprises 10 volumes, which document the history of the liberation struggles in Southern African that sought to end colonial and apartheid rule.
When we start seeing ourselves as people with proud history and great leaders then we can start honouring ourselves.
The question that where is Robert Mugabe honour must forever remain tormenting us until we give him what rightfully belongs to him.
It's not too late to do that.