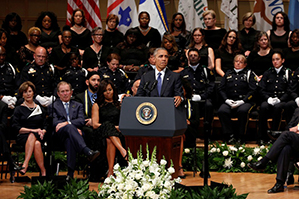 THIS past week has again been another tumultuous one for black folk in America.
In Dallas, Texas, five white police officers were gunned down by a black army veteran.
In Baton Rouge, Louisiana, two white police officers pinned Alton Sterling to the floor flat on his back.
But even as Sterling seemed completely unable to move, one of the police officers yelled: "He's got a gun!"
Within seconds, a white officer shot Sterling who was still pinned to the ground by the cops.
Sterling died of multiple gunshot wounds.
Just a few days before, another black man, Philando Castile was fatally shot by Jeronimo Yanez, a St Anthony, Minnesota police officer (white), after being pulled over in Falcon Heights, a suburb of St Paul.
Castile was driving a car with his girlfriend, Diamond Reynolds and her four-year-old daughter.
The white officer shot him in the arm four or five times.
Diamond Reynolds live-streamed a video on facebook in the immediate aftermath of the shooting. 
It shows her interacting with the armed white officer as a mortally injured Castile lay slumped over, moaning slightly and bleeding from his left arm and side.
Reacting to video footage of Castile's 'murder', President Barack Obama, who was in Warsaw for a NATO summit, said: "When incidents like this occur, there's a big chunk of our citizenry that feels as if, because of the colour of their skin, they are not being treated the same and that hurts, and that should trouble all of us.
"This is not just a black issue, not just a Hispanic issue.
"This is an American issue that we all should care about."
Addressing a crowd of 2 000 at a concert hall in Dallas at a memorial service for the five police officers, Obama chided the police for not understanding what he called the legitimate grievances of African-Americans, who he said were victims of systemic racial bias.
"We cannot simply turn away and dismiss those in peaceful protest as troublemakers or paranoid," he said.
"We can't simply dismiss it as a symptom of political correctness or reverse racism.
"To have your experience denied like that, dismissed by those in authority, dismissed perhaps even by your white friends and co-workers and fellow church members again and again and again – it hurts."
Obama turned to the protesters of the Black Lives Matter movement and said they were too quick to condemn the police.
"Protesters, you know it," he said.
"You know how dangerous some of the communities where these police officers serve are and you pretend as if there's no context.
"These things we know to be true."
Interestingly, the row of police officers behind Obama in the concert hall did not clap when he spoke of racial bias in the criminal justice system, saying that, "when all this takes place more than 50 years after the passage of the Civil Rights Act, we cannot simply turn away and dismiss those in peaceful protest as troublemakers or paranoid."
But when President Obama added: "We ask the police to do too much and we ask too little of ourselves," the officers behind him applauded.
What I find amusing is that the media has been quick to say that Obama's speech has set the tone for healing at this memorial service.
It takes the death of police officers at the hands of a blackman for the nation to need healing, yet this year, the African-America community has needed their government and country to stand by them, but none did.
The last time I saw Obama this impassioned was in July 2013.
In a statement, Obama probably relived to America what it means to be a black man in this country.
"You know, when Trayvon Martin was first shot, I said that this could have been my son," he said. 
"Another way of saying that is Trayvon Martin could have been me 35 years ago.
"There are very few African-American men in this country who haven't had the experience of being followed when they were shopping in a department store.  "That includes me. 
"There are very few African-American men who haven't had the experience of walking across the street and hearing the locks click on the doors of cars. 
"That happened to me – at least before I was a senator. 
"There are very few African-Americans who haven't had the experience of getting on an elevator and a woman clutching her purse nervously and holding her breath until she had a chance to get off. 
"That happens often."
Since this impassioned speech, hundreds of black men have been shot in cold blood on America's streets, many more have been imprisoned for offences which their white counterparts received no jail time and went home with mere slaps on the wrists.
As Obama's tenure comes to an end, he has an opportunity to take the high road and leave a lasting legacy for African-Americans.
He might take comfort in the fact that he has two daughters and they are less likely to face the same fate as their male contemporaries, but the reality is that down the line, his descendants will also face the realities of a hostile white establishment that shoots first and asks questions later.