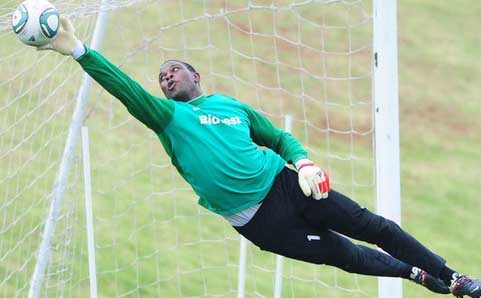 By Anesu Chakanetsa
OVER the years, many pseudo-scientific and unfounded theories have been posited in an attempt to solve the 'mystery' of why black soccer players are not celebrated.
But the real answer remains painfully obvious.
So many great things happened in football spheres last week, including the magnificent 'Ronaldo return.'
Christiano Ronaldo's return to Manchester United fed most journalist with something to write and talk about. Peter Drury, the popular English commentator praised Ronaldo every time camera lights focused on him.
The Ronaldo hype and hullabaloo was even trebled by the fact that the Portuguese scored a brace, sending everyone into frenzy.
But prior to that, an even greater mark had been achieved by Crystal Palace's new coach, Patrick Viera.
He became the first black full-time coach to collect a set of three points, thumping the energetic Tottenham 3-0.
Only that this mark was omitted by most media outlets because it does not bring anything to their coffers.
On Sunday, Zimbabwe Football Association fired yet another foreign coach who led the Warriors to an all time low, with a single win in 14 matches.
These foreign coaches have been so 'unlucky' in Zimbabwe, and the question remains: Why does ZIFA continue to court European Coaches who have dismally failed Zimbabwe most of the time?
In this World, when a black fellow achieves something, even his foes question how he/she would have gotten there.
Sunday Chidzambwa became the first coach to send the Warriors to Africa Cup of Nations in 2004. He was the first to send a local club to an African version of Champions League in 1998.
And the first goalkeeper to oversee Mhofu's AFCON achievement was Energy Murambadoro, assisted by Tapiwa Kapini.
In the 1990s, there was a great goalkeeper called Brenna Msiska of CAPS United, who deserved to get some time 'between the sticks' for the Warriors.
But his career was overshadowed by that of Bruce Grobelaar, former Liverpool goalkeeper.
On Saturday, just after the reverberating Ronaldo return, Aston Villa's players were left clueless as Edoaurd Mendy, a black Chelsea goalkeeper, kept on blocking shots that even so-called great goalkeepers would not have saved.
Mendy was brought to Chelsea following massive scouting that seemed to be soul-searching for black goalkeepers because they had also requested Andre Onana, a Cameroon goalkeeper who plays for Ajax Amsterdam.
Mendy became the first black goalkeeper to win the Champions League in May this year.
There has been a mystery, maybe mis-information, that black goalkeepers are not that good on goal, and there is overwhelming evidence for that.
Recent best players' lists by popular punditry sites include most black infield players and miss out on black goalkeepers.
Among the soccer stars in the modern world have always been outstanding black players. It's enough just to mention the greatest player of all time: Pelé.
But somehow, when it comes to the position that's arguably the most important on the field, we rarely see black goalies performing at the highest level.
In 2019, Onana of Ajax was probably the world's top black goalkeeper, but he was not found among the top goalies' lists that proliferate online.
He led Ajax Amsterdam to a surprising round of 16, 4-1 thumping of Real Madrid in UEFA Champions League and eventually fell out in the semi-final.
But his perfomance was magnificent.
Of course, there were a few exceptions over the years – from Brazil's Dida and England's David James, to France's Bernard Lama, Vincent Enyeama from Nigeria and Moacir Barbosa, the Brazilian goalkeeper who was blamed for his country's loss in the 1950 World Cup decider.
But all of them are the exception that proves the rule, and are light-years away from the list of the greatest — so much so that one of them, Enyeama, even played soccer in Israel.
It's not that there haven't been talented black goalkeepers. Cameroon alone has produced greats such as Thomas N'Kono and Jacques Songo'o, who impressively played for their national side but never reached the top levels of club soccer.
This is why Édouard Mendy's transfer from Rennes to Roman Abramovich's Chelsea last season aroused so much interest.
The France-born Senegalese international has faced a glass ceiling that so few have broken through. That's particularly amazing given that, for decades, black players have been part of Europe's leading sides in every field player position.
…to be continued