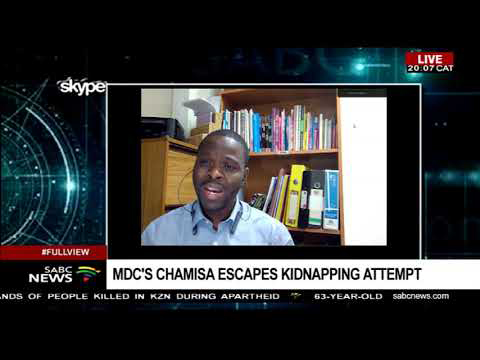 By Tafadzwa Masango
WE have had an interesting October; from fake inaugurations, misguided publicity stunts by political activists, artificial shortages to the never-ending fake news by an opposition which is hell-bent on disrupting the affairs of the nation.
In all this, Government has remained calm, understanding the trickery of forces within and without the country that want to continue pushing the narrative which claims: 'Nothing good can come out of ZANU PF.'
Dira jecha brigade
What began as an attempt to delay the inauguration of President Emmerson Mnangagwa has become a full time job by the opposition to ruin and tarnish all things Zimbabwean.
The phrase 'Tozvidira jecha' has become the clarion call for the vultures who gleefully feed on negative news concerning the economy.
Over the past weeks, Zimbabweans witnessed a sharp increase in prices of basic commodities, panic buying became the order of the day, quantities of products that usually service the country for over a period of three months were moving off the shelves in a matter of hours and the rest is history.
As goods became 'scarce' the black market of yesteryear reared its ugly head. Suddenly, individuals were selling assortments of products in the US dollar at unbelievably high prices.
True to form, the dira jecha brigade was there to fan the panic and chaos on the market, fuelling anxiety by referring to the 2008 period and feeding on the uncertainty it had created.
In all this, industry made several attempts to calm down the public.
Cooking oil producers indicated they had neither raised the price of the commodity, nor was there a decrease in production.
Sugar manufacturers went as far as to say they had enough stocks to service the country for the next five years.
The Grain Marketing Board also announced it had received more than 1,2 million tonnes of maize and therefore the country was food-secure in terms of grain reserves.
Delta has also assured the nation it has enough stocks and that it has not increased its prices. The cement industry made the same assertions.
So, the question becomes: What is going on?
Sabotage, shortages/scarcity or profiteering?
Economic sabotage is the practice of undermining the economy of a nation.
It is a tactic used to pressure governments.
The power of the markets is such that it may be used as a weapon to damage the stability of a country's economy, raising food and fuel prices, interest rates on international debts and other factors important to an economy.
Scarcity is the limited availability of a commodity, which may be in demand in the market.
Profiteering is a term used to describe the act of making profit through unethical methods.
Usually, businesses engage in either price fixing or price gouging.
In price fixing, the price of goods are determined by controlling the supply of said goods.
Under price gouging, the seller spikes the prices of goods to a level higher than considered reasonably fair in reaction to an event which by no means affects the supply of the said goods.
The abduction that never was
There is a tried and tested script that the opposition has been using in its attempts to remain relevant within the political matrix.
Attention-seeking actions that provoke the state to act are a sure way for opposition leaders to gain a few front page screamers in newspapers at home and abroad.
These antics also guarantee their donors and handlers in the West have platforms to further attack Government and justify continued isolation of Zimbabwe.
Over the past few weeks, one opposition leader has been making claims of being under surveillance, his life being in danger and other imagined threats he is facing.
If one has knowledge that certain individuals are following him/her and using particular cars, it would be expected of one to make a police report, or in the case of the opposition, report to the various Western embassies across Harare.
Coming to these supposed surveillance teams, I for one, say they are the worst and useless in the history of surveillance, as they have not only been spotted by their subject, but can now be identified thereby making the whole exercise futile.
However, I am more inclined to believe that a certain politician, whom some have dubbed 'Lieson', is up to his usual antics; creating fictional episodes in the hope not only of remaining relevant, but to hoodwink his gullible followers that his alleged political star is brighter than before.
Why would the current administration want to abduct Nelson Chamisa in broad daylight?
Chamisa not only lost the election, but has failed to unite the so-called opposition behind him, meaning he will never amass the numbers that the late Morgan Tsvangirai had behind him.
We are three months into President Emmerson Mnangagwa's five-year term in office and I, for one, believe that the President and his team have better things to do, such as working towards Vision 2030, than be worried about a failed opposition leader who has to bus supporters everywhere he goes in order to satisfy his over-inflated ego.
We have been there before. The manufacturing of incidents in order to cast negative light on Government is part of 'Opposition Politics 101' in Zimbabwe.
In fact, when the going was still good, several resident donors used to pay a pretty penny for anyone who presented an admission of guilt form from the police for taking part in demonstrations.
If you went to court, the 'fee' was higher, if you had a doctor's letter detailing your injuries, oh well, that was even better!
Why they hate ED more than Mugabe
President Emmerson Mnangagwa has indicated that his focus is on the economy, and that politics is taking a backseat.
His team in Government is made up mostly of technocrats; new brooms who bring in a new perspective to how Government should operate.
Even before this, during the election campaigns, ED focused on his vision for Zimbabwe and unlike his chief competitor, did not spend his time insulting and pointing fingers at the other side.
This really infuriated the opposition, who had become used to the 'He said, she said' kind of electoral campaigns.
The road to the 2018 harmonised elections was smooth and this further exposed the opposition.
It could not go crying to election observers that ZANU PF and Government were denying them access to the electorate, or harassing its supporters.
Election observers have acknowledged and given the pre-election environment a pass.
What this means is that, unlike in previous years, the opposition had no excuse to explain away their failure to garner enough votes to win the elections.
The excuse has always been that ZANU PF has demarcated rural areas 'no-go' areas and that opposition supporters were forced to vote for the ruling Party.
We saw Chamisa and campaign team meeting Zimbabweans from all walks of life across the country.
He rode bicycles, did press up, drank cokes, kissed babies, danced with the crowds and all other sorts of gimmicks, undeterred.
ED has refused to come down to the opposition's level of mud-slinging.
He has not been moved by Chamisa's antics and name calling.
His message of peace and his focus on growing his brand without mudslinging are not what the opposition was expecting and, as such, had not planned for.
The assumption was that ED would resort to heavy handedness when faced by the opposition.
ED has not done what the opposition expected and this has left the likes of Chamisa and Tendai Biti in a lurch. They wanted a character whom they could trade insults with, but instead, all they got is a man who says, 'Zimbabwe is open for business and dialogue.'
Because ED has chosen to ignore the opposition, it also means that the rest of the world is ignoring it.
Ever wondered why the opposition is now making noises about imagined state security agents trailing them and these attempted kidnapping dramas?
Without all these noises, no one would really pay attention to the opposition.
Chamisa can hold rallies every day until 2023 and neither Government nor ZANU PF would pay him any mind.
This is the one thing that is infuriating him and his team.
Chamisa and his team where raised on antagonistic politics, and know nothing else outside of opposing for the sake of opposing.
They are failing to re-invent themselves to suit the new political environment and, as such, resort to yesteryear tactics in the hopes that ED will bite.
ED a man on a mission
When ED came into power a year ago, he articulated his vision for Zimbabwe.
That vision entails Zimbabwe becoming a middle-class economy by 2030; a huge task for a country that has been ravaged by sanctions for over two decades.
As such, he is a man who does not have the time to play politics with Chamisa and his crew of political rejects. His time is best spent ensuring that all the line Ministries and strategic partners are playing their part in fulfilling the vision he has for Zimbabwe.
Antics are best left to those who have nothing better to do but twiddle their thumbs at Morgan Tsvangirai House, dreaming of new comedy theatrics to regale the nation with.
Entertainment is key in boosting the morale of the nation!
But I rather think it's healthier coming from that brand's ambassador —you know who!