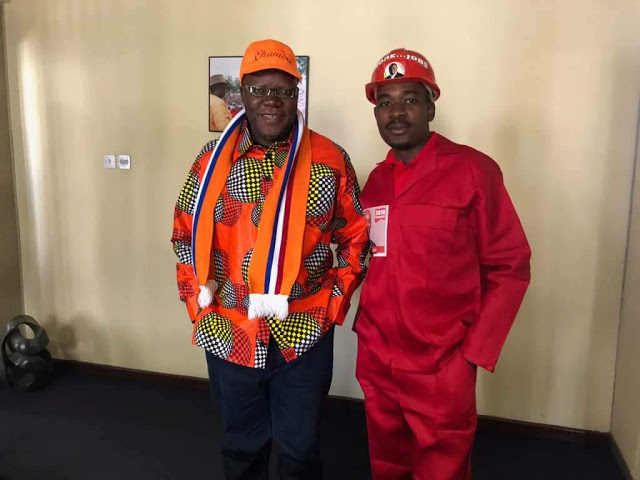 THERE was a time it was fun to write about the comic antics of opposition leader Nelson Chamisa, when the stuttering young leader provided reporters with all the necessary ingredients that make up a story, but in the past few weeks, the boy has reverted to a caricature of the ridiculous if his stupendous utterances and wishes are anything to go by.
Then, Chamisa would provide us 'exciting' sound bites together with useful insights into his out-of-sorts thinking.
It is the nature of life that at some point we all get fooled.
But almost fooled we were and thank heavens, reality unravelled before our eyes sooner than we anticipated and here we are, grappling with what could have been.
On April 19 2019, an online publication newzimbabwe.com posted a screaming headline: 'Chamisa demands face-to-face with Mnangagwa'.
Some laughed, but when one goes through the story, what emerges is indeed no laughing matter.
It is in fact a sad story of an excitable politician whose marbles are slowly going off rails right before our eyes.
Zimbabwe needs serious politicians and political parties, not childish antics that we have been witnessing from the opposition.
This country must always be enmeshed in the eternally compelling knowledge that it came through blood, sweat and tears and, as such, must be held dearly by all those who are siezed with its future.
It is no child's play running a country that is, at any given time, under siege from an aggressive enemy who wants to reverse the gains of the said struggle.
We hope that Chamisa and his goons in the opposition keep that in mind when they disturb our peace with weird and ridiculous demands.
Let us hear Chamisa speak:
"Mnangagwa must accept a one-on-one interface with me or there is no dialogue. We need to meet so we can thrash out the modalities of dealing with the crisis engulfing our country.
It is the only way we can deal with the legitimacy crisis, the political and economic crisis and set our country on the path to recovery.
There will not be a 2023 without the resolution of the 2018 election dispute. They can close the chapter but we will open it. So we are not looking at 2023 but at 2018. The issue of that election must be resolved.
We have made numerous efforts to meet Mnangagwa, numerous actions and attempts but zilch in the form or reciprocal action from him.
We are not in the business of attending rallies or tom-and-jerry stuff. Mnangagwa is not Father Christmas, who goes about giving away positions to people. Its not about Chamisa but the people.
We are not going to join a choir of people who agree. We have a dispute with Mnangagwa and we must be allowed to resolve it. The people he is meeting with have no dispute with him. They all agree so we will not be party to such gatherings."
Assuming that there is indeed a 'legitimacy' crisis, as Chamisa wants everyone to believe, why does he not join leaders of other political parties who are taking part in the ongoing National Dialogue?
What makes him feel special that he would demand a 'face-to-face' with ED so that he can air his personal grievances?
Or is he confirming what his close allies have whispered to our ears that he wants to use the dialogue to quell the impending dissent in his party following the chaotic congress 'elections' that we have witnessed in recent weeks?
Or that he is not comfortable with the fact that one Tendai Biti is said to have vowed to remove him from power after congress?
What we have gathered as The Patriot is that the bizarre demands that Chamisa is making have nothing to do with the country's welfare but the boy's political survival from the angry and marauding vultures within his ailing party whose toes he has stepped on.
How ED or ZANU PF can offer him that is a mystery that we, of the progressive minds, are frantically trying to unravel.
But whatever the case, we are all too aware that in dialogue the boy is seeking an outlet to the demons that will surely torment him when that party's congress is over.
What we will, however, tell him is that he is not in a position to make demands or create conditions for dialogue that will never happen.
If he wants dialogue, he knows what to do and how to go about it.
His reckless public utterances and provocative posturing have, thus far, proved to be his biggest undoing.
If he continues on that path, the few remaining doors for dialogue will be completely shut.
Yet one pervasive, inescapable reality about this country, despite the prevailing challenges, is that Zimbabwe's road ahead is one full of promise and immense success.
This is what the leadership of this country is grappling with and all this will be over soon.
Let those with ears listen.