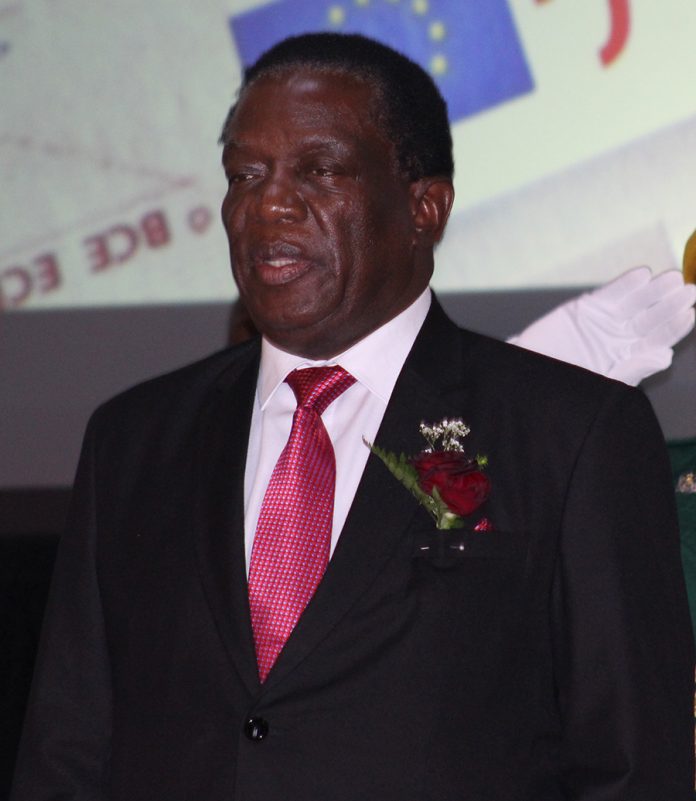 I HAVE mentioned in past issues that elections are upon us and the election-fever has gripped the nation.
And as we get to the polls, real men will be separated from boys as will women from the girls.
Let us take a look at what has been brewing thus far:
Ambrose Mutinhiri is now in the election matrix, huffing and puffing while clearly struggling to find his footing.
Nelson Chamisa is in too, running around more like a headless chicken. Since the demise of their leader Morgan Tsvangirai, that party has become directionless.
What these opposition leaders are failing to appreciate is that the country is now firmly on the right path, with many positives for those of a progressive disposition.
While there is nothing wrong with anyone exercising his/her democratic right, it is the nature and making of Mutinhiri and Chamisa's politics that leaves a lot to be desired.
These are men with no standing of their own but hopefuls riding on the coattails of other men; men who are not even the best in terms of behaviour and record.
We shall talk about Mutinhiri and Chamisa and their handlers in the near future but as their search for a political home with a solid ground continues, we wish them good luck as they embark on what is without doubt a Herculean task.
Then there is the opposition.
Despite calls for a level electoral field by the opposition, the irony of it all is that they are the ones who are making it difficult for the forthcoming polls to be deemed free and fair.
Consider the following:
There is the deafening silence from so-called human rights NGOs on the recent attack by MDC-T hoodlums on the hapless Thokozani Khupe.
Suddenly, the self-proclaimed champions of 'democracy' have lost their voice where there is blatant and gross abuse of human rights as shown by damning pictures of Khupe's badly wounded aide and her damaged car.
But that is beside the point.
There is an illness afflicting Zimbabwe that can only be cured through elections — negativity.
There is fear, great fear from the opposition that President Emmerson Dambudzo Mnangagwa has turned out to be the leader required for this nation, a leader they had hoped would not emerge from the revolutionary party ZANU PF.
In President Mnangagwa, the opposition made a grave miscalculation — they thought they would have a leader who would be an extension of the previous administration.
They have tried to conscript ED into a leader they can steamroll past in the forthcoming elections.
Yet ED represents everything they do not want in a leader.
He is a servant/leader and has remained true to serving the country and the masses.
He has studiously refused to be the weak leader they wanted him to be.
He has stubbornly defied the odds stacked against him.
Which is why this writer believes that all their 'issues', if at all they have any, will be dealt with in the ballot box.
Oddly enough, we have information at hand that those who are making the loudest noise are now afraid of the ballot where all leadership issues are dealt with.
They now want another Government of National Unity (GNU) so as to avoid what is surely an embarrassing electoral defeat.
That is not going to happen.
Elections are coming and ED will romp to a deserved victory!
ED has stunned all and sundry through his hands-on approach.
The many changes to make the electoral playfield conducive for all contestants and his economic turnaround strategies are gaining traction with the majority hence the frantic and desperate moves to label him an 'illegitimate' leader.
Suddenly everyone forgets that it was efforts from a combination of legislators from both the ruling ZANU PF and opposition MDC-T parties that resulted in former president Robert Mugabe stepping down.
Of hunting trophies and friends
we lost
At a time everyone wants to be Zimbabwe's friend, Donald John Trump has refused to be left out.
We are being told that the US has lifted a ban on trophies from Zimbabwe.
This follows the banning of trophies by the then Barack Obama administration following the slaying of the 'iconic' lion, Cecil, by America's Charles Palmer in 2015.
The lifting of the ban will bring immense benefits to the country's economy but we can never forget the past where sanctions were used to destroy Harare.
A lion trophy can cost as much as US$50 000 per animal, with that of an elephant fetching around US$20 000.
The rhinoceros rakes in about US$70 000 per animal.
Political skulduggery
There is a lie that is being peddled on social media by the MDC-T that their late leader Tsvangirai introduced the US dollar into the country's economy.
That lie has even been peddled by the West through the CATO Institute and the Council for the Development of Social Science Research in Africa.
All this has been done to credit Tendai Biti as Zimbabwe's economic messiah.
We should never allow such political skulduggery to go unchallenged because this is when our history is rewritten by spoilers.
What is astounding is the silence by ZANU PF who came up with the idea of adopting the multi-currency system.
If they cannot defend their policies, who will do that for them?
This is just part of our great history that we bizarrely ignore.
But here are the facts.
On January 29 2009, while acting Minister of Finance, Patrick Chinamasa introduced dollarisation into the Zimbabwe economy.
As we continue with the new economic trajectory, it is important for everyone to strive to do what's best for their country.
Let those with ears listen.