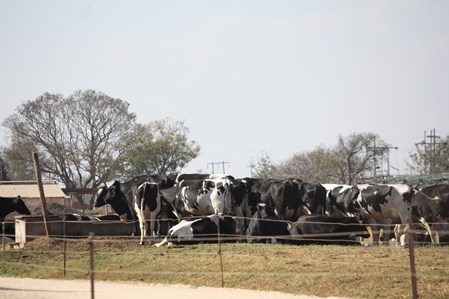 THE foreign and local private media have repeatedly portrayed Zimbabwe as an unsafe haven for white commercial farmers.
They tell stories of white commercial farmers who are in anguish, facing persecution at the hands of Government.
From these stories one would be forgiven for thinking there is not even one white farmer left in the country.
Yet there are about 300 white commercial farmers currently operating in the country.
All genuine and well-meaning white farmers who wish to pursue a farming career as loyal citizens of this country have managed to do so. 
Some of the white farmers have made investments on the farms after getting long-term leases, installing expensive state-of-the-art equipment such as centre pivots and trolley barns that cost between US$100 000 and US$500 000 each.
More so Douglas Mombeshora, the Lands and Rural Settlement Minister, recently asked provincial leaders to draw up a list of white farmers whom they wanted to stay on farms deemed to be "of strategic economic importance".
"We have asked provinces to give us the names of white farmers they want to remain on farms so that we can give them security of tenure documents to enable them to plan their operations properly," said Mombeshora.
In July, Masvingo provincial leadership recommended about six white commercial farmers to get offer letters under the model A2 scheme across the province after their operations were considered to be of strategic economic importance.
Among the white farmers who were recommended is Elizabeth Mitchell, a poultry farmer who produces 100 000 day-old chicks each week.
Also on the list of prospective beneficiaries is John Boland of Masvingo district who is a 'pedigree' bulls producer together with a dairy farmer, Yvonne Goddard, who also hails from the same area.
Another dairy farmer, Johannes Nel of Gutu is also set to get an offer letter.
There are names of other white farmers into dairy farming and hybrid bull production in Mwenezi and Chiredzi districts.
These are just a few of the many loyal white commercial farmers set to get offer letters.
Recently The Patriot visited a white commercial farmer Stoff Hawgood's flourishing Tavistock farm in Beatrice.
Hawgood who is into dairy farming and potato production received his offer letter for the 434 hectares in 2013.
Tavistock Farm has been owned by the Hawgood family since 1954.
The 51-year-old farmer took over the farm in 1994 following his father's death in 1991.
Since then he has successfully ventured into dairy farming, maize, soya beans, potatoes and barley production.
The farm which employees close to 400 workers has about 1 350 cattle with 600 dairy cows producing 5,1 million litres of milk annually.
The farm has a capacity to produce about 7,7 million litres of milk a year.
Every cropping season about 120 hectares of potatoes are under production with the remaining hectarage utilised towards maize and soya bean production.
As a means to maximise the value addition chain, the maize and soya beans are then mixed to produce cattle feed.
When The Patriot visited the farm, land preparations for the 2015-2016 summer cropping season were already complete, with workers administering fertiliser on the potato seedlings.
Across the road, on the other section of the farm women were picking remnants of potatoes from the winter cropping season.
In addition, about 130 hectares of mature potatoes was under irrigation.
Tavistock is mainly known for being the only farm in the country that delivers washed potatoes.
Washed potatoes are always associated with South African potatoes.
"In 2012 we bought a state-of the art potato washing machine from South Africa which washes more than 20 tonnes of potatoes in an hour," says Hawgood.
"Potato wash is a broad spectrum disinfectant that is used to inactivate bacteria and fungi associated with the decay of potatoes."
Hawgood said smuggled potatoes from South Africa were souring his Bulawayo and Matabeleland South markets.
He is not only a productive farmer, but a proud citizen who is an active participant in the country's national activities such as the commemorations of Independence Day, Heroes day, 21st February Movement to mention, but a few.
Through the district's Crime Consultative Committee (CCCs), Hawgood assisted to build a block for the Beatrice Criminal Investigation Department (CID).
This committee has helped bring down the cases of stock theft in the district.
"As a CCC member I provide about 70 litres of diesel every month to the CID, that makes it easy for the team to patrol the whole district," notes Hawgood.
"This has reduced the cases of stock theft in the area."
And it is not Hawgood alone.
There are many white commercial farmers who have remained loyal citizens.
And in turn Government has ensured that these loyal citizens of the country operate without being molested by unruly elements.
Recently Mashonaland Central provincial Affairs Minister, Advocate Martin Dinha was arrested for allegedly demanding and receiving a bribe from a white farmer in return for 'protecting' him from eviction.
More so the judiciary system has protected many white commercial farmers from being illegally evicted from their land.
In the Samapiri Farm saga, last week, the High Court ruled in favour of the white farmer Phillipa Susan Zietsman to remain on the farm.
Zietsman was being accused of refusing to vacate her former land at Samapiri Farm in Centenary in contravention of the Gazetted Land Act.
Last year in July, a dairy white farmer Gerald Douglas Davison, was allowed by the High Court to continue operating on Xekene Farm in Seke in line with Government policy to boost fresh milk delivery and to increase the national herd.
Sub-division A of Xekene Farm, measuring 170 hectares, had been compulsorily acquired by Government under the Land Reform Programme and was allocated to Aaron Madziva.
However, Government on July 31 last year issued another offer letter to Davison.
In addition early last year a High Court judge, Justice Mathonsi withdrew an offer letter from Mutare businessman Fungai Chaeruka, and subsequently reallocated the same land to the former owner, Heather Guild.
Chaeruka lost the land after it came to the authorities' attention that he was underutilising 498 hectares of Lot 5, Mazonwe Farm in Mutare.
Chaeruka was practising horticulture on less than one hectare, leaving more than 497 hectares idle.
It is not true that white farmers are being persecuted by Government.