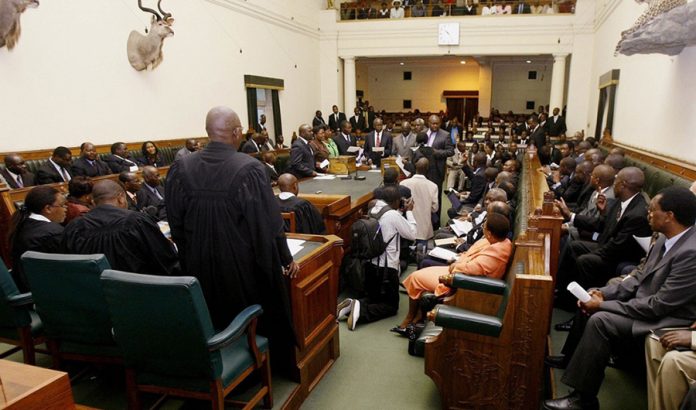 HOVE had all afternoon been quite scathing and relentless in his attacks on the general quality of parliamentary candidates from Zezuru areas.
He chided us to emulate the Karanga in Mberengwa where contestants were all highly-educated.
On learning I was from Chikomba, he broke into an uncontrollable laugh, almost taking me with him as he fell off his stool.
He just managed to say "Kudzedzere..re..kaaa!" before the words got drowned in his hysterical laugh.
I disputed his tribal labelling.
And to characterise Chikomba MPs as uneducated was also too much of a generalisation.
From 1980, my part of Chikomba has had no less than seven MPs – Ernest Kadungure (with 'Tsambe' credentials), Tedius Kudzedzereka, Solomon Mujuru (Zimuto Mission), Chenjerai Hunzvi (graduate), Bernard Makokove (graduate), Tichaona Jokonya (graduate), Moses Jiri and Felix Mhona (graduate). My view was that education was a given basic for an aspiring MP, especially in a country that prides itself with high literacy rate.
It would be sad to see a candidate whose last book-story read was about Benny and Betty.
That would amount to encouraging: 'Kurova maticha nerekeni'.
So, yes, good education is a basic given, but still a small part of the puzzle.
Educated MPs can still disappoint!
The second basic for an MP must surely be residency in the constituency: Ndewekwedu/mwana wedu.
Growing up, our fathers worked and lived in towns but they still remained village residents.
They kept their families in the village.
They invested in their village homesteads and the village economy.
Every last Friday of the month they made the mandatory trip to the village with their pay cheques.
Public holidays like Easter, Rhodes and Founders as well as Christmas were spent in the village.
Vacation leave was synonymous with village leave. The village residency of our fathers was beyond reproach.
And to be fair, the village appraised fatherhood on above attributes; course, job, musha (homestead), cattle and well-kempt children.
On retirement, these successful fathers took up positions of responsibility in the village as traditional leaders and chairs of school committees.
That was before the war.
After independence, the successful fathers took their wives and children with them to town.
A few of the fathers returned home on retirement to seek traditional positions as well as posts in the party and council. Many, however, became occasional visitors to the village, mainly for close funerals and Christmas. With time, even this died down.
Perhaps it's the economy that has hastened the retreat of real fathers from the village?
The village misses its children.
From among the occasional visitors, the village is looking for donors and MPs to tackle grinding poverty.
They look back with nostalgia to the massive donor handouts of the 1980s.
These have become a trickle.
Two years ago, I wrote about my difficulty in seeing honour in the job of an MP:
"I am standing by our village rubbish pit, gomba remarara, as Yona's pick pounds the hardened manure soil.
Occasionally his pick strikes a metal object and the resultant sound is quite irritating.
I caution Yona about the bad composting habits.
Rubbish to the pit should consist only of organic material.
We carefully put on one side the stubborn matter and the rubbish archaeology turns out to be quite interesting; clay pottery pieces, old metal cup, plastics, scud containers, sewing machine and a piece from an oil presser.
I immediately recall the story of the sewing machine and oil presser remains.
These were donated through aspiring MPs in the run-up to the 2005 and 2008 elections.
I involuntarily let go a smile at these election artefacts.
Soon we are joined by Nyakudirwa and Moyondizvo and I am denied, to my relief, the chance of relieving Yona in the pit.
I make myself useful by helping my mother organise tea for the working party.
Over tea, we joke about the election artefacts we had unearthed.
I enquired about the missing 2013 artefacts and was told donations from the two main contestants were directed at youths and consisted of chicken farming inputs and scuds (opaque beer). The first and only batch of the chickens did very well, they were sold and revenue shared, with most of it spent on scuds.
So, in a way, both were represented in the rubbish pit archaeology.
There is expectation for more as the clock ticks towards 2018. One aspirant, donor redu, has already promised the local congregation free transport to the August Church Circuit conference."
The village expects more and more handouts from prospective MPs.
When they see long-lost sons and daughters of the village trekking back, in their four wheel drive trucks, they know a new donor and prospective MP has arrived.
The prospective MP gets a hero's welcome, is assisted to put up a shack at his grandfather's abandoned homestead (dongo) and is quickly smuggled into party structures to smoothen the road to the august house.
The visitors are advised how terribly the outgoing MP has performed and that all that is required for them to announce their arrival is 'a bit of cash' to the self-imposed campaign team and rehabilitation of a few roads, schools and clinics. 'Donor redu', don't dare disappoint them with talk of development ideas; just pay up!
A year later, on another visit to the village, I observed a prospective donor had taken up the challenge:
"When I got to the village I found it almost deserted.
Many had gone to a funeral of a prominent war collaborator in the neighbouring village.
I soon tracked muchembere to the funeral gathering.
VaGono, a leader from local political structures, was giving a vote of thanks.
He reserved special thanks for a Mr Kapoto who had 'carried the funeral in his deep pockets'.
As an afterthought vaGono then also acknowledged contributions from Mr Zimbudzana.
The facial reactions among some of the mourners told an untold story.
My good guess was that it was about vaGono.
Village funerals are a particularly favoured arena.
The leading pack, ahead of upcoming primary elections, distinguishes themselves through generously donating for the benefit of a pliable gathering.
I am always favoured with detailed briefings on the goings on each time I am in the village.
At the rate at which things are happening, one can only plead with the Almighty for a slowdown in the death rate, otherwise the leading young man will choke."
So whereas from the comfort of our homes in the city we may recommend minimum requirements for aspiring MPs in terms of education, residency and commitment to development, the electorate may have their own ideas.
Poverty and donor non-governmental organisations' mischief has not helped matters. In such a state, have we not burdened the electorate with alien electoral democracy concepts?
How much have we invested in making the electorate understand the role of an MP?