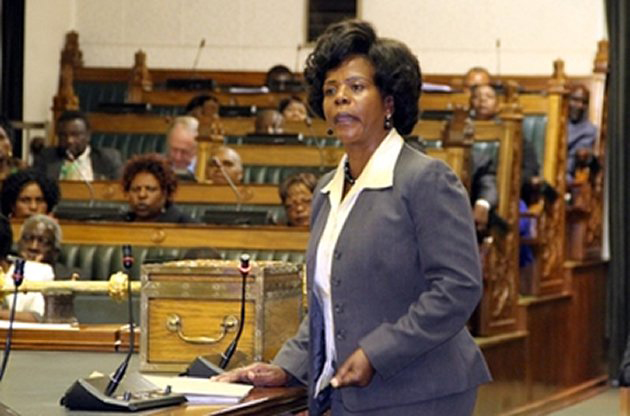 THE late Vice-President John Landa Nkomo popularised the slogan 'Peace begins with me, peace beings with you and peace begins with all of us' as part of his contributions to the Organ for National Healing, Reconciliation and Integration during the Government of National Unity (GNU).
With the 2018 harmonised elections on the horizon, international attention is fixed on the country.
Forget all the comments by local analysts that 'the world is tired of Zimbabwe' and will let the chips fall which ever way they can.
Zimbabwe will always be at the centre of attention in the region because of the intricate role it plays in determining regional and the continent's politics.
Anyway, I digress, last weekend's events where MDC-T members assaulted each other due to internal differences over the opposition grand coalition are a cause for concern.
Coming against a background where each day we read of alleged increased political tensions as elections draw near, an open and unprovoked attack on political actors sends negative signals about Zimbabwe and literally shuts the door to any potential investors.
Since the beginning of the year, the recurring theme that has featured greatly in some sections of the media back home has been that ZANU PF is preparing a war chest — it is going to unleash youths and the military on the defenceless opposition, and so forth.
But to date, evidence of all these assertions has not been provided; all we have had to go by are statements from the MDC-T and some one man/woman manned civil society organisations.
Another prevailing theme has been that ZANU PF warring factions would soon be engaging in an all out war, in fact fear mongers have all but made us anticipate a civil war over the ZANU PF succession issue.
However, after all this stage and agenda setting, the only show we got to witness after close to six months of waiting for the ZANU PF royal rumble was that of the MDC-T.
The role of women in Zimbabwean politics has always been somewhat controlled by their male counterparts who 'use them for their political expediency'.
This does not take away the immense contributions that women have made over the years in Zimbabwe.
For years, Beatrice Nyamupinga, as the chairperson of the Parliamentary Portfolio on Women's Affairs has used platform after platform to expound and push for debate on women's issues.
Annually, during the 16 Days of Activism Against Gender-Based Violence, she has called for constructive and inclusive debate on domestic violence and political violence against women, but very few political parties have taken up the cause.
The antics of Priscilla Misihairabwi-Mushonga in the National Assembly while at times being unorthodox, have been effective in pushing Government and Parliament to provide a conducive working environment for female parliamentarians.
From used panties, pads, babies, Misihairabwi-Mushonga has driven her point home and got everyone to talk about her concerns.
Recently, the nation woke up to news reports that that MDC-N leader, Professor Welshman Ncube had been assaulting his wife and she had reported him to the police, only to later withdraw the case.
Agenda 50/50 for 2018 has also been gaining momentum with women across the political divide speaking on the need for women, who make up more than half the population, to be included in decision making processes.
These events and others all highlight the environment under which women and female politicians operate.
Violence against women is a threat to democracy.
Last year a study of 55 female MPs in 39 countries, carried out on behalf of UK parliamentarians, revealed it is a 'widespread and under-reported problem', with more than 20 percent subjected to acts of sexual violence
Physical, sexual and psychological violence against female MPs is undermining democracy and efforts to end gender inequality around the world.
More than 40 percent of female MPs interviewed by the Inter-Parliamentary Union (IPU) said they had received threats of death, rape, beatings or abduction while serving their terms, including threats to kidnap or kill their children.
More than a fifth said they had been subjected to one or more acts of sexual violence and almost a third said they had witnessed an attack on a colleague in Parliament.
Some 80 percent of MPs said they had been subjected to psychological violence – hostile behaviour that causes fear or psychological harm.
In the IPU study, about 65 percent of those surveyed said they were often subjected to 'humiliating sexist remarks'.
Most of the time the comments were made in Parliament by male colleagues from their own party as well as from opposition parties.
A number of women said they had been asked for sexual favours in exchange for political advantage.
"A female colleague in Parliament confided to me that the Speaker of Parliament had requested sexual relations. Since she had refused, he had never again given her the floor in Parliament," said one respondent from Africa.
A European parliamentarian told the IPU: "If a woman speaks loudly in Parliament, she is 'shushed' with a finger to the mouth… That never happens when a man speaks loudly."
In March 2016, the National Democratic Institute (NDI) launched a global campaign – #NotTheCost – to raise awareness of the violence women face when holding or seeking office at local, national or international level.
As part of the campaign, the NDI wants more research to be conducted so the problem can be better assessed.
It also wants to see more training for women in how to respond to threats and acts of violence.
Looking at political leadership contests between female and male candidates, US presidential candidate Hillary Clinton and former Australian Prime Minister Julia Gillard received twice as many abusive tweets as Bernie Sanders and Kevin Rudd, respectively.
In the case of Clinton, one of the worst violators was the current US President Donald Trump.