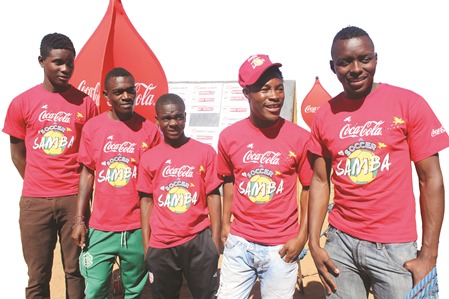 THE National Association of Secondary School Heads (NASH) Copa Coca-Cola marriage continues to blossom as the 2014 Copa Coca-Cola schools soccer tournament gets underway.    
The country's oldest schools soccer festival was launched last week at a colourful ceremony at Chemhanza High School in Wedza.
The boy's Under-16 tournament runs into its 26th year in existence while the girls' edition turns four.  
More than US$250 000 has been injected into the prestigious tournament this year.  
Chemhanza High School are the defending Champions of the Boys U-16 while Chidyamakono from Masvingo province are the Girls Under-17 title holders.
The Copa Coca-Cola tournament continues to play a pivotal role in the nurturing of talent as several players have been identified through the platform.
Norman Maroto a former Churchill High School student, Artwell Mukandi former Pamushana High School and Leonard Fiyado now playing in the top flight for CAPS United are part of the invited guests at Chemhanza High School.
The three are part of the hundreds of players who have been identified at the prestigious soccer tournament.
Mukandi and Fiyado had a chance to visit Brazil in 2008 after excelling in the tournament.
This year two Chemhanza High School pupils, Tatenda Munditi and Tatenda Elvis Tumba will travel to Brazil for the World Cup finals, courtesy of Copa Coca-Cola.  NASH president, Johnson Madhuku commended the tournament sponsors for the role they have played in nurturing and developing of talent in the country.
The winners, he said, have been spread across the nation.
"As NASH, we are also happy to note that Copa Coca-Cola winners have been spread all over the country in the past few years and not only in urban centres," Madhuku said.
"Today we are at Chemhanza High School, last year we were at Mzingwane High School, a clear indication that soccer talent is abound in all our schools.
"We therefore most sincerely thank our sponsors for this tournament sponsored right from the grassroots level."  
Delta Beverages general manager, Moses Gambiza said Delta and NASH have enjoyed a longstanding relationship with sporting activities across the world. "'Football has made a mark on the lives of thousands of footballers and football lovers throughout the 26 years that we have sponsored the Copa Coca-Cola initiative here in Zimbabwe and we are proud to be associated with this event that is an important investment in the youth of our country," he said.    
According to organisers, this year's national finals will be held in Harare.