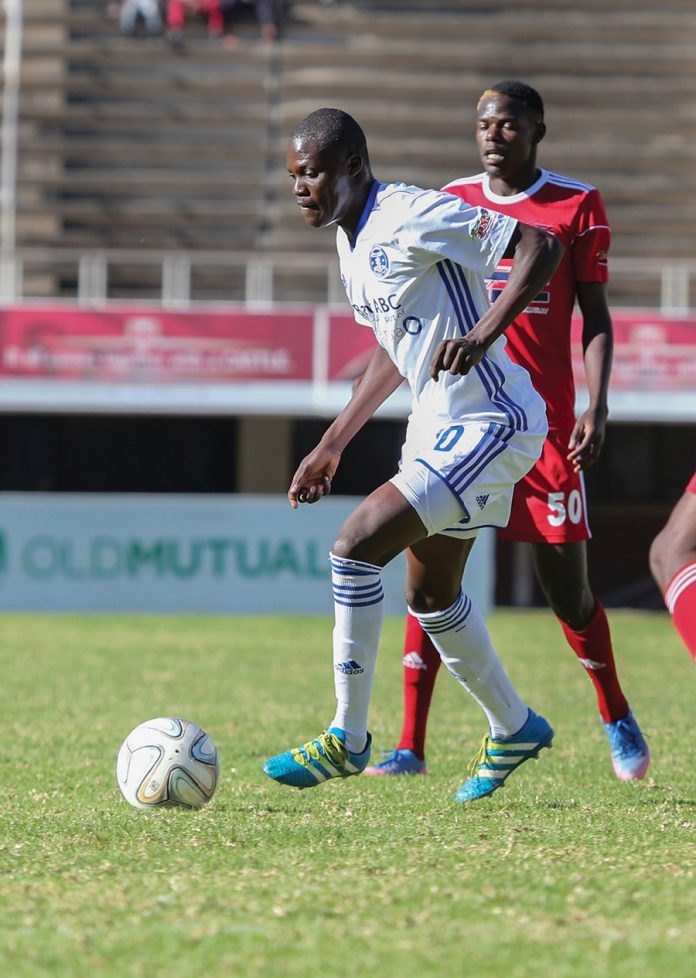 Dear Denver
HAVING been a footballer myself and a keen follower of the game which I have, for more than a decade, captured with the lenses of my camera, I felt it prudent to write you.
I am happy that you have finally found a team, ready to work with you despite your shenanigans which have seen you becoming a pariah in football circles.
Many have hailed your move to CAPS United because it has a gaffer, Lloyd Chitembwe, famed for being a strict disciplinarian.
And right there is where I want to begin.
Your career in football is yours and no-one else's.
It is you and you alone who should determine how it is going to unfold.
We do not want to bank on the coach to keep you on the straight and narrow, that is your sole responsibility.
The coach is just there to help you shine.
Discipline is the hallmark of success in any field or endeavour.
You have been given a new lease of life, do not blow it.
Beyond doubt, you are a skillful and versatile midfielder.
Donning the national team colours is evidence of your high capabilities.
But you were disowned by Dynamos for conduct unbecoming.
At the Green Machine, you have been given an opportunity to redeem yourself — a second lease of life in your chosen career.
Don't squander it recklessly.
And it's now all up to you.
I will urge you not to rush to make promises just to please fans and your new paymasters.
Sit down, audit yourself, take stock, find and identify all your weaknesses.
Commit to dealing with them — all of them.
This, believe you me, you will not do in a day, week or month.
Battles against our 'demons' are never easy.
Habits cannot be easily broken for they fight hard not to be abandoned.
Thus, as much as you want to fight on the pitch to prove your worth, be ready to fight equally hard off-pitch to prove the good side of your humanity.
It is always difficult to fight and fend off urges and cravings, so know the areas where your resistance is low and avoid them.
Treat these places and habits like the plague.
A big part of becoming successful in the football fraternity is self-discipline.
Be dedicated to the art of football and stay persistent.
Have clear goals, set yourself some standards and don't stop until you have achieved them.
Stay away from bad friends; anyway people who are ready to see your career crumble by letting you take things detrimental to you as a footballer do not deserve to be called friends — they are enemies of your progress.
Do not surround yourself with such people.
I cannot over-emphasise the fact that discipline and good conduct are the foundation of sport.
You only have so long as a footballer.
Make the most of your prime years because you have a whole future ahead of you.
Be disciplined in the technical, tactical, mental and physical spaces.
How much do you want to succeed Denver?
That is an important question that you must answer.
It all comes down to the answer of that question.
I assure you that talent will count for less if discipline is absent.
All the athletes you see shining have expended energy in achieving that success, they have made sacrifices.
They have been content with fewer friends; some do not even indulge in foods they love; clubbing and drinking they do not even consider a factor.
Discipline will bring you stability and structure.
The world does not owe you any favours.
You will find it cruel and kind at the same time, so do not take events and affairs of life personally.
Develop some self-respect, it is the root of discipline.
Develop the ability to say 'no'.
Focus on your career.
There are records to be broken and set and you are among people with the potential to do that.
Peter Ndlovu, the iconic Warrior, has said he is tired of being referred to as the best footballer in the country more than a decade since he retired and challenges you, youngsters, to pull up your socks and set records.
Plan ahead, choose your activities carefully, have a clear picture of what appropriate behaviour is like; remember, you are a role model and those open acts of defiance are detrimental.
Take note Denver.
You are a star, so don't waste yourself.
Yours truly,
Sheldon Hakata