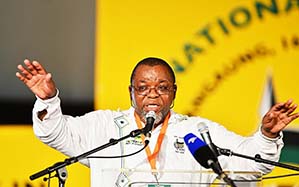 RECENTLY South African National Congress's (ANC) Gwede Mantashe made headlines in that country.
The ANC secretary-general spoke so knowledgeably about how his country should shy away from copying the Zimbabwe example of how to address the land question in South Africa.
"Look at Zimbabwe," he said.
"It used to be the bread basket of Africa.
"Today it imports almost everything.
"The Zimbabwean dollar has disappeared.
"This economy will disappear if that is the example we want to follow."
Hold it Mr secretary-general of Africa's oldest liberation movement.
We have no problem with any utterances at all.
If they come from the depth of a man's heart, let them ooze out without any worries.
But now here is the problem.
For the record, in a deep analysis of those utterances, Mantashe is not speaking for all South Africans.
He is not speaking for the grassroots men and women caught up in the slums of Diepsloot, Thembisa and Alexandra.
Neither is he speaking on behalf of those millions who call only just, but glare longingly and salivate as the traditional Boer farmers continue reaping huge profits on those lush lands of Mzansi.
While such statements can only manifest to score political points, they do not take away the realities of the land grabs which have created and maintained an elite rich South African white minority and a poor black majority.
Afro Jazz legend, Letta Mbulu penned a song of all time when she proclaimed that, "Umhlaba wakithi bo usemi ndawonye, akukho mehluko kulelizwe. "Bakhona abanye abakithi abasibona sikhululekile kodw' umtshotshaphansi uthi not yet Uhuru," loosely translated to "Our world is still at a standstill, there is no difference.
"There are some who say we are now independent, but the underground says, not yet Uhuru."
The completion of Uhuru cannot be divorced from the harsh realities of a true emancipation when legitimate owners of the land and its resources fully control it.
Did Mantashe intend to have his statements recorded for all to see, or it was just a lapse of concentration sometimes so well played out in many a politician's career.
One wonders how he can straddle the whole of rural South Africa, the farmlands and the slums and afford to sleep when it is still evident that while so much has been done, there is still so much to do in so little time.
The South African majority has spoken through violent protests, demonstrations and day in day out calls that unless the land is redistributed, that country is sitting on a time bomb.
When that day of explosions comes, Cde Mantashe should certainly be there to witness people power in the face of neglecting a completion of any revolution.
But maybe the biggest injustice in those statements is when the ANC secretary- general keeps on drawing the Zimbabwean template as an example.
We are far different from the scenario which he and a few of his fellow party members might anticipate.
We have chosen to write our own story and far from being caught in a crisis seen by outsiders, we are singing our own 'Uhuru is here' song.
We are not disillusioned by claims that land redistribution has destroyed us; instead it has propelled us to superstardom.
It is better to own the river where the fish thrives than to be constantly begging for the fish in there with somebody owning that river.
We hold no 'beef' for Mantashe's sentiments and neither can they threaten us in any way.
As far as Zimbabwe is concerned, it has addressed an important aspect of controlling the means of production.
One hopes that the hazy views of Mantashe will be obliterated someday when he and a few of his fellow believers in that assession realise that as long as land is not with the people, the people will want it.
There is no embellishing of the land question which will write off the quest to take to the people what was rightfully theirs.
There must be a thorough discipline not to sell off the people's rightful heritage for little exchanges of benefits which trickle into a few individual's pockets. Cde Mantashe must have shed off a few of those principles which many of his struggle companions like Steve Biko, Ellen Kuzwayo, Oliver Thambo, Chris Hani just to mention a few sacrificed for.
How many times should the story be repeated over and over that land is the people and the people are the land?
This is a song which by now should be an anthem in every African man and woman's mind.
This should be a theme which by now we all must have committed to heart.
It is a vision which by now we all must be saying, the time for its manifestation is upon us.
Land is life and downplaying giving people the land is as good as denying them the right to live.
It is like cutting of their lifeline deliberately in the hope that a few of their former oppressors will pat you on the back.
No, not now and not in this era.
Gone are the times when the looters of the people's land could just get smiles in the corridors of power in the name of economic stability.
For what is stability in the face of millions of hungry indigenous peoples? What is stability in the realities of the ever growing poverty of Africa's own children?
This is their land and denying them that possession could come back to haunt the African National Congress in a cruel way a few years down the line.
By then, Gwede Mantashe might even be gone, but does the comrade want to leave an incomplete revolution that will further propel his country into a crisis of land ownership?
The message to Mantashe is simple; change the tune you wrote when you addressed that gathering.
It is inappropriate for a revolutionary of your standing to celebrate poverty like that.
If you will not do it the 'Zimbabwean way', then at least do it the, 'South African way'.
At least ensure that you take the land back to its rightful owners and you will not tread upon that controversial path.
For us here, leave us to sing our own song.
We know how we dance and at this time it would be very awkward to dance to your tune.
We do it the Zimbabwean way and we have no regrets.