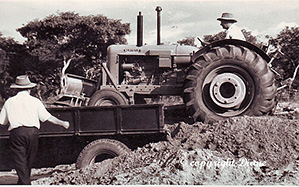 Mr Fletcher
SO often the story of Zimbabwe's heroic and historic Land Reform and Resettlement Programme is misconstrued, especially when it comes from the West and your article published on January 7 2017 was no exception.
That article was written to malign the Land Reform and Resettlement Programme and prop up the ousted and bitter Ben Freeth.
There are so many lies, so many distortions and outright malice when that story is written or talked about.
Even the crucial historic component of the emotive land question in Zimbabwe is either deliberately ignored or completely discarded.
You have joined the bandwagon of those who ignore this key aspect of history when it comes to the land issue in this country.
During our brief conversation this week, you feigned ignorance on the issue of land reform in this country and like many others, labelled it a disaster.
Below is your response to the question that I had posed to you that: 'Why did you not take into account the brutal evictions of black people from their land by whites in the 1950s and 1960s?'
It was during this period that fertile land was taken from its rightful owners who were sent packing to Tribal Trust Lands (TTLs) to suffer deprivation and poverty while the enemy enjoyed what was not rightfully his.
You said:
'Dear Golden,
Thank you for your e-mail.
Your point is well taken, but please don't read my article as condoning colonialism in any way.
My article was confined simply to exploring the consequences of land seizures that were ostensibly designed to benefit the indigenous population, but ended up doing exactly the opposite.
Best wishes,
Martin'
From your response, it is clear you are cocooned in a time warp.
This is because what the Government of Zimbabwe embarked on in 2000 were not 'land seizures', but a land indigenisation programme that has benefitted over
400 000 households and whose success story is seen in the great strides by tobacco farmers and now the Command Agriculture initiative.
Simple logic tells you that you do not seize that which belongs to you, but you simply repossess it.
That is why locals took up arms against colonialists and even when they won the war, the British still did not want to honour their Lancaster House Conference agreement of paying compensation to white farmers.
Such is the importance of land to both whites and blacks.
There is abundant proof the Land Reform and Resettlement Programme in fact benefitted locals contrary to the widely-held assertion by outsiders and one which, I am convinced, you believe that the programme benefitted President Robert Mugabe's 'cronies' who vote for him.
But here is a simple calculation, if President Mugabe's cronies were over 400 000 households in 2005 and each of them having about three children, then the cronies would be 1 200 000.
Going further, if out of the three children one was 18 years old in 2005, it means they contributed to President Mugabe's votes in that year's election and those that followed.
If the other two cronies' children were between six and 10 years old in 2005, then they are likely to vote for ZANU PF in 2018 and then you and others cry foul, accusing the ruling Party of 'rigging' elections!
Yet the fact remains that what you say are 'consequences' of land reform are in fact benefits to the majority.
For instance, in 2016, despite the El-Nino having wreaked havoc on the farms, our farmers, 'Mugabe's cronies', managed to produce 198 million kilogrammes of tobacco.
This year the heavens have opened up and the Command Agriculture Programme is expected to deliver more than two million metric tonnes of maize.
So when the consequences of the Land Reform and Resettlement Programme include upliftment of livelihoods of previously marginalised people of this country, then we embrace them.
If these consequences include generation of revenue for the country and most significantly ensuring food security, then we welcome them.
We cannot lose sleep over the misplaced lamentations of one bitter white farmer whose farm will be put to maximum use anyway.
Before I conclude, let me publish your profile taken from your website so that Zimbabweans can understand where you are coming from and why you took Freeth's side: 'Martin Fletcher is a former foreign and associate editor of The Times of London, now working as a freelance journalist and author specialising in foreign affairs and travel.
He was named Feature Writer of the Year in the British Press Awards of 2015.
He was born in 1956 and educated at the University of Edinburgh and the University of Pennsylvania.
He joined The Times in 1986 as a political reporter.
He subsequently served as Belfast Correspondent, Europe Correspondent based in Brussels, and for eight years as Washington Correspondent and US Bureau Chief.
He was appointed Foreign News Editor of The Times in 2002.
He then became a writer-at-large, reporting from Iraq, Iran, Egypt, Libya, Syria, Zimbabwe, Somalia, China, Chile and many other countries.
In addition to Feature Writer of the Year, he was shortlisted for Foreign Journalist of the Year in the British Press Awards of 2007 and 2010, for Best Travel Article in the Foreign Press Association Awards 2008, for Best Print Journalist in the Foreign Press Association Awards 2009, and for Best Environment Article in the Foreign Press Awards of 2014.
He now writes for various publications including the Telegraph and Times magazines, The Financial Times, the New Statesman, Prospect, the New York Times, the Radio Times, GQ, 1843 magazine, the Mail on Sunday, Conde Nast Traveller and Wanderlust.
He is the author of Almost Heaven: Travels Through the Backwoods of America (Little Brown, 1998), which was short-listed for the Thomas Cook Travel Book award, and Silver Linings: Travels around Northern Ireland (Little Brown, 2000). He is married with three children and lives in London and Suffolk.'
I hope that when we talk again you would have had a better and unbiased understanding of the Land Reform Programme and the strides made by black farmers.
Regards,
Golden Guvamatanga