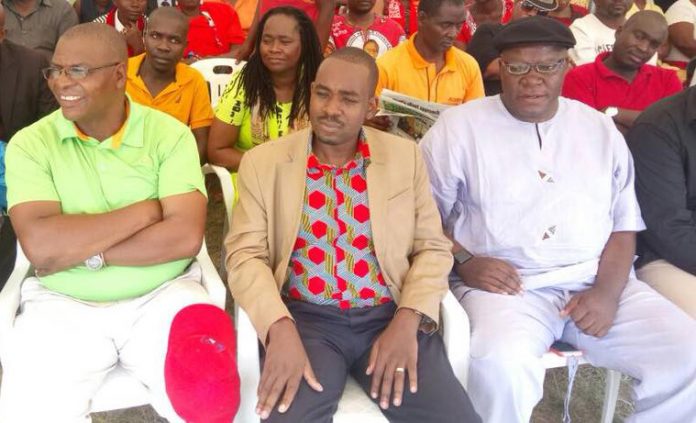 IT is not often that I write open letters to people.
Yet circumstances have forced me to put pen to paper and jot this letter to you Mr Chamisa.
I would like to give you some advice. whether you take it or ignore it is entirely up to you.
The choice is yours.
Here we go.
Electoral boycott threats, fake voters' roll 'scandal' and divisions in the MDC-Alliance are pretty too much for a new party.
I wonder if you are able to blink in times like these, let alone think straight.
In the so-called Alliance has been drama, the bizarre, the outlandish and the ridiculous, all for the love of the country's highest office.
Then there is Tendai Biti, there are just no words to describe this character for disturbing the peace of revellers at the famous Newlands Shopping Centre with a ludicrous campaign strategy.
We also do not forget the bellicose Welshman Ncube in these trying times for the MDC-Alliance.
His huffing and puffing also presents us with something to cheer about.
Indeed the ongoing FIFA 2018 World Cup has so far disappointed many.
What with the news that one betting addict lost a staggering US$1 000 after placing his bet on Germany in their Sunday's encounter against Mexico.
Welcome to Zimbabwe's July 30 2018 harmonised elections.
We do not forget our sister Justice Priscilla Chigumba who has had to contend with a rabid opposition that seems not to know whether it is coming or going.
One has to feel for Justice 'Bae' as she is now being referred to.
It has been a good going thus far for that lady of beauty and brains.
This is despite the adversity she has had to fend off.
This is the election period.
This is what you face during this period dearest sister of nobility.
They will accuse you of all sorts of things.
You will be accused of killing Jesus even.
Yet this is just the beginning.
Post-election period will be even more daunting.
We shall talk about this later.
Focus here is on young Chamisa and the bleak future that lies ahead of him.
It seems our warnings that vultures are hovering around you has not yet reached your ears.
Or if they did, you have borrowed from your mentor, the late Morgan Tsvangirai who gained quite a reputation for listening to the last person who whispered something into his keen ears.
We will nevertheless repeat what we have said to the youngster.
From March, we said it was those surrounding you that would be your biggest downfall.
We also said that listening is an art in politics.
Great politicians of the past and present have survived because of listening.
A little bird sings in my ears that the route you have embarked on has all but reached a dead end.
First things first.
Take a closer look at those who are surrounding you.
Listen and watch closely to what they say when they are with you.
Grasp also what they say when they are on their own, plotting against you.
They need to first lay a solid stage for their stuttering leader Nelson Chamisa lest they fall and with a whimper of luck 'break' the fall.
The little bird continues to sing a not so harmonious melody in my ears.
What became of the US$360 000 you withdrew from the US$1, 8 million you received from Government?
Has Harvest House, sorry, Morgan Richard Tsvangirai House become a hub for illegal financial trade?
What is your close ally Charlton Hwende's role in all this?
Are you not selling your people a dummy when you make those frivolous demands about the voters' roll?
Are you sincere about that?
This is the election period?
A time when true political colours come out in the open.
We are in that period where the insane is turned into potential high political scores.
We are in that period where unmitigated love of money becomes the order of the day.
Watch clearly Wamba Dia Wamba as not only ZANU PF but those surrounding you tear your ambition to shreds.
They are after your head and as we march towards the day of destiny, count the number of those who will be with you.
Why do you think poor Douglas Mwonzora is after your head?
Why do you think Elias Mudzuri is after your post?
Why not borrow clear political lenses to use for the trouble that is brewing closer home?
Electoral reforms are an afterthought to your strategy, if at all you have any.
Your harping will not save the impending defeat that has now reached your doorstep.
It is too late for you my brother.
The voter has already decided.
Your fate has already been sealed, a tragedy given your relatively tender age, in politics that is.
I hope this letter will, without doubt, open your mind to the many scary realities confronting you.
Will end with a poignant quote from John Steinbeck's The Grapes of Wrath:
"He drank too much when he could get it, ate too much when it was there, talked too much all the time." 
Be careful for the ides of July are on the horizon (sic).
Yours Sincerely
Golden Guvamatanga.
Let those with ears listen.