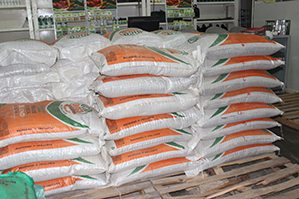 LOCAL farmers have been urged to consider using organic fertiliser to reduce their production costs, improve soil fertility and ensure sustainable high yield through environmentally friendly farming practices.
Organic fertilisers contain one or more kinds of organic matter constituting either animal or vegetable matter or a combination of the two.
According to agricultural researchers, synthetic fertilisers have been proved to be damaging to the environment by leaching into underground water sources and surface water bodies resulting in increased water hardiness.
This endangers living organisms in the water.
Of late, organic fertilisers have been in short supply in Zimbabwe as most farmers were interested in using chemical fertilisers.
However, as a result of new changing market trends, organic supply is becoming the world's fastest-growing food sector.
Most farmers in the country especially small-scale farmers were being tempted by this situation to adopt organic farming in a bid to attract the emerging markets for their produce.
Agricultural expert, Sylvester Tsikisayi said most farmers in the country were using chemical fertilisers and could not afford to conduct Ph testing to check their soil fertility.
He said chemical fertilisers were made from components which damage soil fertility that need to be improved by adding lime and most local farmers could not afford this process.
"Most farmers in the country are not aware of the fertility of their soil yet they are using chemical fertilisers a situation which results in most of them farming on unproductive land realising low output," Tsikisayi said.
"It is imperative that ways are found for these farmers to have access to organic fertilisers that have less risk of damaging soil fertility.
"Organic fertilisers improve the soil by lowering bulk density, reducing soil erosion and improving soil fertility which ensure sustainable soil enriched nutrients and high yield."
Tsikisayi said many parts of the country are arid and semi-arid and these experience recurrent droughts and crop failures.
He said the use of organic fertilisers which promotes wet soil temperatures in these areas would help to protect the survival of crops and ensure food security in these areas.
"Organic matter encourages the formation of stable soil crumb structure, thus improving soil internal drainage, infiltration and aeration," he said.
"The dark colours that form with increasing organic matter content also improve soil temperature relations, which improves essential microbial activity and root development."
According to experts, the use of organic amendments in agriculture has contributed immensely to converting much of the poor fragile land of the world into stable productive zones.
However, most farmers in Third World countries including Zimbabwe pursue farming strategies that require intensive use of expensive and sometimes unavailable inputs such as chemical fertilisers and herbicides.
The use of such chemicals can cause soil and water pollution.
In Zimbabwe, this has been reported in several water bodies, including Lakes Kariba, Chivero and Mutirikwi.
Therefore it is imperative for the country to prioritise adopting and improving organic agriculture, which is safe, non-polluting, affordable and sustainable.
Nevertheless, in Zimbabwe, the use of organic fertilisers has started to gain momentum as most farmers have realised its advantages in commercial production.
Agricultural experts believe that Zimbabwe's production of organic fertiliser has increased due to new global market requirements for tobacco farmers to produce the crop in a 'sustainable' way using organic enriched fertilisers.
One of the country's leading fertiliser producing company, Nico Orgo said it will invest US$2 million in two manufacturing plants to increase production from 20 000 tonnes per annum to 200 000 tonnes per annum.
Under the organic blend, the company has maize organic enriched basal, organic soil builder, gypsum, tobacco enriched fertiliser and cotton organic enriched fertilisers.
Apart from organic fertilisers, the company has chemical blends which include Compound D, Superior D, Compound C, Superior tobacco blend medium T, Medium tobacco blend, potato blend, and standard cotton blend among others.
The company also produces straight fertilisers which include ammonium nitrate, urea, calcium nitrate and single superphosphate granulated.
According to the Industrial Development Corporation (IDC), Zimbabwe has eight major reserves of organic fertilisers still to be fully exploited, among them Bashungwi Caves, Hurungwe in Mashonaland West province and Mabura Caves in the Zhombe area of the Midlands province.