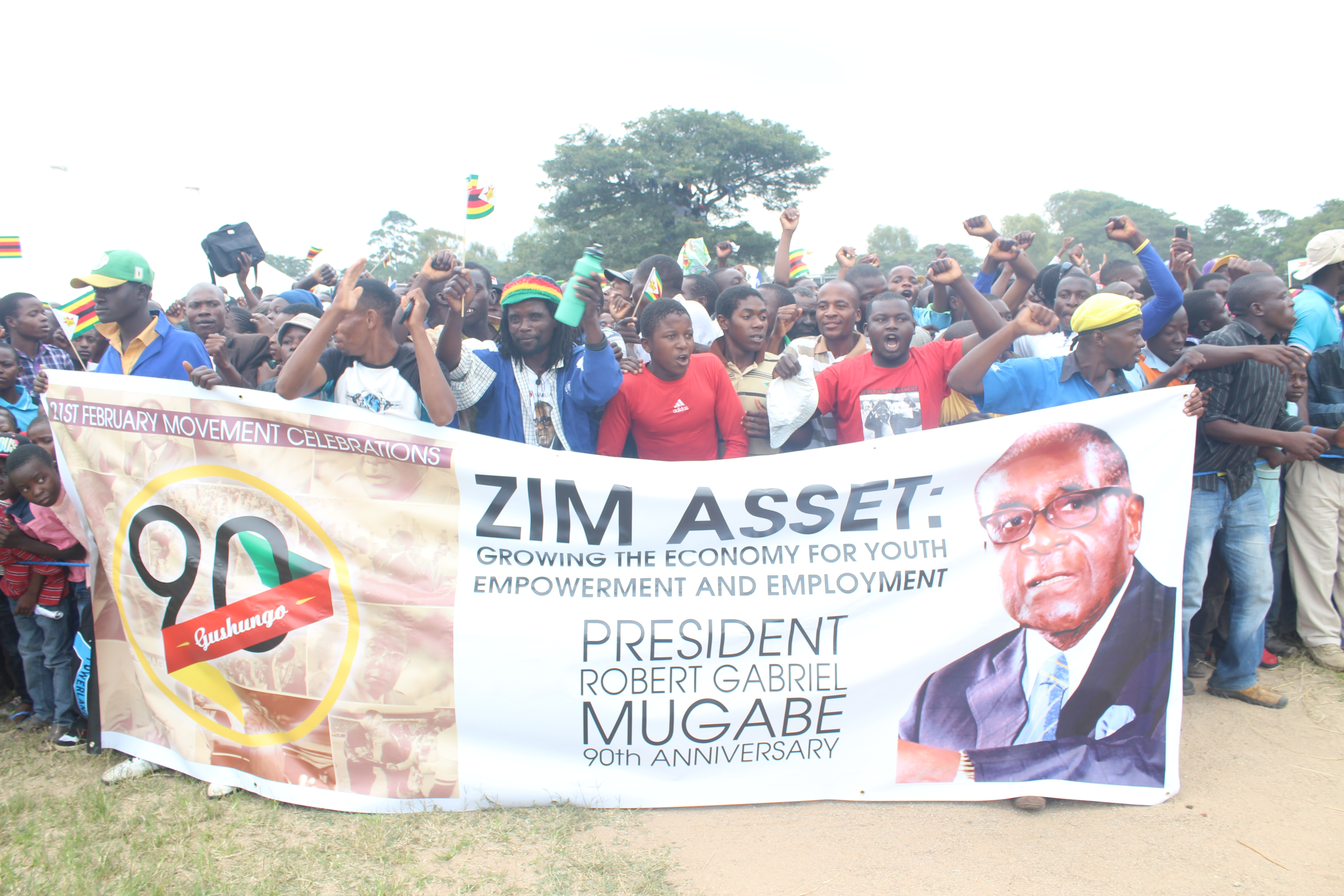 PRESIDENT Mugabe has called upon the youth to own and understand the Zimbabwe Agenda for Sustainable Socio-Economic Growth (ZIM-ASSET) for the economic blueprint to succeed.
The country's economic blueprint will accelerate economic growth, unlock wealth creation and create over 2 million jobs in the next five years.
This year's edition of the 21st February Movement was held under the theme, 'Zim-Asset- Growing the Economy for Youths Empowerment and Employment'.
While giving remarks at his 90th birthday celebrations at Rudhaka Stadium in Marondera on Sunday, President Mugabe raised concern over the increasing rate of unemployment among the youth.
"About 14 500 (students) were estimated to be produced from universities, 7 000 from Polytechnics and colleges, but only 10 percent of them have access to formal employment," said President Mugabe.
The issue of unemployment, the President said, could be best dealt with by simply educating the youth not only to be employees, but to be creators of employment in the market place.
"To solve our unemployment problem, is by training our youths to create employment for themselves.
"It is crucial for the youth to own and understand the ZIM-ASSET," he said.
According to a survey carried out by the Zimbabwe National Statistics Council (ZIMSTAT), the majority of the youth were employed in the informal sector.
The informal economy refers to activities and income that are partially or fully outside government regulation, taxation and observation.
The survey indicated that, 5,4 million of the population aged 15 years and above had 84 percent of them employed in the informal employment, 11percent in the formal employment and five percent were in employment not classifiable.
President Mugabe, who turned 90 on Friday February 21, said the youth had the responsibility of knowing what is theirs, and fully utilise resources that were given to them by the Almighty.
President Mugabe advised the youth to use the abundant natural resources especially in the mining sector, adding that lack of technology should not deter progress as technological know-how can be learnt from developed countries.
He went on to suggest that technology can also be adopted and improved to suit local needs in a bid to resuscitate the manufacturing industry.
This comes as most of Zimbabwe's manufacturing companies are suffering from low capacity utilisation currently pegged at 44,2 percent according to Confederation of Zimbabwe Industries (CZI), coupled with an acute liquidity crisis, obsolete machinery, high operating costs and limited lines of affordable credit  among other challenges.
In a related matter, President Mugabe dismissed allegations of hatred towards the British.
"We don't hate the British, we only love our country," he said.
"We love ourselves better than we love you; it's just natural that way.
"We love our freedom."
This statement was received by a resounding cheer from supporters who had come to celebrate, 90 years of a life of discipline and service to Africa as a whole.
President Mugabe warned Government officials who are in the habit of siphoning Government money.
He said these corrupt officials were a strong threat to the country's economic blueprint, Zim-Asset.
"We want straightforward honest people who will respect government property which does not belong to them," said President Mugabe.
"Voda kuzvibatsira nenzira dzisiridzo
"Ndivo varikutinyadzisa .
"They are using the wrong methods to enrich themselves…they are the very people that are tarnishing the party's image."
Recently, Air Zimbabwe company secretary Grace Pfumbidzai and former director, Innocent Mavhunga were arrested for allegedly swindling the national airliner of US$8 million.