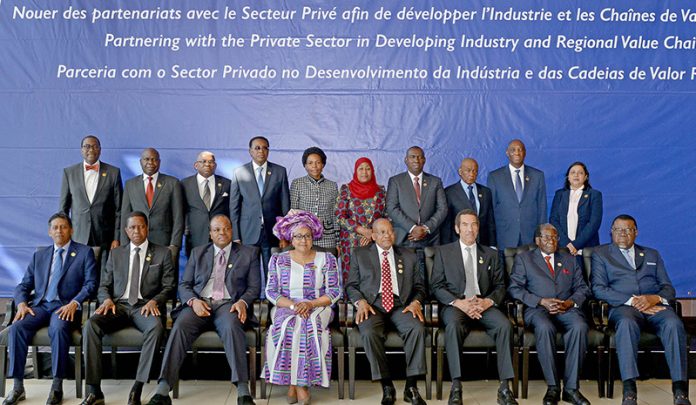 Recently in Pretoria, South Africa
THE recent 37th Ordinary, Southern Africa Development Community (SADC) summit, held at Oliver Tambo Building in Pretoria, South Africa, emphasised the need for innovativeness and partnerships in the SADC region for growth of the region's economies.
South African President, Jacob Zuma, who has been under fire for trying to address economic imbalances created by apartheid, assumed chairmanship of the bloc.
President Robert Mugabe, who has led in the efforts to have economic emancipation of the continent was among the nine heads of state who attended the summit.
Other heads of state included Danny Faure (Seychelles), Dr Thomas Thabane (Lesotho), His Majesty King Mswati III (Swaziland) Ian Khama (Botswana) Edgar Lungu (Zambia) Hage Geingob (Namibia) and Olivier Mahafaly Solonandrasana (Madagascar).
President Faure and Dr Thabane's maiden speeches called on members of the bloc to increase co-operation as well as innovation.
Africa continues to rely on outsiders for technology yet among its member-states is human resource capable of producing technologies being imported from the West and elsewhere.
The new chairman, President Zuma, reiterated the need for African leaders to focus on research and development.
"What is required of us as member-states is a focused effort across the region to identify key investment opportunities in each of our countries and the relative positioning within regional and global value chains," said President Zuma.
"Driven by the private sector, such opportunities need to be supported and companies encouraged to invest in new capabilities that would make them more competitive within both regional and global value chains,
"If we truly modernise our industries and raise the standards of competition, it is critical that we invest in research and development as well as the use of new technology, skills and innovation."
No doubt Zimbabwe is aligned to the SADC mission and vision considering its economic developmental initiatives and programmes.
So far, an economic blueprint, the Zimbabwe Agenda for Sustainable Socio–Economic Transformation (Zim-ASSET) has been the lodestar.
Zim-ASSET is divided into four clusters which include the Food and Nutrition Cluster, Social Services and Poverty Eradication Cluster, the Infrastructure and Utilities Cluster and the Value Addition and Beneficiation cluster.
Commitments to the power supply have begun with the Kariba South Expansion project where construction of two hydro electro units, expected to generate 300 MW, are currently underway with commissioning scheduled for 2018.
Another coal-fired project is underway at the Hwange Power Station where 600MW are being added to the existing 920 installed capacity.
The Munyati solar project which is expected to generate 300 MW, the Lupane Project, the Gairezi Project and the Batoka Gorge project, among others, are some of the power generation projects which are underway.
To ensure food security, the Presidential Inputs Scheme led by President Mugabe and the Command Agriculture being supervised by Vice-President Emmerson Mnangagwa have boosted this year's harvest to an expected 2,5 million tonnes after harvesting.
The Command Agriculture concept has moved to other farming areas such as livestock, fishing,water harvesting and wheat.
Last year, Zimbabwe introduced Statutory Instrument (SI) 64, which restricts the importation of products that can be manufactured in Zimbabwe, so as to boost production capacity in local industries.
Products like cooking oil, milk, body creams and construction materials are among those that have been banned from importation.
This has seen companies such as Tregers, KDV Bedding and others increasing production and employment.
Radical reforms in line with international best practice for Ease of Doing Business introduced in September 2015 have also made it easier to invest or set up businesses in Zimbabwe.
The Government of Zimbabwe has identified ministries and relevant regulatory authorities that have already started implementing approved reforms while some of the recommendations await the necessary administrative and legislative procedures.
These include turning the Zimbabwe Investment Authority (ZIA) into a one-stop shop that takes care of the entire spectrum of the investor needs, while guaranteeing improved co-ordination of all Government agencies responsible for attracting investment.
Attracting Foreign Direct Investment (FDI), remains critical for Zimbabwe's economic recovery and employment creation.
To show commitment to regional integration Zimbabwe and Zambia have a Uni-Visa and one-stop border post at Chirundu.
And back to SADC as an organisation, the bloc has been in existence since 1980 when it was formed as a loose alliance of nine majority-ruled states in southern Africa known as the Southern Africa Development Co-ordination Conference (SADCC), with the aim of co-ordinating development projects in order to lessen economic dependence on the then apartheid South Africa.
The founding member-states are: Angola, Botswana, Lesotho, Malawi, Mozambique, Swaziland, Tanzania, Zambia and Zimbabwe.
It transformed from a Co-ordinating Conference into a Development Community (SADC) on August 17 1992 in Windhoek, Namibia, when the Declaration and Treaty was signed at the Summit of Heads of State and Government thereby giving the organisation a legal framework.
At the transformation, six more countries which include Democratic Republic of the Congo, Madagascar, Mauritius, Namibia, Seychelles and South Africa joined to make 15 SADC countries.
SADC's mission is to promote sustainable and equitable economic growth as well as socio-economic development through efficient, productive systems, deeper co-operation, integration, good governance, durable peace and security so that the region emerges as a competitive player in international relations and the world economy. It is against this background that the SADC has developed a blueprint, the Revised Regional Integration Strategic Development Programme (2015-2020) to guide its economic development and integration.
Commendable progress in implementation has been made with the development of the Regional Infrastructure Development Master Plan, the Industrialisation as well as Strategy and Roadmap.
In March 2017, a policy framework – 'SADC WE WANT' — was introduced.
This was built on the continental Agenda 2063.
It emphasises on the critical need for both industrial and infrastructure development in SADC.
It has a vision of a connected and prosperous African continent in the form of the Continental Free Trade Area (CFTA) which finds expression in the work of the COMESA-EAC-SADC Tripartite Free Trade Area (TFTA), where negotiations continue to push intra-regional trade and market integration. These initiatives are geared towards creating employment, improving manufacturing, enhancing development and addressing poverty alleviation, specifically in the SADC region.
The SADC community has engaged the African Development Bank (ADB) to support these initiatives. As of December 2016, the investment of the ADB in southern Africa totalled US$10 billion.
The bank has developed a strategy which focuses on lighting up and powering Africa, feeding Africa, industrialising Africa, integrating Africa and improving the quality of life for all people in Africa.
The 37th SADC Summit was held under the theme, 'Partnering with the Private Sector in Developing Industry and Regional Value Chains'.