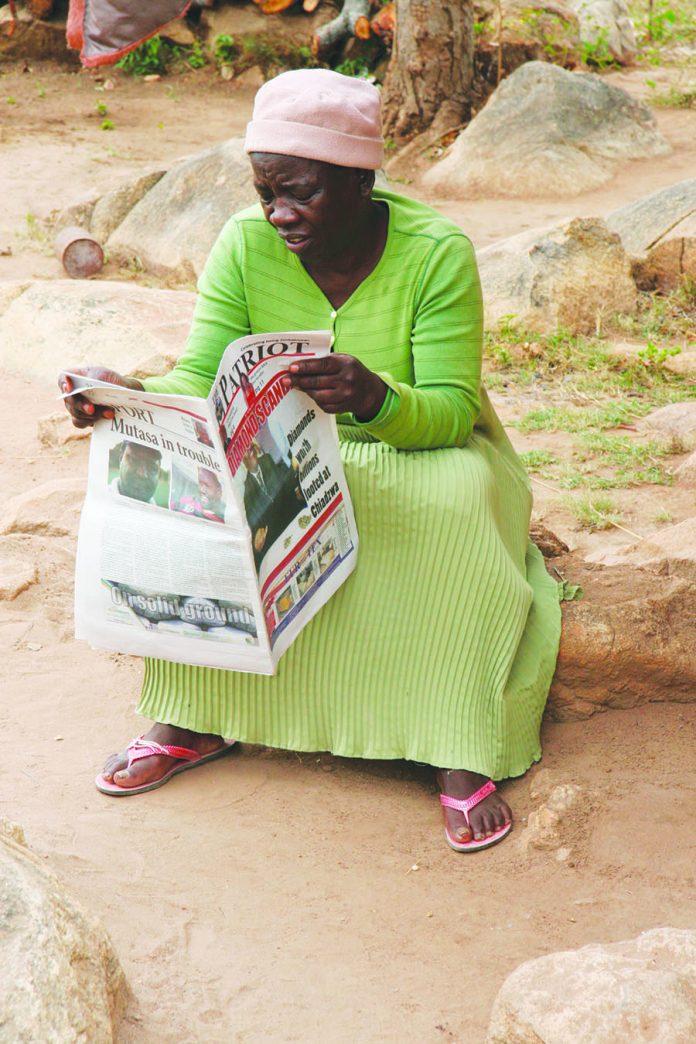 "A GOOD dancer knows when to leave the dance floor," Julius Malema reminded us of this adage in one of his recent interviews.
When even the best dancer prolongs his/her stay in the dance ring, the crowd will pull him/her out.
He was commenting on former President Robert Mugabe's departure.
Malema could easily have been talking about me.
Something in me was telling me it was time up.
The adage helped me confirm what I had been agonising over the last couple of months; Munhamu Pekeshe's time is up.
My five years as a Patriot columnist have been largely an enriching experience, sharing the platform with some of the country's sharpest commentators.
I hope in the process I have provoked critical debate around our Zimbabweanness and pan-Africanism.
To a large extent I owe my career as a columnist of The Patriot to the late Alexander Kanengoni, not least because he gave me the name Pekeshe.
Munhamu has troubled me since childhood.
As I have often said, English troubled me throughout my school years.
I would probably have failed it at 'O'-Level had it not been for my Form Three teacher, Kwari.
He saw lots of sense in my broken English and kept encouraging me in my protracted struggle with the language.
Decades later I met Cde Pritchard Zhou, CEO of the Zimbabwe Heritage Trust (ZHT), who after a chat on Zimbabwean history and culture, set Kanengoni on me.
Kanengoni would not listen to my protestations about my poor command of English and today, nearly 300 articles later, I exit the scene as a Kanengoni product.
Approaching 300 articles, it was always going to be difficult to keep my cover secure.
So who am I?
Well that has been partly answered this past month.
But I hope my dear reader sees me as more than that.
I am unashamedly African, first and foremost.
The words of Thabo Mbeki of 1996 boundlessly inspire me:
"I am an African… I owe my being to the hills and the valleys, the mountains and the glades, the rivers, the deserts, the trees, the flowers, the seas and the ever-changing seasons that define the face of our native land."
And so does the revolutionary defiance of our dear departed feisty pan-Africanist, Winnie Madikizela-Mandela.
I am a Kalanga (Rising sun side) Bantu, sprouting from north-east Africa — a part of Africa that included today's Arabia.
I am a Shona/Kalanga/Nguni/Xhosa/Suthu/Ndebele/Shangaan/ Ngoni rolled in one.
Naturally I seethe with anger when greying folks patronise me with: 'Shonas you do this', 'Ndebeles we do that stuff.'
The nation has never been so black and white!
Hopefully we shall soon move from the present past, in which we are assigned tribal labels for political or financial gain, to the historic past in African history, a past in which we will find our ancestral umbilical cords lying side-by-side.
I respect the African reality of our history, including colonial Save-Zambezi cartography and subsequent laws of my beloved Zimbabwe.
I am grateful the greater part of ancient Great Zimbabwe is within these modern boundaries.
You will find me always rooting for team Zimbabwe, even when they throw away cricket and soccer matches.
I carry scars of watching helplessly as Batswana immigration officers fondled some Zimbabwean women traders on the Bulawayo to Gaborone train nearly three decades ago.
The helpless women could only giggle in protest.
I have also seen traumatising images from South Africa of gruesome sport killing of foreigners, amid scornful shouts of 'Go back Africans, go back Zimbabweans.'
Despite a sojourn that took me through several schools, including the University of Zimbabwe and the University of Cambridge, Unyetu Primary School remains my indisputable alma mater.
I dream of Unyetu Primary School with running water, flushing toilets and a library in my lifetime.
In my village in Unyetu, hosting Unyetu Hill and the source of Mutorahuku Stream and its meandering before emptying into Chitambapwere, Munaro remains my hero.
He was a Grade Seven drop-out and self-made artisan who joined ZANLA forces in late 1978.
After the war, with humility, he rejoined the rank and file of ordinary people struggling for subsistence on barren lands.
Herding cattle, Munaro and seniors always inspired us as we and the village livestock fought a losing battle against disappearing pastures.
It was Munaro who first lectured me on the 'Chinhoyi Seven'. We found his account a hilarious lie until his facts were vindicated later in history textbooks.
This was a lifetime humbling experience.
It was Munaro and team who made me appreciate mbira music.
As a Hungwe Kalanga, I am also one and the same with Dziva, Shiri, Nyoni, Ngwenya, Mbedzi, Save and Hove. When I hear of Mtisi, Zenda, Chasura, Chivara, then I know I am in safe neighbourhoods.
History tells me all bird and water totems are born of same father.
I know Hungwe was the spiritual symbol of Mwari at Zimbabwe and Matonjeni.
The coming of njerere birds at Zimbabwe and at Njelele always heralded the coming of the rain season.
Mwari spoke through the squawkings of Hungwe – Shirichena, Shiri yaMwari.
Today I am a stranger at Matonjeni and an intruder at Njelele, pasi mupindu, the departed console and counsel us.
I am Munhamu waMhambu waChemhere waChikurupati waMatonhodze waNduna……waChirwa.
Rejected by newcomers, Murambiwa, I have rejected the rejection.
Life is an endless journey of going and coming.
Others say we meet to part and part to meet.
In a way I am Herbert Chitepo's Mufambi in Soko risina Musoro.
Sarai mushe mapatriots!