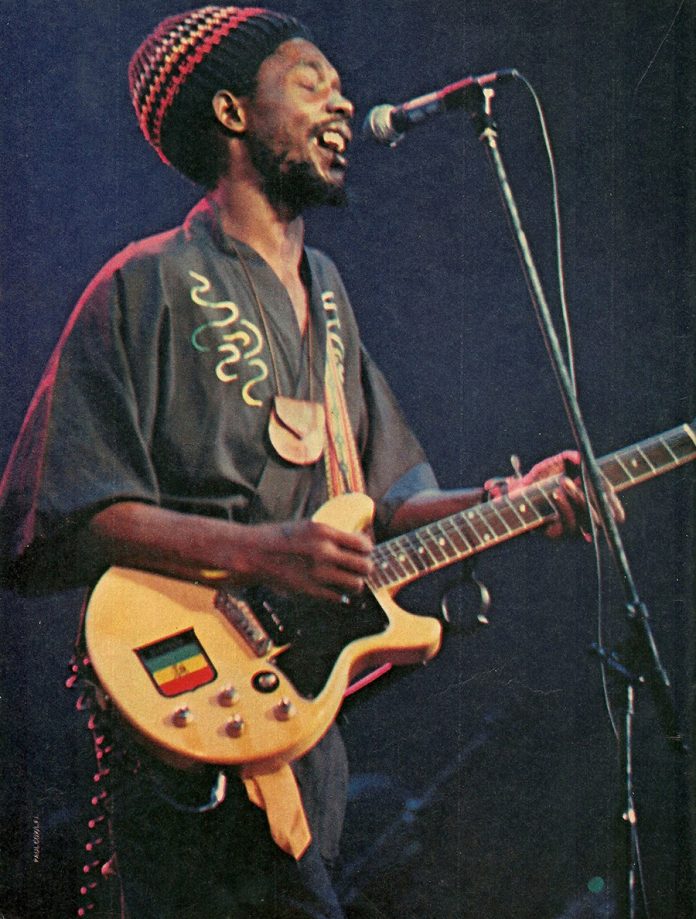 PETER TOSH was instrumental in the formation of roots reggae music.
He was the composer of all the chords for the legendary group, the Wailers, which also comprised Bob Marley and Bunny Wailer.
Tosh was the first man to teach Bob Marley the guitar.
Tosh also wrote and co-wrote many songs including 'Get up Stand up', while backing up lead singer Marley alongside Wailer. The three began making music as teenagers in Trench-town. They began with a fast-paced Jamaican beat called ska and would incorporate elements from soul, funk, blues and so on, into their sound.
They then slowed down the ska element so as to fit the nyayabingi drum pace and this is what gave birth to roots reggae music.
For 12 years, the group recorded and performed numerous songs together but Tosh and Wailer would later be forced to quit because of unfavourable circumstances.
Chris Blackwell, a whiteman who had offered the group an album deal decided to push Marley to the forefront and turn the Wailers into Bob Marley and the Wailers.
They were made to tour and perform in freak clubs in the US and Europe wherein gays, drugs and so on would be part of the menu. Marley did not mind, but Wailer and Tosh were uncomfortable because this contradicted their Rasta principles.
There was also the issue of the low temperatures of Europe.
Wailer left first and Tosh followed after he realised that his material was being downplayed because of his militant message. In Tosh's own words: "Jah (God) did not put me on earth to be a background vocalist."
Tosh decided to pick himself up and start all over again.
Their Wailer brand and sound would remain with Marley who retained the rest of the band.
Against the odds, Tosh would go on to have a successful solo career. He met a lot of sabotage from the Jamaican Government and record label companies because his message was considered too militant.
Tosh addressed hot issues like apartheid in South Africa, corruption in the Church, war in Palestine and the legalisation of marijuana, among other contentious issues, with no compromise in his music and interviews.
He was wise, well read and a revolutionary and thus he was censored by his own Government which would not allow many of his songs to be played on Jamaican radio.
He was assaulted and jailed numerous times by the police for his outspokenness about sensitive issues.
His turbulent life was ended prematurely by way of assassination under the cover of intended robbery on September 11 1987.
Tosh received a Grammy Award posthumously for his final album and masterpiece, No Nuclear War.
Since his death, Tosh has been largely cast under the shadow of former bandmate Marley.
Marley was the son of a whiteman and he attributed all his strength in singing to his mother's side.
He never grew up with his father's family and when he discovered them, they rejected him because he was half black. He learnt his music and developed his style from the blacks he grew up among and the most prominent figure in his musical renaissance was Tosh.
Before Wailer and Marley met Tosh, they beat on drums and clapped their hands for a beat.
Media has, however, portrayed Tosh as a hot head who was jealous of Marley, yet this is far from the truth.
Tosh was a revolutionary who felt he was on a mission and was only bitter at the world for not recognising the originators of roots music, himself included.
His music is rarely played on radio and is still passed off for Marley's work which is less offensive to the powers that be.
The Western media is always up-to-date with the Marley family's developments; his 12 children and so forth.
But Tosh's legacy and estate is shrouded in mystery and everyone seems to have forgotten about this legend who was called the 'root of roots reggae'.
This article seeks to update the readers on the legacy and estate of Tosh for he is a man worth remembering for playing a Messianic role for blacks and other oppressed people around the world.
Tosh had 10 children between Jamaica and the US.
The most famous of the 10 is Andrew Tosh who was born and grew up in Jamaica when his father was active.
Tosh now has numerous grandsons including one Dre Tosh who is quickly gaining popularity in the US as a singer.
The Tosh Estate has been in existence since his death but was run by an individual from outside the family until recently.
There were squabbles among the family members as to who and how the estate should be run for some time.
In the end, they chose Tosh's last born, a lady named Niambe.
Niambe is well-educated, holding a degree in engineering and a Master's in Education.
She began running the estate and things have since improved. On October 19 2016, the estate opened the Peter Tosh Museum in Jamaica.
Thousands of people were in attendance and the number grows every year.
October 19 was Tosh's birthday and many fans make pilgrimages to Tosh's hometown on this day.
Considering Tosh was a revolutionary and his music still relates to many problems experienced to this day, his opposition did not end after his assassination.
Tosh continues to be censored and as was the case when he was alive, the demand of his music is not being met with sufficient supply.
Tosh used to complain that after one of his albums was released, 40 000 were bought in the US and sold out in less than a week but the record label did not put out more records to meet the demand.
Among Tosh's 10 children, one has taken the militancy of his father to heart.
His name is Jawara McIntosh, the direct brother of Niambe and last son to Tosh.
Niambe and Jawara were both very young, and in Boston, US, when their father was violently taken away from them.
Jawara is known as Tosh1 and is a singer and rapper who performs his own music along with his father's songs.
He sounds just like his father when he sings and is also an activist off stage.
He is the apple that fell closest to the tree.
Unfortunately, following in the footsteps of Tosh is a dangerous path.
Jawara is a black power and marijuana activist like his father. He was arrested in June 2013 for marijuana possession.
He plead guilty three years later and was sentenced to six months imprisonment.
While serving time in a Boston prison, Jawara was assaulted by an inmate almost to the point of death.
The assault was stopped after Jawara had already lost consciousness and the inmate was still kicking his head.
He was taken to a hospital and was pronounced comatose in February of this year and remains in a coma to this day.
His head was caved in after the assault and his signature dreadlocks cut during the consequent operations.
He is unresponsive and can only give a slight squeeze with his right hand if it is stimulated.
The family of Tosh has been devastated by this unfortunate incident which ought not to happen because prisoners must be protected from violence.
Niambe and the rest of the family are in the process of suing the prison for negligence.
Jawara has a wife and children.
His feet are cuffed to the hospital as he is fighting for his life. He called himself Tosh's last hope because he is the last son. Many are advocating he be freed and yet the Western media has not put out this terrible news.
Regardless of the setbacks, long live the legacy, descendants and estate of Tosh!