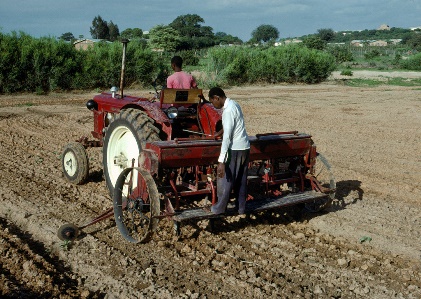 AT the end of Tapiwa Chipfupa's self destructive documentary film, The Bag on my Back, it becomes easy to believe the film-maker's confession: "I didn't choose to make this film.
"It chose me."
The documentary could not have been done by just anyone.
It is a mercenary act no self-respecting black person would stoop that low to create.
The obscenely lame reasoning of Benjamin Freeth stinks all over Tapiwa's documentary like the territorial marking of a hyena.
The influence is unmistakable.
It is a sad insistence by a black person that she does not deserve her own heritage. One feels that Tapiwa and Gift and Belinda in Freeth's own Mugabe and the White African are one and the same person fronted as three sections of black society telling the world that it is not in their interests to reclaim their stolen heritage.
The sick idea is that if a black person condemns his own liberation, then the world must accord her the right to willful bondage.
The world must respect her choice to be a slave.
Tapiwa totally misses it when she says: "My story is about the separation of my family and our connection to the land."
The story she tells is a far cry from what she believes she is telling.
Her story is one of a thoroughly colonised family and their separation from the land.
This is the story of a family moved from one white settler's farm to the other, slaving and producing not for themselves, but for the white master.
And, there is a disturbing parallel between Tapiwa's story and that of the dog that obdurately believes it is man's best friend even when everything on the ground points to the contrary.
She says: "I have been refused entry many times and my parents can't leave England until their papers are processed.
"They have been waiting for 12 years."
Over 12 years of rejection!
And the whole family has a collective intellect that still can't get it!
That is where the parallel with the dog is.
No matter how many times a dog is refused entry into man's home, it will still hang around the door hoping to be let in; sincerely believing that it is man's best friend.
The rejected dog will continue to guard man's home; to hunt for him; to surrender all its kills, so that the cruel master gets the best cuts while she feeds on scraps.   
But, after everything is said and done, the saddest part of Tapiwa's story is when she says: "I have become a woman and a mother, but Zimbabwe has failed to mature with me."
This is the saddest part because she is using the slave's retrogressive standard to measure the maturity of her own people.
In exactly what way has Tapiwa matured?
It is certainly not mature to be refused entry into a racist country many times over a decade and yet still insist on trying again.
It is also certainly not mature for a black person to question their right to repossess stolen heritage.
This is saddest because Tapiwa is looking at maturity from a super-serviceable dog's point of view.
In the dog-master relationship, a dog is mature only when it has been totally subverted to serve man's interests; when it starts thinking that even though it has made the kill, it still does not deserve the best cuts and must feed on scraps thrown at her by man's children.
While she misses the sound of the white man's tractors and combine-harvesters being driven by slave black people in Rhodesia and before land reform in Zimbabwe, Tapiwa is curiously disgusted by the sound of cowbells on black people's cattle on the recovered land.
Her intellect is too simple to follow the trail of the white settler's tractors and combine harvesters from the loot committees and forced labour of British occupation of Zimbabwe in 1890.
She only sees the here and now and that is definitely not mature.
Tapiwa is totally oblivious of the irrefutable fact that while she retrogresses into a pathetic mercenary slave, Zimbabwe has actually matured into a promising and exemplary African nation in which black people have successfully challenged the racist neo-colonial forces and reclaimed her heritage.
This sad mercenary act, The Bag on my Back, can be downloaded from Youtube.