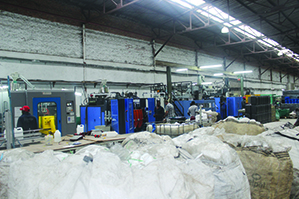 PLASTIC recycling at Waverley Plastics has not only benefited the company but communities as well.
Waste-pickers have emerged the biggest beneficiaries of the company.
The company buys waste material made from polyethylene (HDPE), paying US$0,50 per kilogramme.
One good reason to recycle plastic is that there is just so much of it dirtying our environment.
Plastics are used to manufacture an incredible number of products we use every day, such as beverage and food containers, trash bags and grocery bags, plastic cups and utensils, children's toys and diapers as well as bottles for everything from mouthwash and shampoo to glass cleaners and dishwashing liquid. And that's not even counting all the plastic that goes into furniture, appliances, computers and automobiles
Experts argue that recycling is part of an ethic of resource efficiency – of using products to their fullest potential.
When a recycled material, rather than a raw material, is used to make a new product, natural resources and energy are conserved. This is because recycled materials have already been refined and processed once; manufacturing the second time is much cleaner and less energy-intensive than the first.
Waverley Plastics has become a major consumer of the empty plastic containers of these products which the company recycles.
HDPE or polyethylene high-density (PEHD) is a polyethylene thermoplastic made from petroleum.
It is sometimes called "alkathene" or "polythene".
Waverley Plastics purchases and recycles plastic scrap and has capacity to recycle 4 380 tonnes per annum.
The plastic scrap that is collected is chopped up, washed, dried, densified, extruded and pelletised.
The plastic is used to make a wide range of products that include agricultural pipes, buckets, five and 20-litre containers as well as bottling material
Speaking during a media tour organised by Environmental Management Agency (EMA), the company's director Aron Vico said the company has made it its business to keep plastics out of landfills.
"At the heart of Waverley Plastics, the core ethic is that all plastic is recycled and kept out of landfill sites," Vico said.
"Furthermore our production process is continually evaluated and refined in order to minimise the inevitable carbon footprint associated with the manufacturing process".
According to pundits, recycling one tonne of plastic saves 7,4 cubic yards of landfill space. Recycling materials such as plastic and metals will significantly help reduce the waste finding its way to dumpsites across the country.
It has also improved livelihoods as waste-pickers are making a living from delivering plastic to recycling plants.
Even though many people have now grown accustomed to the 3Rs principle of reducing, recycling and reusing, many HDPE bottles still find their way to landfills.
Waverley Plastics is receiving materials from as far away as Bulawayo.
The company employs 50 people recycling an average of 12 to 15 tonnes a day.
Joshua Kambanje (39) who has been selling plastic to Waverley Plastics said the business had changed his livelihood.
"I have been selling 13 to 14 bales of plastics to Waverley Plastics and I have managed to pay school fees for my children from the proceeds," said Kambanje.
Steady Kangata EMA'S education and publicity manager said recycling was an effective method of waste management.
"Focus is now on waste management because it has become a big challenge as seen through the illegal waste dumps all over the central business districts."
Chrispen Mvukwe (39) and his wife said their life had changed for better after engaging in the waste-collections business.
"It is not a lot of money we are getting compared to the effort we put in collecting the empty containers but we are at least getting something and have been able to pay rentals as well as buy groceries."
Tanaka and Peter Mugadzaweta concurred that recycling had improved their livelihoods.
"We earn as much as US$100 per delivery which has enabled us to buy school materials and we are even paying people to pick bottles for us," Tanaka said.
The more we recycle, the less garbage winds up in our landfills and incineration plants. By re-using aluminum, paper, glass, plastics and other materials, we can save production and energy costs as well as reduce the negative impacts that the extraction and processing of virgin materials has on the environment.