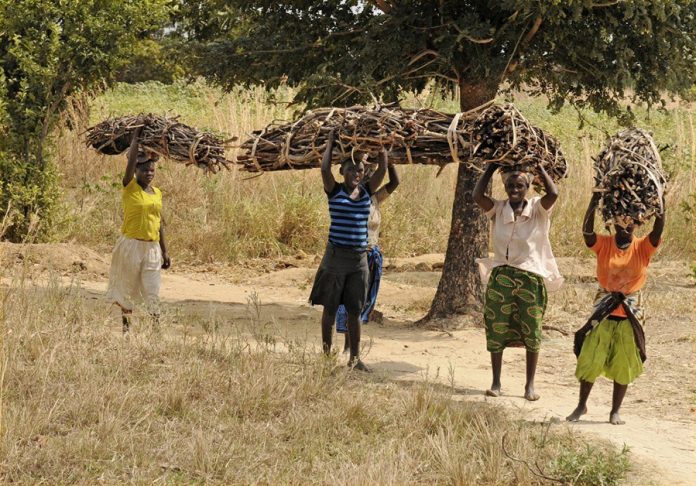 IN Africa, Women-headed households are
frequently faced with shortages of adult
labour which often results in declining
food productivity, especially when coupled
with the low level of agricultural inputs
received by women farmers.
In Morocco, the rural households headed
by women are generally small, with 69
percent having less than four persons.
Data from the Owambo region in Namibia
suggested that, although the size of
landholdings between male and femaleheaded
households is comparable, the
amount cultivated is often lower for the
latter due to labour shortages.
Labour shortages may also lead women
to turn to alternative crops that require
less labour inputs, even though they may
be less nutritious.
Women-headed households tend to
earn lower incomes than male-headed
households.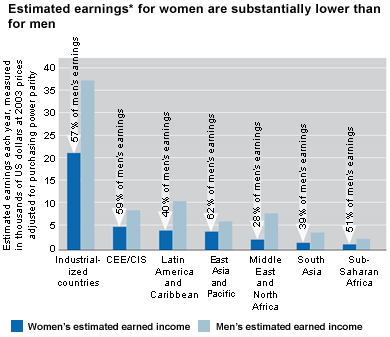 Only in Mauritania do women-headed
households appear to be better-off.
This could be explained by the existence
of a certain number of transfers and subsidies
towards these households, especially
in rural areas.
In Benin, male-headed rural households
have an average revenue of US$96 per
consumption unit and save 21 percent.
Those headed by women have an average
revenue of only US$85 and save 16
percent.
In the Congo, 75 percent of the women
interviewed in three districts received less
than US$390 per year, which is insufficient
to cover subsistence expenses.
In Tanzania, surveys indicate that rural
women-headed households have the lowest
cash income.
In 1985, female-headed households
earned 10 percent of female urban household
earnings and 25 percent of maleheaded
households in communal areas.
In 1990, significant improvements were
noted, with female-headed households
earning 61 percent of male-headed households.
In Zimbabwe, statistical indicators
showed that in terms of household income,
rural women-headed households
were 40 percent poorer than male-headed
households and 90 percent poorer than
women-headed households in urban
areas.
Women-headed households tended to
have access to smaller and less fertile plots
of land, with more limited access to the
means of production than male-headed
households.
In Zimbabwe, in the communal sector,
female-headed households were likely to
be allocated smaller parcels of land than
male-headed households.
Findings from surveys suggested that
de jure female-headed households had the
smallest farm sizes, varying from 40 to 80
percent of the land parcels belonging to
male-headed households.
When women are involved as agricultural
labourers, they appear to be remunerated
less than men, which has negative
implications for women-headed households
in particular.
According to data collected by IFAD in
the late 1980s, women tend to receive only
50 percent of men's wages in Mauritania,
Sudan and Zimbabwe, while they receive
90 percent of men's wages in the Congo.
In Morocco, there are large variations
in agricultural wages, depending on the
season, the region, the nature of the work
and gender.
Women and girls are generally paid less
than men and boys, despite a minimum
wage guaranteed by the Government.
In Sudan, wages are lower for women
than for men, which is also due to the fact
that they are assigned work in the lowerpaying
traditional sector.
In Namibia, to meet basic food needs,
households are obliged to augment production
from subsistence agriculture with
cash or in-kind from other sources.
The main contributor to subsistence
across households is direct cash income
from formal employment.
Female-headed households have fewer
members employed formally or informally
than male-headed households.
In addition, rising unemployment
and social breakdown of the family have
shrunk the amount and frequency of
remittances.
There has been a general recognition
that women and women's concerns have
often been marginal or invisible to largescale
development planning and debates.
Some well-documented limitations of
women's machineries throughout the
world include; restricted financial and human
resources and the lack of communication
channels with technical ministries
and departments and other bodies dealing
with gender issues.
Since the early 1980s, several countries
reported a growth in women's participation
in rural organisations and in the
number of women-only pre-co-operatives
and co-operatives.
In Benin, women's membership in
pre-co-operatives grew from practically no
women in 1980 to 4,6 percent in 1985 and
to 12 percent in 1992.
While women's membership is most
often limited by their lack of formal land
ownership, many rural organisations
emphasise the interests of male members
and do not sufficiently concern themselves
with the needs of rural women.
For instance, the Namibia National
Farmers Union was established in 1992 to
provide a voice and organisational base for
communal farmers, and women comprise
30-60 percent of affiliate associations.
However, its activities stress marketing
and surplus production for the commercial
farming sector rather than subsistence
production and food processing.
In Africa, women's representation is
also negligible in the local power structures
and traditional bodies, where
decisions concerning land allocation and
resource development have important
implications for rural women.
In Tanzania, as of 1989, out of 4 850 village
committee members in seven regions,
only 10,3 percent were women.
A positive development was made in
1992 with local Government legislative
reform which called for 25 percent of the
members of the village assembly to be
women.
However, in many locations, women
still constituted less than one percent of
the candidates in the 1993 local Government
elections.
In Namibia, only three of the 95 elected
to the regional councils, which represent
rural constituencies outside of small
towns, were women; and in Tanzania, at
the provincial and district levels, women's
participation remains low with the highest
number of women (20 percent) serving as
regional administration officers.
There were no female land officers nor
regional agricultural or livestock officers
and only one regional community development
officer.
In both Namibia and Zimbabwe,
women's representation in traditional
authorities has been minimal until more
recently.
In Namibia, traditional authorities still
held responsibility for allocating land and
adjudicating disputes.
While it appears that decision-making
in Africa rests with the male household
head when present, the sharing of
decision-making between genders varies
substantially from country to country, as
well as among different cultural and ethnic
groups within the same country.
In some countries, such as the Sudan,
women are responsible for a wide range of
decision-making in farming activities even
when the husband is present.
In Tanzania, decision-making in farming
activities appears to be shared, with
men slightly dominating in those cases
when it is not.
Several FAO studies have indicated
that the improvement of household food
security and nutritional levels is associated
with women's roles in household decisions
on expenditures.
Women's reactions to economic incentives
are different, depending on their
ability to make decisions regarding income
allocation. Furthermore, women's access
to credit is lower than men's in many African
countries; receiving from a low of five
percent of agricultural loans in Burkina
Faso to a high of 32 percent in Zimbabwe.
In Benin, less than five percent of the
rural female-headed households have access
to credit.
Over the years, a substantial increase
in the number of women clients was registered
in Zimbabwe, increasing from 11
percent in 1982 to 32 percent at present.
Dr Michelina Andreucci is a
Zimbabwean-Italian researcher,
industrial design consultant,
lecturer and specialist hospitality
interior decorator. She is a published
author in her field. For views
and comments, e-mail: HYPERLINK
"mailto:linamanucci@gmail.
com"linamanucci@gmail.com
July 19 – 25 2019 FEATURE THE PATRIOT 13
Plight of women in Africa
African women mainly work for household subsistence.